Posted on
Sat, Oct 15, 2011 : 9:01 a.m.
A Canadian's first American high school football game - Pioneer vs. Huron
By Richard Retyi
Friday night I attended my very first American high school football game.
For my entree into your high school football experience — and by "your", I mean anyone not Canadian — I chose the annual Ann Arbor backyard showdown. The Ann Arbor Pioneer Pioneers (I know, it looks like a typo but it's fun to write) hosted the Huron High School River Rats on Homecoming, mixing good old-fashioned American gridiron with good older fashioned European monarchy.
My Canadian Football Experience or the part of the article you can fast forward

(Note: Feel free to skip this part if you want to read what happened at the actual game. This is just 350 words of me talking about myself, my Canadian football experience and unemployed parents.)
Just because I'm Canadian and haven't attended an American high school football game, I'm no stranger to the sport. I'm a five-year high school letterwinner (before you think me dumber than I actually am, we had five years of high school in Ontario at the time), winning a pair of defensive MVP awards, being named to the all-city team the first time my city decided to vote for such a thing, suffering three concussions and tearing one ACL.
For my exploits, I was recruited to play football at two Canadian universities. I attended one of these universities (flattery will get you everywhere, McGill University head coach Charlie Baille) and quit nine days into training camp.
High school football in Canada wasn't like it is here. For starters, we played games on all days of the week and right after school, not at night under the lights because none of our fields had lights. We didn't have scoreboards either, just a foldout card table and a kid wearing a big coat with a stopwatch and a scorebook and a flag to raise when there were two minutes left in the quarter.
We also didn't have fans. The majority of the student body went home after school rather than sit on cold bleachers on a random Wednesday at 4 p.m. to cheer us on. Not a lot of parents attended either since most parents had jobs. We the few and the proud cracked helmets in front of bored cheerleaders, ambivalent classmates (most fresh out of detention) and a handful of parents with either really good jobs or no jobs at all.
Our game was unique as well. We played a mixture of Canadian and American rules and we weren't very good at passing the ball. Our game was like a time machine to 1947 — lots of Power I and dive plays.
I've heard it said that football is a lot like chess, but the game we played was not like chess. We were playing checkers with that chess set.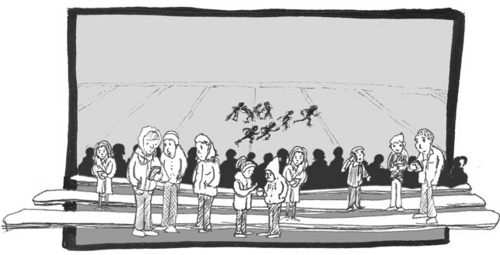 Right before a football player punches him in the neck
Less than five miles separate the two largest high schools in Ann Arbor.
Pioneer
(record: 5-1, enrollment: 2,832) and
Huron
(1-5, 2,098) are natural rivals — similar enough to prevent fistfights in the stands but unique enough to foment modest dislike.
For my journey into the rivalry I brought along my trusty man-friend and bodyguard C. Jason DePasquale and assigned him the task of capturing the event in his trademark sketches. A true citizen of the United States, Jason's attendance at American high school events is much more impressive than mine, but he's not necessary a student of athletics. I decided to teach him what I knew.
"Some say football is like a game of chess," I said to Jason, opening my dissertation on America's beautiful game.
"Yeah, nerds," Jason replied, "right before a football player punches them in the neck."
(A proper recap of the game from a proper reporter named Phil Lozen, including photos)
It was a cold and windy night, and fans bundled up to escape the fall chill — adults on the north side of the stands and students packed on the south side. Pioneer's side of the field was predictably crowded with a sea of mostly purple sitting on cold aluminum bleachers, their feet scraping loose flakes of white paint to expose the rust beneath. Unlike the high school football bleachers of my dreams, these were built atop a solid structure preventing students from sneaking beneath for a quick cigarette or a more memorable high school experience.
When we roamed to the Huron side of the field, the River Rats' fans sat on proper bleachers with ample space beneath, but the closest we came to witnessing any shenanigans was four boys throwing rocks into a giant mud puddle.
The Pioneer students packed into their section, which was physically separated from the rest of the fans by a ribcage-high purple railing. The student body crammed hip to hip and stomach to tailbone — at least 200 strong — though it might be a stretch to say that 40 were paying attention to the game on the field. Shouts to classmates walking by were louder and more enthusiastic than cheers for any Drake Johnson touchdown (he had three — and yes, he's pretty good).
The students were separated from the Pioneer bench by 15 yards and a chain link fence. Even in the first quarter, with the game still close (Pioneer would win 50-7), students in the first few rows interacted freely and often with players on the sideline, mostly players without a lot of stickers on their helmets.
Many of the shorter players in pristine uniforms seemed distracted — gesturing to friends in the stands or chatting with a young photographer on the edge of the team bench. Things like that would have earned a swift coach's rebuke in Canada.
Things were even looser on the Huron sideline. During halftime, a few of Huron's injured players hit the concessions stand (the Chuckwagon) and wolfed down pieces of pizza before their teammates and coaches dragged themselves out of the locker room for the second half.
The grown-ups were the ones who cared about the game itself. They were the ones cheering when Johnson cut around another Huron defender. They were the ones with teacup saucer sized buttons pinned to their jackets showing pictures of their kids in full uniform, footballs tucked under their arms.
The students were busy texting, yelling at people on their cell phones or looking too bored to watch the action on the field. The game was their version of a bar with all the TVs tuned to sports. You chat and hang out and occasionally look up to check the score.
Let's not forget the bands — but let's forget that they played Ke$ha
Let's not forget the bands. Oh the bands! What I love most about American sports are the bands. The drums especially give me goosebumps. Even high school bands make me happy.
At halftime, the Huron and Pioneer bands lined up on the sidelines opposite each other and charged to midfield like a bad deleted scene from Braveheart, only to regroup and play a Ke$ha song. Followed by Katy Perry. I stopped paying attention at that point.
The Pioneer band returned to the bleachers after their performance but was oddly quiet for most of the third quarter. When Jason and I got close enough to see why, we saw that they were eating giant burritos and boxes of pizza. This too would have earned a harsh rebuke from my high school football coaches.
The media presence at the game was impressive. Not only was one of the city's 56 most promising AnnArbor.com general columnists in the house (ahem, me) but so too was a proper professional AnnArbor.com reporter, a Community Television Network crew with three vehicles and a radio team broadcasting the McDonald's High School Game of the Week live on 1050 WTKA.
At the tail end of the 43-point blowout, Pioneer's players got bolder with their sideline fraternization. Many leaned right up against the chain link fence and talked to friends and presumably family. When time ran out, the Pioneer players rushed to a mini bell tower at the edge of the field and awkwardly rang the big bell signaling victory before taking a knee in front of their head coach, Paul Test.
I spotted Mr. Test the moment Jason and I entered the stadium. He was on the sideline wearing a tweed jacket with a headset over his Donegal tweed cap. The site of him patrolling the sidelines, no doubt imparting more wisdom than six of my columns combined, made him my current favorite head coach of all time for any sport at any level. Sorry Mark Rosen.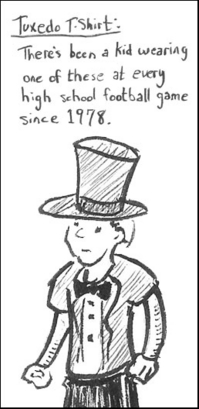 The losers, the winners and the kid with the world by the tail
The dejected Huron players had to cut through a stream of Pioneer fans leaving the stadium, passing within inches of the home crowd. They reeked of sweaty football pads and looked miserable with strips of Pioneer purple helmet paint burned onto the jerseys pulled tight over their shoulder pads.
They trudged to the parking lot behind the Pioneer stands where parents had laid out an adolescent feast. Coolers of Gatorade, mini bags of assorted potato chips and Famous Amos cookies and multiple trays of Halloween-themes cupcakes from Busch's.
Players loaded up with treats and headed to their buses for their five-mile trip back to school. There's nothing worse than riding a yellow school bus back to campus after a loss on a cold day — I played five years of football, I'm Canadian and we lost a lot. I felt bad for the River Rats.
Farther down the lot the Pioneer players click-clacked towards the main building carrying their helmets and shoulder pads, talking with teammates, savoring the moment alone. Some were met with hugs by loved ones and some with high fives from admirers.
Near the back of the pack walked No. 6 (Dan Eder) strolling side-by-side with a pretty girl dressed all in white wearing her own No. 6 jersey. Eder's smile was easy to see, even from 30 yards away. He held his helmet in one hand and took bites of a piece of pizza with the other. He finished his slice, gave the pretty girl a hug and walked off alone, trailed by two little kids calling his name.
It's only Friday night and Dan Eder has the world by the tail. His team just won a big football game, people like him and he's got his whole life ahead of him.
That's the spirit of American high school football I was looking for. The boundless promise of youth, the stupid but important meaning of beating other kids your age in sports, girls, pizza. Is every American high school football game like this? I'm just going to go ahead and say yes.

(Richard Retyi writes the recently infrequent column Lie to Your Cats About Santa. This is his first piece of American high school football, though he worked for the University of Michigan athletic media relations department writing football features during the Rich Rodriguez era, some of which were actually not too bad. You can follow him on Twitter at @RichRetyi or visiting his website in progress at RichRetyi.com. C. Jason DePasquale lives in Ann Arbor with his wife, two cats, and an unnamed fetus. He is licensed to both teach and drive in the state of Michigan, however, he currently does neither professionally. Write to him at gurglesnap@gmail.com.