A fashionable look back at 2009
Posted on Sat, Jan 2, 2010 : 10:59 a.m.
2009 was a pretty fantastic year for me. I full filled my dream of getting a degree in fashion design, from one of the greatest fashion schools in the country, and it was no walk in the park that's for sure. But wow was it ever the most amazing experience of my life. Shortly after I graduated my boyfriend of 8 years proposed to me in Central Park. We moved back to Michigan in late May, and in mid-November bought our first house. I got my pug around the same time. (I have had a crazy obsession with black pugs for like 10 years.) So I have to say, it has been one of the greatest and most memorable years of my life thus far, that's for sure. What do you remember from 2009?
Here are some of my favorite fashion memories from 2009, in no particular order.
1. Lady Gaga. She's got catchy songs, but it was really her fashion & style that won my heart. I got chills the first time I saw Bad Romance. Plus I love that she's this gorgeous blonde pop star who has a totally creepy and slightly twisted side.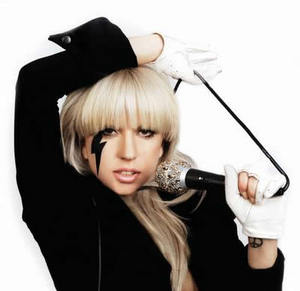 2. Leather everything. My parents rode harleys and took us to crazy biker parties when my sisters and I were growing up. I have always been a fan of black leather and the tough look. So it was a real joy to me when leather made the gigantic explosion into fashion. Not that leather has ever been *out* of fashion - it's certainly a timeless look and an ageless 'textile', but in '09 I really think it was more prominant than ever. Everyone wants leather everything, and I'm certainly a supporter.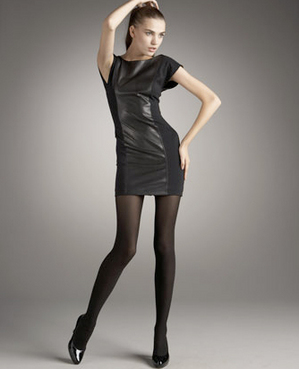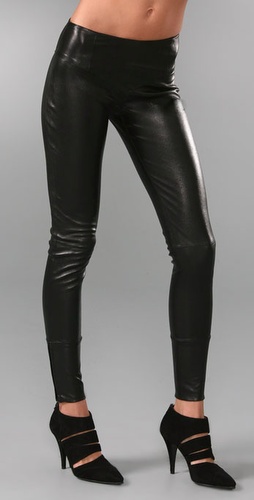 3. Theatre Bizarre. Self titled, "The most horrific Halloween Masquerade" - this was an event that was so fantastic and made such an impact on me, I am still thinking about it long after the snow has fallen. It inspired me in my studio, in my art, and well, made me feel like a kid again. It's been along time since I stayed out till 5 a.m. and didn't want to go home. This is the greatest and most fascinating halloween party, ever. And I feel I can say "ever" with absolute confidence. Where else in the world besides Detroit can you take over an entire block of houses and turn them into an entire different world. Think coney island, more twisted, set in an older time (20's? 40's?) Metromix has a great article with photos on the event here. I can't wait till next October.
4. Michelle Obama. Our generation's Jackie O. I love just love her. I love her poise, her elegance, her youthfulness and her eye for style.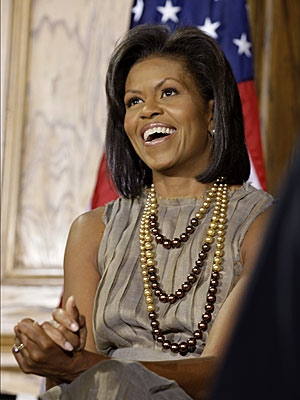 5. Mad Men. The smoking, the drinking, the style. New York City in the 1960's. As a true vintage fashion FANATIC, this show was my dream come true. Betty Draper and Joan Harris are the two characters whose looks I always drool over. I really feel that the show has made an impact on men's fashion as well. The 'gentleman' look is making a big comeback. At least among my friends, I'm seeing more and more suits out at the bars. I'm a big supporter of that.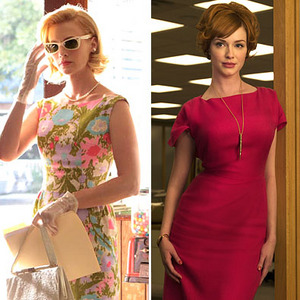 6. Our outfits on NYE. My friends and I celebrated in style and had a prom themed New Years party. I was really really happy with my fiance's willingness to go along with my desire to channel the 80's.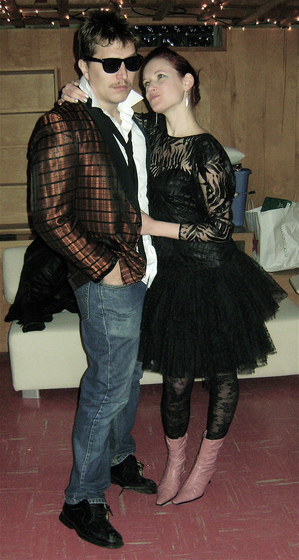 Here's to a new year. My goals are to make 4 bridesmaids gowns, and my wedding dress; and hopefully have my first runway show in March. I want to get around to painting our kitchen and bedroom, and put up a giant wall mural in the basement. I want to get back in shape, sleep more, and teach my dog to love walking on her leash. Start painting again. Get my fiance to finish our wedding guest list. Send out save the dates. Create something from unconventional materials. Open my online store. I've got a busy year ahead of me, but if 2009 has taught me anything it's that the busier you are, the more you accomplish, and the more memorable and fun that year will be.