Posted on
Mon, Jan 18, 2010 : 8:23 a.m.
A robot wedding proposal at 826michigan
By Richard Retyi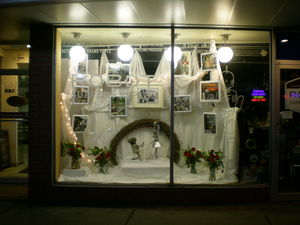 Liberty Street Robot Supply and Repair
Jason DePasquale has ruined it for us all. He has taken a ritual that is supposed to be conducted in fancy seafood restaurants or football stadiums and made it thoughtful, cute and romantic. On Saturday afternoon in front of the
Liberty Street Robot Supply and Repair shop of 826michigan
, Jason DePasquale, longtime volunteer and robot store co-creator asked 826 program director Amy Sumerton to be his wife.
He didn't put the ring in a flute of champagne or use a Jumbotron. The bastard did something clever and meaningful.
Amy accepted Jason's proposal in front of the first Robot Supply and Repair storefront, the first display that she did not play a part in designing. Amy's dream was to one day not be involved in the laborious process of designing and implementing the ambitious storefront displays that the robot store has become known for. Jason took care of it this time around.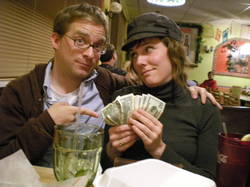 file photo
The couple met at 826michigan's old location, tucked away in a business park on State Street. The place was run by monsters. Their relationship didn't take off right away. Jason became an ever-important part of the organization, volunteering for workshops, planning the first monster store and ultimately kicking the monsters out of 826. He was one of the creators of Liberty Street Robot Supply and Repair and was responsible for a lot of the artistic work on the project. Jason's stock was rising. Amy was impressed. Things went from there.
Last year, Amy agreed to adopt Jason's cats, Bureau and Vander. They moved into a cozy apartment on the west side of Ann Arbor where Amy made tea and read impressive books and Jason studied to become an elementary school teacher. At Christmas, Amy gave Jason a book of love stories she had compiled, one of which she wrote herself. The story of them. Buried in the text was a clue leading to a ring. It was Amy's proposal. Jason found the ring which had "sample" engraved on the outside and "Give this back if you say no" carved on the inner band. Jason said yes and Amy didn't ask for it back.
Half-engaged, Jason put his plan into motion. He always had an idea of how he would propose, but the gears turned quicker in the New Year. Jason is good at building robots. Stop by the robot store and you'll see just how good. Jason set to work on his most important creations. He fashioned a Jason-bot and an Amy-bot, careful to make the Amy robot slightly taller, more stylish and more attractive to keep them as realistic as possible. He photographed the robots from different angles and digitally inserted the pair in front of real-world pictures where the real life Jason and Amy had shared memorable moments. Frog Island Park, the Michigan Theater, the beach at his parents' home in Indiana.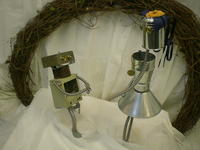 photo by Richard Retyi
On Friday night, with the help of his sister Natalie along with friends and 826 volunteers Rachel Lieberman and Tyler Brubaker, Jason assembled the new storefront. They draped the scene in white, adding flowers and pretty lights. The team suspended framed photos of robot Jason and Amy sharing moments in their favorite places. At the center, real Jason posed robot Jason on bended knee with the bespectacled Amy robot standing before him. They finished at 3 a.m. Jason confessed that he had trouble sleeping that night.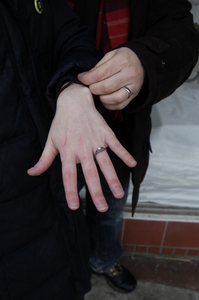 Photo by Blaine Roderique
On Saturday, the pair walked down Liberty Street to join friends for brunch, only the whole thing was a ruse. Jason led Amy to the storefront, got down on human knee, pulled out a ring and proposed. Amy accepted. The couple drove to Natalie's house to share the good news, but Jason had one final surprise. Earlier in the week he had secretly invited friends and family to gather at Natalie's, awaiting their return. When Jason and Amy walked through the front door, their loved ones burst into applause. Jason's nieces ran forward to hug the fully-engaged couple. Jason's glasses fogged up. Amy tried not to cry.
The couple plans to wed later this year. The tentative date is August 26. Yep, 8/26.
One final romantic gesture us regular guys with regular proposals have to overcome. What's wrong with sliding a ring across the kitchen table and saying, "Whaddya say?" Thanks a lot, DePasquale. You've ruined it for all of us. Your wedding better have an open bar. (Richard Retyi and Jason DePasquale have been friends for five years and shared a loft in Ypsilanti for two. They are working on a podcast that will probably never see the light of day. "Lie to Your Cats About Santa" is the name of Retyi's new column on AnnArbor.com that will focus on a variety of topics ranging from shooting ranges to the shopping carts races to jerks who set the romance bar too high. Email questions, comments or feedback to richretyi@gmail.com or read more of Retyi's work here.)