Posted on
Mon, Nov 16, 2009 : 3 p.m.
Purple cardboard (f) attached to downtown (art) bicycle hoops in guerrilla act of civic art defiance
By Edward Vielmetti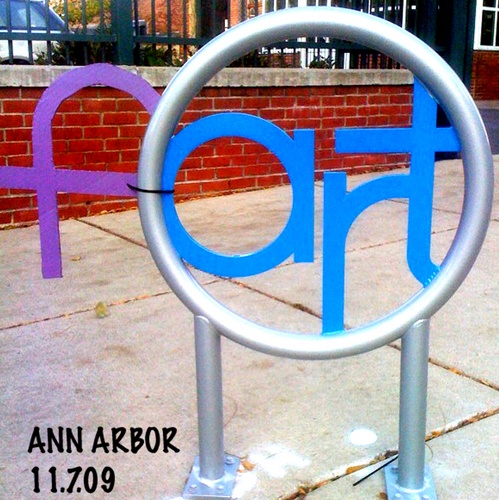 An unknown artist has edited Ann Arbor's iconic "art" bicycle hoops. Â AnnArbor.com received the following manifesto as a news release on Friday night, passed on by Adrian's T-Shirt Printery owner Adrian Cleypool:
"Local art critics launched a guerrilla attack on a recent street art project. Dozens of the colorful, recently installed, bicycle Hitching Posts were modified by the addition of the purple cardboard letter F.
  
The F, attached with a single zip tie, dramatically perverts the message of the flat cut steel letters within the frame's tubular circular structure."


We asked a variety of people to comment, either by telephone or e-mail, on this outrageous work of art.
Susan Pollay, executive director of the Ann Arbor Downtown Development Authority, noticed these when she was out shopping and emailed this to me:
"Someone did a FABULOUS job fabricating f's to the perfect size, shape + color - we now have farts all over the downtown sidewalks. Why I love Ann Arbor!"
Roger Rayle, Research Associate, Community Systems Foundation
"The parking meter Mickey Mouse shadows were more subtle."
Adrian Cleypool, T-shirt printer, Adrian's T-Shirt Printery
"I love the whimsical nature of the commentary on the installations. We need more advantages for people hitching their bikes up. But it ain't art."
Edward Vielmetti can see two of the undecorated orange art hoops from his office at AnnArbor.com in downtown Ann Arbor. You can reach him at edwardvielmetti@annarbor.com or 734-330-2465.