Posted on
Mon, Aug 9, 2010 : 9 a.m.
Body by Josh: a bridal bootcamp blowout at Sparrow Gym
By Richard Retyi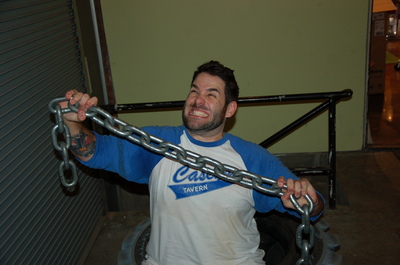 The author hulks out at Sparrow Gym | Photo courtesy of Josh Johnson
Former Michigan hockey player
David Rohlfs
flips a giant tractor tire end-over-end on the sidewalk bordering East Kingsley Street in Kerrytown, right outside a propped-open back door to
Sparrow Gym
.
You can hear the thump-thump-thump at the tony eatery Eve, outside the sushi joint Yamato and echoing among Kerrytown's shops. I'm on my side, staring out the door Rohlfs just exited. I'm in the middle of a set of oblique crunches and my left side is burning. I'm sweating embarrassingly and hoping nobody walks into the room. I think I have to lift some chains over my head when I'm done hurting my love handles. Sparrow Gym - this is where I've been training for nearly four months in the hopes of looking modestly awesome for my friend Jason's wedding.
There are more reasons than just Jason's wedding to get in shape, but I don't have a lot of day-to-day motivation to subject myself to this pain. I don't have high blood pressure or cholesterol, nor do I have diabetes or boneitis. So far, I can eat whatever I want and my body isn't at risk of shutting down. The motivation to work out isn't survival - I just want to lose weight and consistently fit into my pants. For Jason's special day, I'd like to look extra hot, if possible. Did you see Bill Clinton at daughter Chelsea's wedding? That guy looked handsomer than ever. Is that such an unattainable goal? Please don't answer that.
It might help to get you up to speed in case you haven't been in my sidecar from the start. My best friend Jason DePasquale is getting married in 17 days and I'm one of three groomsmen in the small beach wedding. The last time I was part of a wedding, I failed miserably. Relive the fun here! For Jason's nuptials, I decided to write a four-part series for AnnArbor.com as a method of self-therapy and in the hopes that the extra publicity for Jason and his bride Amy Sumerton will soften the blow when they receive my off-the-registry wedding gift. Who doesn't want "The Big Bang Theory" (season one) and "Born into Brothels" on Blu-ray? For Jason and Amy's wedding, I'm going to dress nice (part two), possess impeccable manners (the forthcoming part four) and look good in all the photographs (read on!). That's where the Sparrow Gym and Josh Johnson come in.

World War I with more dessert
I've been locked in a conflict with calories since fifth grade. Great losses have been suffered on both sides, but to date, it's been a stalemate. Think World War I, but with a lot more dessert. Like most wars spanning decades, both sides have adapted to each other and altered their tactics. On my side, I've tried different diets, varied my workouts, switched gyms, taken Alli. Food has invented newer and more delicious flavors of chips, perfected fast-food advertising and tied the smell and taste of Mr. Spot's wings to the deepest pleasure centers of my brain.
Fitness has been my greatest weapon, but one that I have a lot of trouble keeping clean and loaded. Trips to the gym cycle with my job. August to April (except the two weeks right after January) are the fat months - May through July, I'm usually a workout superstar (except for a few weekends of excess). This cycle has been going on for eight years.
I don't have a lot of excuses. I have a free membership to the series of athletic facilities at the University of Michigan. I live a three-minute walk from the Ann Arbor YMCA and there are perfectly good sidewalks near my apartment that I can run on. Nothing sticks, not even the greatest workout facility I've ever had the pleasure of being a member of - the Health and Fitness Center at Washtenaw Community College. The glory of the WCC gym! It's the Bellagio to your Binion's. TVs everywhere, a GOOD indoor track, free classes, a pool, a hot tub, a steam room, a sauna. They even have a little food counter where they used to sell wheat grass. When I lived in Ypsilanti, I was a proud member, but even having that magic bullet in my pocket didn't help maintain my fitness level.

Kerrytown, we go hard
I looked for a shot in the arm for Jason's wedding. The WCC gym is too far away and I'd failed the YMCA twice already. One option was the weight room at Schembechler Hall, home of the Michigan football team and director of strength and conditioning Mike Barwis. In my charmed job at the U-M, I've been afforded access to Schembechler Hall's weight room on occasion. On more than one occasion I've done 45 minutes on an elliptical directly behind head coach Rich Rodriguez and his titanic calves (seriously, I bet that man has stronger calves than any football coach in the country not named Tyrone Wheatley). It's not a gym for dabblers. Before contemplating Schembechler as my dojo of choice for the wedding, I consulted award-winning author and educator John U. Bacon, who trained under Barwis and his staff for six weeks last spring.
"It's like death, but slower," Bacon says, "with more yelling." He didn't look like he was kidding.
(From left) David Rohlfs and Josh Johnson | Photo courtesy of Steve Coron
With Schembechler Hall out of the running, I was at a loss. The poor motorists on West Huron Street would've been subjected to months of my bouncing glutes jogging up and down the sidewalks if I hadn't read about Sparrow Gym and Josh Johnson in Concentrate Magazine.
The eclectic gym in the heart of Kerrytown and its main man, Josh Johnson, were profiled in a glowing online article. Johnson appeared in two photographs, looking like a pissed-off Backstreet Boy. For some reason, that appealed to me. I visited the gym, went through a three-part evaluation (I'm still not sure if Johnson was testing my capabilities or just messing with me) and signed up in May. I've gone three to four times a week (cough cough, sort of) ever since.

From fat boy to Backstreet Boy
Johnson grew up in Onsted, population 813 in the year 2000. He was an active guy, playing football, basketball, running track and swimming ("Being around so much water, you really have no choice") while also participating in 4-H, but he wasn't always in great shape. Johnson had a bit of a weight problem as a young teen and only dedicated himself to fitness only after a young man called him fat boy. He turned a new leaf and never looked back.
"That was 14 years ago and I haven't missed a week since," Johnson says. "If I could feel this good, losing 65 pounds at 15 years old, then imagine someone who's 40, 45 or even 75. Age is nothing but a number when you feel like you're in the best shape of your life."
Johnson earned degrees from Eastern Michigan University and the U-M and started his career as a personal trainer. Today he has more than 200 clients and runs Sparrow Gym. It's not your typical workout environment. There aren't tons of racks of weights or a small army of treadmills. It's made up of four major rooms, a handful of cardio machines and two fish tanks. The TVs usually show cooking shows (I hate watching food while I exercise, but majority rules). The in-house sound system varies from classic rock to hip hop to disco. It depends on the mood of the day. Despite what looks at first glance to be limited resources, there's more than enough stuff to get you buff.
On every visit, Johnson is quick with a fist bump or a not so subtle joke if I've missed a few days. I don't mind - a good part of the reason I go to Sparrow regularly is so Johnson won't be disappointed in me. I know - daddy issues - but whatever works. Most workouts start with 15-20 minutes of cardio, and then Johnson walks me through six or seven exercises targeting major muscle groups (and bundles of tissue I never knew existed). An exercise might reappear every few days, but there's always something new. I've come to love the "wood chop" on the cable machine and hate decline crunches. After the first go-round, Josh moves on to help other members and I'm left to complete three to four more cycles of each exercise at my own pace. At the end, I wrap up with another 15-20 minutes of cardio and then shakily ride my bike home.

I (redacted) hate lunges
The presence of a supportive and knowledgeable trainer is new to me and a great help. I've never had a personal trainer and it was novel to throw that tidbit around when I first joined Sparrow. Nothing motivates me physically quite like peer pressure. If you've ever played competitive sports, think back to all those practices where your coach had you and your teammates run. Did you ever want to be last? Did you huff and puff and try your best to keep up with those one or two freaks of fitness that each team inevitably has? Did you do your best so your coach wouldn't yell at you or, worse, make you run some more? I was never in better shape than when I played sports and 90 percent of that was the peer pressure and the ever-watchful eyes of my coaches.
The author and his s-eating grin | Photo courtesy of Josh Johnson
In this instance, Johnson is my coach. We have a common goal (making me look awesome) and he tells me exactly what I need to do to achieve that goal. It's up to me to make it work. He alters my workouts based on a sore back one day or a tender foot another and has come to know when to joke with me, when to make fun of me and when to wear his Taylor Swift T-shirt (or is it Miley Cyrus?). Johnson is a good technical trainer but also a great motivator. Sparrow Gym might not have the bells and whistles of the WCC gym, but what do all those shiny elliptical machines and free spin classes matter if I don't use them. Johnson has me lifting giant chains, doing a billion sit ups each day and doing simple lunges, which are probably my least favorite exercise in the world.
I lost 15 pounds in the first few weeks but calories got their revenge at a conference in San Francisco, and then added insult to injury during an extra week off from the gym. Sparrow fought back and put me back in the black, but my job and a bachelor party in Vegas built a strong alliance, pushing back. With a little over two weeks to go, I'm about 10 pounds down and ready to mount a final assault and see just how good I can look. Johnson is in the final week of preparation for a big triathlon in Malibu so I'm going to have to go it alone these last few days. He's left me with multiple hand-written workout plans, one which reads "Rich's Bridal Bootcamp." Wish me luck loyal readers. And don't give me your leftovers.
- - - - - - - - - - - - - - - - - - - - - - - - - - - - - - - - - - - -
CONTEST TIME!
In my last article, I asked readers to offer suggestions for what the name of Abercrombie & Fitch's overpowering in-store cologne was called. There were a number of excellent monikers, the best of which appeared on Facebook. Girlfriend Rachel's cousin Colleen offered "Breau de toilette" which was my favorite, but it wasn't on AnnArbor.com so I have to disqualify her entry (sorry!). Another of Rachel's cousins and Colleen's brother, Phil, offered "Broseph Stalin," which was also solid. Pal Jordan Miller offered up "ABS - tagline: you want them" which was good too, but I can't in good conscience give the prize to a friend of the program. Therefore, "Veggie Burrito" (that's their name!) wins for his/her offering of "Tsunami" because it's apropos and also a little too soon. Veggie, e-mail me at richretyi@gmail.com and we'll set up a time when I can hand deliver you your prize at the AnnArbor.com community space.
This week's contest is this: offer up the most creative and unhealthy way I can lose 10 pounds in the next two weeks. The winner will receive a bag of exotic imported Canadian potato chips. What flavor, you ask? Um, how about flavored chips!? BALLPARK HOT DOG flavored chips??! Comment with inventive ideas and I'll hand-deliver these bad boys to you, fresh from my homeland. Good luck.

(Richard Retyi writes the bi-weekly(ish) column Lie to Your Cats About Santa and does not think that fitness is all about looking good, but that's mostly the point, right? He painfully ran the Big House Big Heart 5K last fall and might do it again just to make sure there isn't a slice of dignity left in his sneakers. Read more of his stuff here.)