Posted on
Tue, Apr 5, 2011 : 6:21 p.m.
Interview with YouTube songstress Kina Grannis
By Jing Chai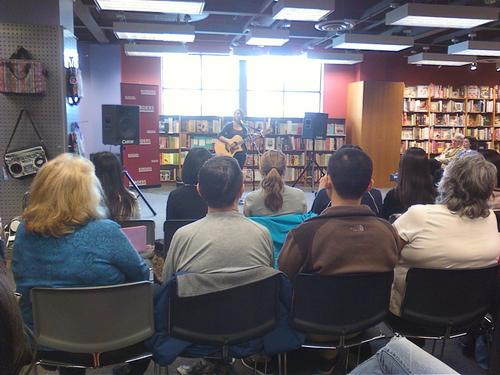 Kina Grannis at downtown Borders bookstore.
Jing Chai | Contributor
By the time I got to the second floor of the downtown Borders bookstore, every single plastic chair had already been occupied. College students sporting North Face jackets sat side-by-side with grandparents and middle-aged mothers, toying with their iPhones.
I stationed myself along the edge of the chairs as the crowd sifted with anticipation. We were all waiting for one person.
A petite brunette with hair pulled loosely in a fishtail braid stepped out of the elevator, led by a Borders employee. She was dressed casually in a jersey top and workman's boots. As she circled to the front of the crowd, whistles of approval and excited claps reverberated across the room.
Kina Grannis unclasped a black guitar case and faced the audience, her face framed by the afternoon sunshine. She strummed an intro chord and remarked on the strange un-springlike weather outside. The crowd laughed in response.
Grannis performed several tracks from her new album, Stairwells, including "Message From Your Heart" and her hit single "Valentine." As a member of the audience, I was encapsulated in the moment wrought by her soulful voice and earthy tones. Listening to her sing live was its own successful marketing campaign; I purchased her CD immediately afterwards.
Kina is no stranger to warm reception. Ever since creating an account on popular video-sharing site YouTube, she has netted over 61 million total views. Kina posts personal covers to well-known songs as well as her original melodies. She has also guest-starred in videos made by other YouTube stars such as Wong Fu Productions and David Choi.
Ann Arbor is only the second stop of her World In Front of Me Tour, and today was the release day of her fourth album, Stairwells, in stores all over the country. To celebrate the launch, Kina hosted this special appearance at Borders. She is also slated to perform tonight at 8:30 p.m. at the Blind Pig.
I had the opportunity to sit down with Kina Grannis after her CD signing to ask her a few questions about life, her music, and Ann Arbor.
Jing Chai: What are your inspirations? This can be in terms of music, art, food…
Kina Grannis: [Laughs] When I was little I listened to a lot of James Taylor. The first band that made me realize how powerful music can be was Kay's Choice, a group from Belgium. Now I like to listen to Sigur Ros, Imogen Heap and Bon Iver.
J.C.: Can you spell that for me?
K. G.: [S-i-g-u-r…] I didn't realize how difficult the names were until now!
J.C.: How did you first get started doing music?
K.G.: I was singing and writing since I was a kid. I realized halfway though high school that I loved music. I taught myself how to play guitar. It was the thing that kept me sane throughout college.
J.C.: So you already graduated from college?
K.G. Yes. I went to the University of Southern California and majored in social sciences and psychology.
J.C.: Do you have any advice for high school or college students who are struggling to figure out what they want to do with their lives?
K.G. In college I was undeclared until they made me pick a major at the end of my sophomore year. I picked the most enjoyable major, not necessarily thinking about what job I wanted to do later on. What seemed to be the most enjoyable was studying people. I think music is similar in that way to the social sciences; you analyze people.
J.C.: So where did you music go from there?
K.G.: After college I moved to Austin, Texas for six months to do music. I did some really low-key stuff, but then I entered the Doritos Crash the Super Bowl Contest. I also opened my YouTube account, and then to get people to vote for my song in the contest. I ended up winning with my song "Message from the Heart." Then I moved back to L.A.
J.C.: What's the best part about being on tour?
K.G.: Definitely meeting all the people. Unlike on my YouTube account, I can actually match faces with fans.
J.C.: What's your favorite thing about Ann Arbor?
K.G.: Well, I haven't been here for very long, but I'd have to say the trees.
J.C.: Favorite song on the album?
K.G.: They're all my babies, so I feel like I'd be a bad mother if I just chose one.
J.C.: Any new material planned?
K.G.: There are a few new songs on the bonus track in the Deluxe Edition of Stairwells. I do have other new songs in the works. I'm hoping to start recording by the end of this year.
J.C.: What makes your music special or different from other brands in the industry?
K.G.: I think all music has something special. It's all about writing what's true to you; what resonates with you. There are a lot of songs about love on my album, but they all reflect aspects of my life. My songs have to do with looking at yourself and what changes you can make to improve yourself.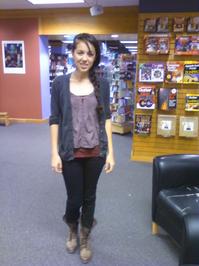 Kina Grannis.
Jing Chai | Contributor

Author's Note: From the beginning, Kina's sparkling and very much genuine personality shone through as she interacted with the audience and staff (Kina collected all the yellow sticky notes where fans had written down their names to put in her scrapbook after her CD signing). Perhaps what's more amazing to me than her natural talent is her sense of humanity and friendship.
What else can we expect from a girl who would like us to know that she "saves drowning honeybees from pools whenever she gets the chance"?
Jing Chai is a student at Huron High School and can be contacted at promisedalacrity@gmail.com.