Posted on
Sat, Mar 20, 2010 : 1:16 p.m.
Michigan music hits South by Southwest: Day Three
By Jeremy Peters
To give a little bit of insight into the festival, I wanted to attempt to describe the acute craziness that is this festival. The crowds are staggering. The local economy balloons during these two weeks, and every where you turn, there is another person likely doing the same thing you are, going to listen to music.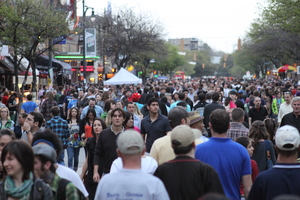 Jeremy Peters | AnnArbor.com Contributor
This is my fifth year of attending
South by Southwest
, and if I happen to be enticing you to make a trip next year, here are a few suggestions that are hopefully a bit better than the standard "wear sunscreen" type.
Get up early each day. One of your worst follies can be sleeping away the day after being out late the night before - you'll miss the hordes of day parties and showcases put on by various companies, many of which include free food and beverages. You can manage to catch about double the music if you commit yourself to going to these shows.
Venture off the beaten path. There is amazing food to be found and strange treasures (stores, sights, and such) by leaving 6th Street. BBQ, vintage stores, soul food, amazing Mexican food and much more ring the downtown and outskirts of the Austin area.
Embrace the insanity. I think I've made my point that the city gets a bit crazy during the festival, and it is best to embrace it. Sure, if you are not a person who can deal with crowds well, this won't be enjoyable, but otherwise, just embrace the fact that there is a certain percentage of random occurrence that needs to happen, and popping into a show you didn't plan to see can turn up some pretty unexpected results.
That being said, make a schedule. You will see below why this is important. Attendees will ask what you are planning to see, and it is good to have at least a loose plan so that you can be sure to catch everything you were hoping to. Additionally, a schedule can pay its dividends in gold in trying to organize a place to meet.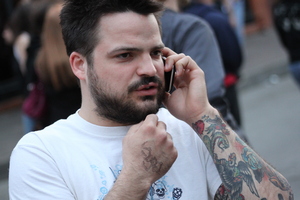 Jeremy Peters | AnnArbor.com Contributor
I am attending with Andy Garris, the owner of Ypsilanti's
The Elbow Room
, who is down here scouting talent for the bar's booking calendar. Garris had this to say about the general insanity: "I mean, the number of bands just playing on 6th Street one night, let alone through the entire city is staggering. I'm a big music fan, and it is almost too much. My hope is to try and bottle the perfect mix of music, drinks, and atmosphere that they've stumbled upon here and try to bring some of that back to our corner of Michigan."
Due to a severe scheduling failure, I was able to catch up with only one band from Michigan. On tour with Ypsilanti's Awesome Color and enjoying their time on the road with them, Detroit's Tyvek played their official showcase Friday evening at downtown's Beauty Bar for the Panache Booking showcase. Members Kev, Matt, Shelley and Heath tore through a 45-minute set of what seemed like upwards of 20 songs. Tyvek are known for what can almost be described as punk, but also not punk. Their set contained the angularity, speed and rough hewn stylings of what punk is, but for some reason, simply tagging them as such does not sit well with me. Their MySpace account lists their genre as "other," which I am deeming a fair assessment.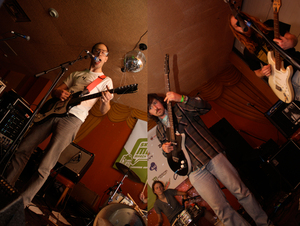 Jeremy Peters | AnnArbor.com Contributor
I spoke with bassist/drummer and Ann Arbor resident Shelley Salant after their performance, and she said that the band is doing quite well on tour and that the lineup is treating them well. Since this writer has not been able to manage making a set by the grittier side of our music scene as of yet, I was excited to hear about the possibility of seeing and shooting photos of Awesome Color (given the schedule failure) on Saturday and to see Tyvek last night.
[This article is number four in a series of entries covering local artists traveling to Texas for a large music festival. Coverage follows until Sunday morning.]
Jeremy Peters covers what he likes to call the Underbelly of the Local Arts and Music Scene as a community blogger for AnnArbor.com. He can be reached at 734-217-4570 or jeremyjohnpeters@gmail.com.