Posted on
Mon, Mar 28, 2011 : 10:25 a.m.
Play me a song, karaoke man: A behind-the-scenes look at the life of a KJ
By Richard Retyi
KJ extraordinaire Mark Carlson | photo by Rich Retyi
"If a guy comes up and puts in for a Billy Joel song, he's a karaoke ringer and an unimaginative one."
Mark Carlson looks like Kevin Smith's Silent Bob, and he's the most popular man in the bar. He's the doorman to the really cool club, the guy who straps you in at Space Mountain. He's the karaoke man, and if you want to get on stage for your three to five and a half minutes of fame, you'll have to go through him to do it.
Mark works as a KJ (karaoke jockey) for Stoo, the namesake of Stoo's Karaoke. Mark has agreed to give me a behind the scenes look at the business. Sometimes it's dirty, there's a fair amount of booze involved, and sometimes the KJ gets beat up. It's a damn good story.
Strap in and please don't ask to sing "Love Shack."
There are a few rules
Molly Q (all names changed to protect the innocent and tone deaf) steps to the microphone wearing skinny jeans and high tops and sets down her can of PBR on the stage. She muddles through three minutes and five seconds of Katy Perry's "I Kissed a Girl," singing to a pair of mooning boys in the front row.
She leans in and squints to read the lyrics and kicks over her beer. Her voice is terrible and her beer is soaking into the stage, but Mark is smiling. She's trying, and that's all he cares about.
"There are no apologies in karaoke," Mark says. "The only thing I hate is when people who can't wait to get up there finally get on stage and don't sing into the damn microphone."
There are a few rules.
"If somebody comes up and says they're going to be great, that's a guarantee they're going to suck. Every time. But that's okay! The whole point of karaoke is that anyone can do it. You say you're going to be awesome? I really don't care. It's karaoke!"
"If there are more than three people on stage, the performance is going to be awful."
"First come, first served."
"Get to the bar early and sing often. I'll recognize you."

"I hate taking bribes, even though I could use the money"
Most stand back. Some lean in and cock their heads around Mark's shoulder like little kids watching mom bake cookies.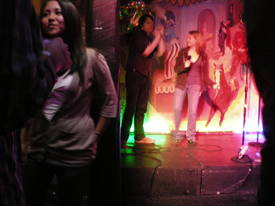 Rich Retyi | Contributor
The girls are the bravest. They get in tight with ponytails, boots and tank tops with rhinestone accents. They wear scarves and thin watches and smell like flowers.
The guys always touch. Hands on Mark's shoulders like pals away from the wives on the annual fishing trip. They use "dude" and "man" a lot in their sentences. Some initiate complicated handshakes. The guys are the worst.
"I hate taking bribes, even though I could use the money! A woman once offered me $100 to sing the last song of the night, but I'd already promised my then-girlfriend I'd sing a song for her, so I refused. I was in love, what can I say?"
"People rarely buy me drinks. They just don't think of it, I guess."
"I got beat up over karaoke once, but I don't think you have enough room in your story for me to accurately describe that incident."

"Three songs I never want to hear again…"
Someone keeps a long list. It's a list of songs that you should never sing at karaoke. They're musical atrocities or uncreative lay-ups. "Don't Stop Believin'." "Sweet Caroline." "Livin' on a Prayer." "Bohemian Rhapsody."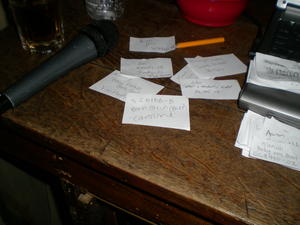 There is a list and people are adding to it every day | photo by Mr. Brainwash
"Three songs I never want to hear again: 'Piano Man'. 'Wannabe'. 'Baby Got Back'. I actually appreciate the merits of 'Don't Stop Believin'. I grew up despising music like that, but karaoke has helped me appreciate its kitsch and sentimental value. Now, do I think 'Bad Medicine' is great American songwriting? Not really, but kind of."
"Once this old drunk guy was singing 'My Way' and was way too into the lemme-tell-you-something Sinatra blowhard state of mind. At the end he went off about how being gay was un-American or something. I was horrified and shut off the microphone, and the bartender escorted him out. When you give drunk people microphones, you have to be ready to turn them off."
"The best karaoke singers are the ones who get up there and do it like they mean it. They have fun with it, and everybody in the bar has more fun because of that. I don't care what your voice sounds like, just let us hear you!"

Exception to the rules
Just before last call on a Friday, a duo sings "You've Lost That Loving Feeling." It's on The List but damned if it doesn't lead to slow dancing and three audience make-outs. What is Mark doing? Smiling.
Richard Retyi writes the bi-weeklyish column Lie to Your Cats About Santa. He's been working on this karaoke feature since Dec. 21. His first draft was 3,200 words long. Mail him a SASE and he'll send you the whole shebang. He's pretty into karaoke. Follow him on Twitter at Twitter.com/RichRetyi or read more of his work in the AnnArbor.com archives or at InBedByEleven.com.