Posted on
Fri, Feb 11, 2011 : 11:43 a.m.
MothUP Ann Arbor - John McCain anecdotes and clubbing racecar drivers
By Richard Retyi
(This story chronicles the MothUp that took place Thursday evening at the Work Gallery, and contains an audio recording involving suits, cigars, liquor and hooligans from Ypsilanti).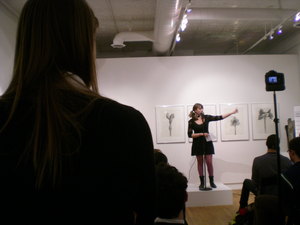 The host for the evening, Elizabeth Mikesch.
Richard Retyi | Contributor
Sweaty chunks of cheese, mini cupcakes and "sparkling princess juice" wash down stories of car chases, grandmothers and a memorable night of clubbing with seven-foot Tibetan goddesses and a racecar driver named Grav.
It's called The Moth - an evening of storytelling in front of an audience based on a common theme. Five minutes, one microphone a tiny stage and no notes. Moths have broken into the mainstream in the last few years thanks to The Moth Radio hour, heard on over 200 radio stations with a popular podcast on iTunes. There's now a traveling mainstage show, MothStorySlams (one in Detroit) and the smallest incarnation, the MothUP.
Eastern Michigan student Elizabeth Mikesch, 22, is the host for tonight's event at the Work Gallery — "Missed Connections." Elizabeth won the original MothUP Ann Arbor event in the fall of 2010 with a story about losing her virginity.
Elizabeth (who coined the term "sparkling princess punch" for the Kroger brand cranberry cocktail being served) and her fellow MothUP Ann Arbor members (Stephanie Smith, Alex Green, Ben English, Katherine Globerson, Katrina Santos, Kelsie Kaufman and Ben Antonio on drums) have organized this, the third MothUP Ann Arbor event.
Tonight there's a story about a South American taxi cab chasing a charter bus at breakneck speeds on curvy dirt roads to avoid a missed a connection. Another story builds to an unsatisfying climax where the protagonist (him) tells John McCain a dumb joke about Hispanics. A lot of stories involve death and end in lessons. I'm surprised there isn't more swearing.
"It's a nervous tic to swear up there," Elizabeth says. "It just pours out of you."
(Listen to my own attempt at telling a story about a Missed Connection. It's short, I don't swear, and it would've easily earned me last place.)
Participants sign up at the event and have five minutes to win over three groups of judges who rate their performance on a scale of 1 to 10. The winner of each month's event, along with select all-stars, face off in the MothUP Grand Slam in April. Elizabeth will eventually be pitted against whoever comes out on top tonight.
The John McCain story scores big despite having a tenuous connection to the night's theme. The storyteller comes in third. A sadder tale about a sister and her dying brother is touching and raw and earns her runner-up honors.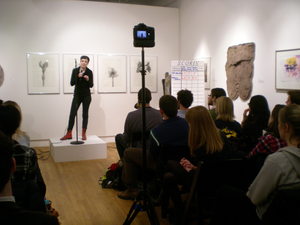 MothUP Ann Arbor storyteller
Richard Retyi | Contributor
Some go for maudlin. I'm easily older than everyone in the Work Gallery, and even I'm not qualified to stand on stage and preach life lessons about love, spirituality and friendship. The best stories are genuinely funny with earnest emotion. Or they're just damned good yarns — not rich tapestries of life that would make Jonathan Franzen push away from the table.
The night's winner isn't a creative writing major but an engineering student. Noah Klugman is awkward and disheveled on stage, but he owns his story of one final night in India with Grav the racecar driver as his guide. Noah inhabits the story, modulating his voice and moving his body to mime a policeman's outstretched hand or to demonstrate what his arms look like as a group of gay men teach him how to dance in a crowded club. Noah disappears into his story and through humor and detail and, it sounds stupid — storytelling — earns the biggest applause of the night. It's worth noting that he doesn't swear once the entire time.
"I have a massive project due in 72 hours, so I figured I'd blow off some steam," he says afterward.
"Noah brought a lot of energy," Elizabeth says. "The best stories balance being funny and being serious."
After a horribly failed analogy to the final fight scene between Nicholas Cage and John Travolta in Faceoff, Elizabeth gets serious.
"I'm going to rip his engineer ass at the Grand Slam," she says. "I'll use my inner menstrual strength to demolish his robotic-engineer-good-at-math ass." She's tired. I'll cut her some slack.
Good luck Noah. You'll need it against this one.
The next MothUP Ann Arbor is March 10 at the Work Gallery at 7 p.m. The theme is "Whoops, I Was Wrong." For more information visit the MothUP Ann Arbor Facebook page or check out videos from past events.
Richard Retyi writes the bi-weekly-ish column Lie to Your Cats About Santa. You can read more at his blog InBedByEleven with co-blogger in exile Jordan Miller. You can also email him at richretyi@gmail.com if you want to know what the dumb joke about Hispanics was. It's really dumb.