Lie to Your Cats About Santa
the deuce:

Did Creepy Banana or the chicken win? The Spur Studios Art Race is decadent and depraved (not really)

Posted on Mon, Jul 12, 2010 : 10:27 a.m.
The orange alien didn't stand a chance. Creepy Banana had inside position but when the Roman cut the chicken's head off, Cobbled Together seemed destined for the prize money. This is the official record of the inaugural Spur Studios Art Race, held in conjunction with Ypsilanti's Shadow Art Fair. It's not pretty, but it's pretty entertaining.

"It was always in our minds to try this at some point," says Chris Sandon, co-manager of Spur Studios, member of Dirty Bros. and acting official of the Art Race. "Other races of this kind are treacherous journeys with your art machines. This is more about being fun, interactive and weird."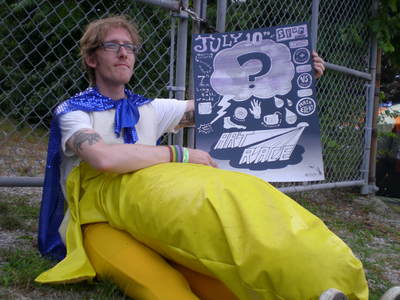 Creepy Banana | Photo by Richard Retyi
Sandon acted as race official, wearing a hydrant red suit with decorative flames, twirling
and wheeling on garage sale rollerblades like a reject from Stars on Ice. He shouted directions into a megaphone, ordering the heats and working the crowd, which streamed steadily into the parking lot, trickling from the belly of the delicious-smelling
BTB Party Bus
shuttle running every 10 minutes.
News of the event spread online and by word of mouth. In its first year and with $400 in prize money up for grabs ($200 from Shadow Art Fair and $200 from Spur Studios) no one was quite sure what to expect.
"I had the bike, so …,"
Sebastian Rataezyk
trails off, creator of Cobbled Together. Rataezyk was familiar with kinetic art sculpture races, referencing an event in
Port Townsend, Wash.
,
which is in its 27th year of existence. "I used to live in Seattle and the Port Townsend races are massive. I'm excited to see the different designs here." Rataezyk's creation is made of recycled materials clamped to a three-wheeled bicycle, the main feature of which is a giant two-toned "horn"
protruding five feet in front of the machine. "It's an, um, horn," says Rataezyk.
John Lennon
("I know, I know, that's why I usually go by Johnny Lennon," he says after he introducing himself) learned about the Art Race from good old fashioned eavesdropping. He parlayed his keen hearing into a slot in the Art Race, entering a 14-foot-wide beast fresh out of one of da Vinci's lesser-known sketchbooks. The master bicycle has an intricate series of smaller bicycle parts welded to it, forming a pair of six-foot wings, festooned with black feathery fabric. Lennon's pedaling turned the gears and wheels that drove the wings up and down, simulating the flight of an intoxicated avian. The contraption consists of parts of seven bicycles in all, including a piece of a bed frame. Lennon's creation broke after the opening heats, but he had the foresight to bring along a borrowed MIG welder, which came in handy for on the spot repairs.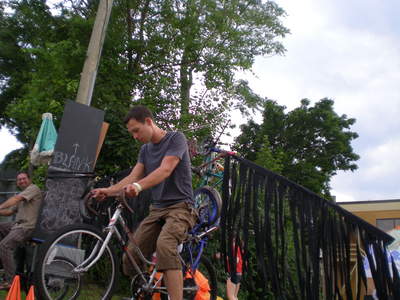 Cobbled Together and da Vinci | photo by Richard Retyi
Rick C. read about the race on
MarkMaynard.com
("You should mention his blog!") and entered an existing creation,
You Are Video Head
, a life-size wire humanoid with a touch-screen monitor in its face and LED lights running throughout its body. "I take it to events like
Top of the Park
and play appropriate music and video," says Rick. For the Art Race, he chose songs by
jazz instrumentalist
Rahssan Roland Kirk
and some disconcerting sci-fi bleeps and bloops.
The full field consisted of a lurching orange alien, a banana with its potassium thunder pointing closer to 12:15 than high noon, a chicken, Cobbled Together, You Are Video Head and the da Vinci Cycle, as well as a young man dressed in full Roman regalia who crouched in the median of the parking lot looking up to no good. At Sandon's signal, the racers sped through the parking lot, rounding the median and barreling toward the nice-sized crowd and the finish. The da Vinci Cycle struggled in the tight space, the alien lurched in last place and the banana's gyrations creeped out even fans who'd seen "Human Centipede." Twice.
In the end, the race was less about the first to the finish and more about the spectacle of the competition. (
Author's note: I admit, I was too busy taking pictures to see who won the close race. I think it was Cobbled Together or Banana. Maybe I need an assistant. Anyone willing to work for sage advice and rides in my Volvo sedan?
) The Roman sprang from behind his tree and decapitated the chicken, which kicked into overdrive, completing the race with a feathery flurry and giving up the ghost behind the finish line. Prizes of $50 were awarded to the alien and the chicken, while You Are Video Head, Cobbled Together and the da Vinci Cycle each took home $100.
"This wasn't about speed," says Sandon. "All these weird creatures, these interesting people and their interesting contraptions, that's what we're about."
Richard Retyi writes exclusively about the world of weird racing, as evidenced by his columns on the Punk Week shopping cart race and the Ypsi Heritage Fesitval bed race. Might as well just read all his stuff here. Rich writes a bi-weekly(ish) column called Lie to Your Cats About Santa and he is not, I repeat, not, a real reporter. He used a sharpie to write notes about the Art Race. A sharpie. Come on! Contact him at richretyi@gmai..com with your story ideas and he'll bring his multimedia lab to your home, event or place of business. Seriously, no topic too small or sell-out-y!

Rich saw "Predators" last week and he can make the Predator noise. Read his blog, Don't Take Christopher Walken Boating.