Posted on
Fri, Dec 10, 2010 : 3:36 p.m.
Toys for Tats at Depot Town Tattoo -- only in Ypsilanti
By Richard Retyi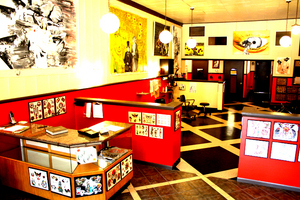 Toys and tattoos don't generally go together, but for the last two holiday seasons, Ypsilanti, Depot Town Tattoo and Dawn Cooke have proven the exception. On Saturday, Dec. 11 from 1 to 11 p.m Depot Town Tattoo will hold its Toys for Tats drive where anyone donating a toy worth $10 or more will receive a free tattoo.
"I remember how sad I felt when I woke up one Christmas morning and all that was under our tiny tree was a pack of underwear," says Cooke. "I grew up in a really poor household with a single mom, and we didn't have a lot. I'm fortunate enough to tattoo for a living, and it's great to have my partners and my peers back me up in giving back during the holidays."
(Full disclosure: One of my two tattoos was done at Depot Town Tattoo by Mike Emmet. Also, thanks to Depot Town Tattoo for all images.)
The idea is Cooke's, but her partners are just as good-hearted and talented. Last year, the event was so popular they had to turn people away. The Depot Town Tattoo staff delivered a haul of toys to a two local orphanages and a community center for low-income housing, brightening a lot of holidays for kids in Washtenaw County.
"Everyone wins at this event," says Cooke. "We're a lot more than a tattoo shop. We hold art openings every three months and invite our community to celebrate local and national artists. Toys for Tats is becoming a cool tradition that we hope we can continue for years to come."
For Saturday's event, the doors will open at 1 p.m., and Dawn and four other artists will tattoo for 10 hours straight — a feat of endurance she's happy to tackle for a second straight year. An art opening for Niki Urban and Tom Burns will also start at 8 p.m. with wine and hors d'oeuvres.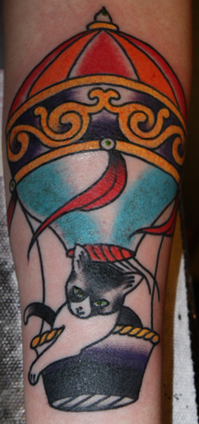 "We were overwhelmed last year," says Cooke. "This year, I'd suggest getting here early and signing up before all our spots fill up."
Clients are encouraged to sign up and make appointments for any time during the Toys for Tats event, and then return when it's their turn. Dawn and her partners aim to complete around 150 tattoos before they close up shop.
"We'll have a 20x30 sheet full of tattoo choices, designs we've picked because we liked them and we thought they'd be fun to do," says Cooke. "There'll be about 40 — some traditional but all of them really cool. There's a hot devil Santa Claus I'm partial to. I really hope I get a chance to do that one."
Tattoos that would normally cost $100 can be had for the price of a cool toy thanks to the generosity of the Depot Town Tattoo staff. They'll donate their time, energy, skills and ink to collect a giant sack of toys and make the event as fun as possible.
"Everyone's worked really hard this year, and I appreciate the support of my coworkers and friends," says Cooke. "They all make this event the success it is. We hope to see a lot of familiar faces on Saturday."
Richard Retyi writes the bi-weekly-ish column "Lie to Your Cats About Santa". Follow him on Twitter at twitter.com/richretyi, read more of his AnnArbor.com work here or check out his co-blog In Bed By Eleven. He also LOVES getting emails. Send him one at richretyi@gmail.com and see what happens.