Posted on
Mon, Jan 4, 2010 : 7:11 p.m.
Using technology and gadgets for your 2010 resolutions
By Kyle Stuef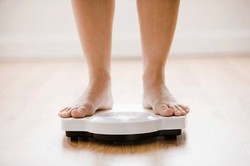 My New Nemesis
I'm not sure about you, but as the ball was dropping on 2009, I was preparing for my 2010 resolution to take place. Of course by "preparing," I really mean that I was shoving every last unhealthy food into my body before the clock struck midnight. You see, every year I gain weight during the holidays, and every year I make it a resolution to lose that weight. This year however, my "2008 Holiday Gut Busting Weight Gain" decided that it wanted to last all of 2009. I had a much bigger weight loss goal in front of me than I had ever tackled before (a year's worth of sitting at a desk, eating lunch at gas stations and refound love for a lady named Little Debbie really piled up).
What was your resident tech blogger to do? Simply eat better and exercise more? Of course not. That would be an awfully boring post. I needed to find a way to trick my body into thinking I was messing with new gadgets and fooling around with technology, and not working out. How would I do this? You'd be surprised how much a few little gadgets can make me say, "Yes! Time to work out!"
First up, I bit the bullet and went the way of many people who had failed before: The Wii Fit System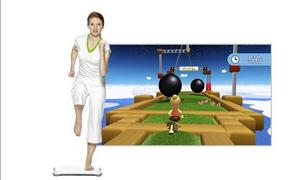 Wii Fit Plus in Action
As it comes, the Wii Fit System is fun. It makes you get up and move around. You can not cheat by sitting on the couch and making exaggerated movements (trust me). With options like yoga, a daily check in on your weight and BMI, and strength training, you may think that Wii Fit (or Wii Fit Plus as I purchased) is nothing but serious about your weight loss. This is hardly the case. Much like other Nintendo designed games for the Wii (see Wii Sports Resort) there is a mix of silly, fun and competitive games that make you
feel like
you are barely working out at all!
The problem? You are barely working out at all. Being confined to the balance board restricts the amount of calories that you are able to burn and sometimes makes you feel as if you are making more progress than you actually are. If you are looking to have a lot of fun and get in a little exercise while you're at it, this is the game for you. You can track your progress, play as a family and even track the weight of your beloved pets.
If you are looking to lose some serious weight and feel a serious burn, (or an entire year's worth of Little Debbie Nutty Bars) I suggest purchasing a separate game to go along with your new Wii Fit Balance Board. I went with the highly reviewed EA Sports Active.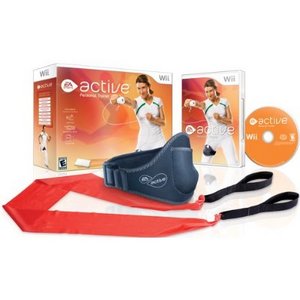 EA Sports Active Bundle
Right off the bat, you know that this thing means business. There are no games to choose from, only 20 - 30 minute workouts with your own virtual personal trainer. This game come with a resistance band and a leg wrap to hold on to your controller while you are sweating in the comfort of your own home. This is the heavy lifting software that you want if you are looking to do some real damage to those love handles. Unlike Wii Fit Plus, this game utilizes the hand-held controllers more than the balance board. This actually allows you to move, lunge and torque your body in ways that you forgot that it could. The first day of my 30 day workout plan (laid out by my virtual trainer) actually made me break out in a sweat. I was not allowed to do any of the movements incorrectly either. The sensors are extremely sensitive and make sure that you are doing the techniques correctly. You will feel the burn, and your virtual personal trainer will make sure of it.
Now that I've tricked myself into working out, how do I trick myself into eating better? The answer: Lose It! an app for the iPhone from developer Fresh Apps.
Screen Shot of Lose It!
I don't know much about caloric intake. I don't know what a good number is for a guy my age. I don't know how much I'll save by skipping cheese on top of my fish taco. Luckily, Lose It! can help me out. This user friendly app is a breeze to use and it's free, so it already had two good marks to it's name with me. If you want to tally your calories for the day, take out what you burned up exercising and compare it to days past, this handy app has you covered. If you want some help planning your next meal to make sure that it is as healthy as it can be, you're covered there too. If you want to feel better about yourself by comparing your meal to the guy at the next table when you're out to eat, don't worry, you can do it discreetly.
The Verdict: Will I lose all of this extra weight that I've accumulated? Only time will tell. Have I spent the first four days of 2010 tricking myself into working out and eating better? You betcha. In the end, as is always the case with these types of things, you have to find out what works for you. You may hate working out with a virtual personal trainer. You may love to run up and down the stairs at your office building during your lunch. You may hate working out at a gym full of meatheads. Whatever the case is, I always like to have lots of options in front of me before I choose a route, and this is one example for you of a way to use technology and cool new gadgets to get your new year off on the right foot.
Kyle Stuef is a marketing consultant who blogs on Internet/technology trends, and being a young professional in Ypsilanti and Ann Arbor for The Deuce and AnnArbor.com
He can be reached at:
kstuef@gmail.com
@KyleStuef
www.linkedin.com/in/kylestuef
www.facebook.com/kylestuef