Posted on
Fri, Dec 18, 2009 : 5:09 a.m.
Washtenaw County deputy medical examiner's new book discusses death investigations
By Leah DuMouchel
OK, kids, pop quiz: If your death turned out to be sudden, unexpected, unusual or suspicious, whose job would it be to find out what the heck happened?
Well, those of us in Washtenaw County would be served by the Office of the Medical Examiner, headed up by Dr. Bader Cassin. It's a job we don't think about much if we can help it, which seems a little strange in light of the fact that everybody dies and most of us bury a few loved ones before we do. Wouldn't it behoove us to have at least a basic understanding of the office charged with finding out the truth of our final minutes in cases where it's not clear? Deputy Medical Examiner Jeffrey Jentzen thinks so, and his new book "Death Investigation in America: Coroners, Medical Examiners and the Pursuit of Medical Certainty" (Harvard University Press) is likely to tell you everything you ever wanted to know about the subject.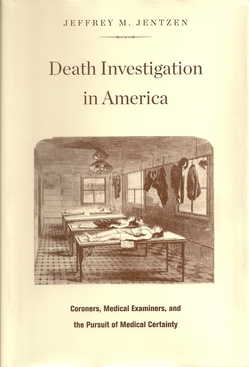 The Ypsilanti High School graduate returned to the area last year after two decades as the Chief Medical Examiner in Milwaukee County, Wis. (meaning he was the lucky guy under whose jurisdiction the
Jeffrey Dahmer murders
fell in 1993), and he's now the University of Michigan's director of
autopsy and forensic services
in addition to his duties at the ME's office.
The book, oddly enough, capped off an educational venture that was supposed to provide a departure from his steady professional diet of the macabre: a doctorate in the history of science from the University of Wisconsin.
"I've long been interested in history," he told AnnArbor.com recently, "and I was reading many of the texts that were being used in college campuses. I found willing mentors at the University of Wisconsin Madison, so I started a kind of a ten year odyssey of study and research. It was very fulfilling; it kind of gave me a different outlook and something to focus on. You don't want to think about death all the time. But on the other hand, you write what you know," so he returned to his professional expertise when it came time to write his dissertation.
Its heavy-hitting academic credentials probably explain the book's tone, which can be a little dry. But for those willing to engage with it, it's also stuffed with food for thought. For example, a battle has raged for well over a century in this country about whether death investigations are better served by a coroner, the elected office which evolved from the "keeper of the pleas of the Crown" station that England's King Henry II created in 1194, or a medical examiner, an appointed position given to a physician certified in forensic pathology. This seems like a no-brainer at first: coroners were often laypeople whose political qualifications carried far more weight than any training — or interest — they might have in the actual task at hand.
Incompetence and corruption led Massachusetts to appoint the first 75 medical examiners in 1877, charged with identifying bodies suspected to have died in a violent manner and conducting a postmortem examination to find the cause and manner of death. The physicians and lawyers loved it, money was saved, and it seemed that the days of the American coroner were short-lived.
But reform never goes in a straight line. It's not that easy to change state constitutions, where the office of the coroner was embedded, and the coroners themselves used their political acumen to band together and protest loudly against it, so that 40 percent of America is still served by that office more than 130 years later.
"The system is irregular throughout the country," said Jentzen, "and the type of investigation you get is based on where you die. … I do want to say that it doesn't matter so much whether you call it a 'coroner' or a 'medical examiner' — what makes the most difference is the quality of support (such as money and training) the office receives. … And I think the fact that common people are the ones fearful of crime and injustice means they're the ones who drive quality death investigations." (Michigan abolished the office of the coroner in a law passed in 1969.)
Of course, a good high-profile scandal will deliver some white-hot scrutiny too, and Jentzen says that the most popular chapter of his book seems to be the one in which he details the assassinations of John and Robert Kennedy as well as the Chappaquiddick incident involving Ted Kennedy from a postmortem point of view. In the case of JFK, he reported, Navy pathologists were selected simply on the basis of the first lady's preference that military men do the procedure. They had no experience autopsying complex gunshot wounds, were prevented from calling the surgeons in Dallas, were restrained from fully dissecting a wound tract or examining the clothing, and somehow managed to lose the president's brain altogether. (!) From the decades of theories, suspicions and uncertainties that have followed, Jentzen concluded that "you can see how important the interpretation of the wounds was."
By contrast, Los Angeles County's Dr. Thomas Noguchi resolved even before the last breath slipped from RFK's body that those mistakes would not be repeated on his watch. He documented the scene, secured the hospital morgue, and set about convincing both the family and the district attorney's office that autopsy results would be critical in the pending criminal investigation. Jentzen believes that his meticulous and transparent reconstruction of the assassination helped curb the conspiracy problem in the years that followed.
In the case of Mary Jo Kopechne, who died after Ted Kennedy drove off a bridge and into a tidal pool with her in the car, an inexperienced associate medical examiner intimidated by the Kennedy name ordered no autopsy at all. This set off a firestorm of criticism that led the district attorney to petition Kopechne's parents to exhume the girl's body, although the court eventually ruled that an exhumation was unlikely to reveal new evidence. Still, Jentzen observed, "People talk about how expensive autopsies are, but they don't talk about how expensive not doing an autopsy is. It can far exceed it. We did a case with a disinterment on a body recently, because the autopsy wasn't performed, but it would have been much less expensive not to (have to disinter the body). ... There's a misconception that forensic pathologists just work for the prosecutors, but we're just trying to find out what happened."
This methodical, just-the-facts-ma'am stance is a theme he returns to when I ask what he's learned about living from his years of communicating for the dead. "For forensic pathologists, I think some of them identify with their patients…and I don't think that's necessarily right, because you didn't cause the death. I don't think you can do that if you want to be a scientist and do the right thing. So you may feel sorry for the person, but I think we need to maintain our objectivity and remain unbiased. One time a person said to me, 'Isn't this a tragedy that this three-year-old child died?' And it is. But it's equally tragic if the person is 13 or 23.
"The other thing (I've learned) is that everybody's going die, and you have to be ready. If it's not one thing, it's the next. Many of the cases we deal with would have been prevented: drugs, weapons, fast cars, driving while intoxicated, putting children in unsafe sleeping environments. So that affects us, too."
Everything he listed is a public health concern, and the close relationship between medical examiners and public health officials was another interesting revelation in the book — so much so that Jentzen calls MEs the "front-line surveillance team" of any public health department. He cites responses to industrial injuries, heaters leaking carbon monoxide, child labor, lax building and fire codes, bacteria, drunk driving, firearm deaths, accidental overdoses, SIDS, child abuse, and toxic radium on watch dials as a few of the instances in which data from the county records office has been used to make citizens' lives better - and longer.
He plans to put that eye for collaboration to use right here, making U-M's pathology and forensics department "a referral center for cases in the surrounding area, where people would send their cases to get high quality forensic services. We'd also like to be an educational center. We want to help increase the knowledge in forensic sciences, to be a research science center where we can take the knowledge we've learned and examine it to avoid unnecessary deaths."
And in a piece of great news to anyone looking for a career move (who doesn't mind getting an MD and living under eternal subpoena, of course), he added, "We want to grow the next generation of forensic pathologists. There's a real, growing need for them, and a growing void in the number we have. Not as many people are going into training, and there are a lot of jobs open."
You can get a copy of "Death Investigation in America: Coroners, Medical Examiners and the Pursuit of Medical Certainty" at Amazon.com or from Harvard University Press.
Leah DuMouchel is a free-lance writer who covers books for AnnArbor.com.