Posted on
Fri, Apr 27, 2012 : 5:59 a.m.
'The Five Year Engagement' director and producer discuss their time in Ann Arbor
By Jenn McKee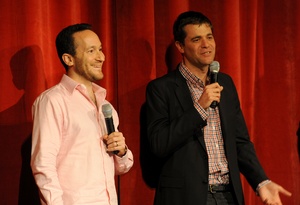 Angela Cesere | AnnArbor.com
Following
Friday night's benefit advance screening of "The Five Year Engagement"
—largely filmed in Ann Arbor last year—at the Michigan Theater, director
Nick Stoller
and producer
Rodney Rothman
spent a few minutes answering questions for AnnArbor.com.
Q. What was your favorite shoot while in Ann Arbor?
NS: The night we shot outside of Zingerman's was really fun. And the night we shot on Main Streeet was awesome. That was the best one. That was really fun. It was really funny, because the weather was especially terrible when we were shooting here. It was unseasonably cold. It was May 26—I know that, because it was my wife's birthday—and there were literally a few snowflakes in the air that night. But it was really fun shooting and having the run of Main Street, and people were very cool.
RR: We found that Ann Arbor as a town films very well. Our cinematographer, Javier Aguirresarobe … was very enamored of the town and how it looked on film, and how the streetlights on Main Street looked on camera.
Q. But during that nighttime, on-foot chase scene, the scene shifts between downtown Ann Arbor and downtown Ypsilanti. Are there any other subtle substitutions?
RR: There's a scene at the end that we shot in Ypsilanti also. It's supposed to be in San Francisco, but we found Victorian houses in Ypsilanti, and substituted Ypsilanti for San Francisco, basically.
Q. What was the hardest shoot in Ann Arbor?
NS: Our longest days were in San Francisco, because we were so crunched during that week (following the shoot in Ann Arbor). We generally had long days, … but there wasn't any day that jumps out as being—it always backs up toward the end of a shoot, so I'd say our last day of shooting here, we shot for 16 or 17 hours.
RR: That was on a soundstage, in a converted warehouse over by the bowling alley. On that stage, we shot interior scenes in the movie, like, the ones in their bedroom.
Q. (Addressed to Stoller) Did you approach your father-in-law, U-M professor Nicholas Delbanco, about appearing briefly in the film? Or did he express an interest?
NS: I asked him to do it.
Q. Was he reluctant at all?
NS: No, he was not. … He's a professor, so … Briefly, it looked like his schedule wasn't going to coincide with the shoot day, but no, he was psyched to do it. He was quite game.
Q. So Ann Arbor was part of "Five Year"'s story from the get-go?
NS: It was from the beginning, because it needed to be a place that—it needed to be a cool town, but it needed to be a town that Jason couldn't work at a five-star restaurant. So it needed to be his problem, vs. just a bad place to work. And I also really like to write about places that I know; and (Rothman and I) both know Ann Arbor really well. … It has a very specific flavor, and there's a giant U-M alumni network, and a lot of people know about U of M. It's not an obscure college. It's probably the least obscure university.
Q. How quickly did U-M approve the use of its name in the film?
NS: Pretty early. Because that would have been problematic. … But everyone was very easy to work with.
RR: Everyone were very into it and helpful. Beyond some tax credit craziness, we had no problem with locations or the university.
Q. In the past—most notably for the "American Pie" movies—U-M didn't grant approval, and the thought was, in that instance, it was because of content. Was there any concerns on the University's part regarding the film's content?
NS: No. But I think, because we weren't portraying students—that may be part of it—we only show students once … or twice running through with a fish. From our perspective, we showed the university in a good light. We weren't trying to do anything except have a nice setting for this academic storyline.
Q. (Addressed to Stoller) You've now worked with Jason Segel on several projects. What makes him a good collaborator for you?
NS: He's really, really funny, but he also—he's a really sweet guy, and he comes at stuff from a really genuinely emotional place. And we all share a comedy brain. We all think the same stuff is funny. … And from a purely logistical place, he's just the best, easiest, most awesome guy to work with. He's just a real pleasure to work with.
Q. How did the Tribeca Film Festival premiere screening go?
NS: It went great. It was very exciting.
RR: Robert DeNiro was forced to watch our movie. … He told us his wife really enjoyed it.
Q. (Addressed to Stoller, who co-wrote "The Muppets" with Segel) There's talk of a "Muppets" sequel being in the works. Any ballpark on when we might see that in theaters?
NS: I'm writing it with James Bobin, who directed the first one. … They want it to come out in late 2013, but who knows. We just outlined the whole thing, and are now in the midst of delving into the script.
Check out previous AnnArbor.com coverage of "The Five Year Engagement."
Jenn McKee is the entertainment digital journalist for AnnArbor.com. Reach her at jennmckee@annarbor.com or 734-623-2546, and follow her on Twitter @jennmckee.