Posted on
Mon, May 7, 2012 : 9:59 a.m.
Looking back at Washtenaw County's years in Hollywood's spotlight
By Jenn McKee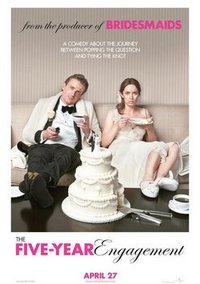 Due to significant reductions in Michigan's film incentive program, the recent national release of "The Five Year Engagement" probably marks the end of the Ann Arbor/Ypsilanti area's time in the Hollywood spotlight. Roll credits.
But during our 4-year heyday as a film set, the near-constant star-spotting that occurred, as well as the fleets of trucks and trailers that inevitably accompany film crews, polarized the community: Some loved our brush with Hollywood (and went so far as to take part as extras, stand-ins, etc.), while others wished we'd all stop being so silly and moon-eyed about the whole thing.
Whether you belong to the former or latter camp, now's the perfect time to look back at the roster of films that brought marquee (or sort of, vaguely recognizable) names to our part of the Mitten.
Of course, several of these films never got wide distribution, despite having star power, and none were huge hits. (The jury's out on "The Five Year Engagement," but the opening weekend box office take fell far short of expectations.) Along the way, many of us got an education about how movies are really made, and some local businesses and individuals profited greatly.
But was this grand film incentive experiment worthwhile? The debate rages on, and will probably continue to do so.
For now, here's the scoop on the star-studded movies that we, as a community, had a personal stake in while the incentives were in play. (All stats have been drawn from the Internet Movie DataBase; and because the shoot for "Jumper" at Huron High School preceded the Michigan film incentives, I've left it off the list.)
FILMS SHOT IN 2008
"Youth in Revolt"

The lowdown:
With an estimated budget of $18 million, the quirky
Michael Cera
vehicle—based on
C. D. Payne
's cult hit, coming-of-age novel of the same name—disappointed at the box office, reportedly earning a little over $15 million domestically. The film was one of the first major productions approved for Michigan's film incentives; Ann Arbor's big scene in the film involved a flashy, fiery car crash scene shot on West Liberty Street; and the film shoot marked director
Miguel Arteta
's first visit to Ann Arbor (he'd later return to our area to shoot "Cedar Rapids").
"American Virgin"
The lowdown: With an estimated budget of $4 million, this straight-to-DVD raunchy college comedy starred Rob Schneider and Jenna Dewan, and one bit of filming took place near the fountain on U-M's Ingalls Mall. U-M signs were covered up and replaced with signs for Pennington College. (Perhaps that's for the best.)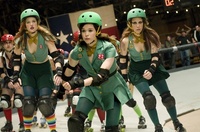 "Whip It"

The lowdown: Drew Barrymore
filmed her directorial debut—based on
Shauna Cross
' young adult novel "Derby Girl"—in Detroit, Ypsilanti and Saline. Starring
Ellen Page, Alia Shawkat, Marcia Gay Harden, Juliette Lewis, Daniel Stern
, and Barrymore herself, the movie tells the story of a teenager who defies her pageant-crazy mother by getting involved in the world of roller derby. The film made $13 million, just surpassing its estimated $10 million budget, and the film shot scenes in an Ypsilanti neighborhood, as well as on Michigan Avenue in Ypsi.
FILMS SHOT IN 2009
"Meet Monica Velour"
The lowdown: Local film shoots for "Velour," starring Kim Cattrall (who wasn't part of the shoot in our area) and Dustin Ingram, included one at a barn on Joy Road, near Dixboro. The $5 million budget film—about a awkward teen who seeks out a long-past-her-prime porn star—got a screening at the Tribeca Film Festival, but never scored a distribution deal, earning only $31,000.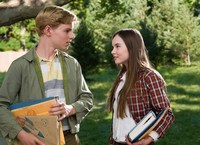 "Flipped"

The lowdown: Rob Reiner
arrived in Ann Arbor with
Madeline Carroll, Rebecca DeMornay, Anthony Edwards, John Mahoney, Penelope Ann Miller
, and
Aiden Quinn
to shoot this nostalgic film adaptation of
Wendelin Van Draanen
's young adult novel about puppy love in the 1950s. The film grossed a disappointing $1.7 million domestically; but Thurston Elementary School and Saline Middle School hosted "Flipped" scene shoots, as did downtown Manchester, and Concordia University.
"Answer This!"
The lowdown: Filmmakers and native Ann Arbor brothers Mike and Chris Farah—who produced and directed/wrote the movie, respectively—brought Chris Parnell, Chris Gorham, Arielle Kebbel, Nelson Franklin, Evan Jones, and Kip Pardue to town, while also integrating legendary U-M English professor Ralph Williams into the mix. The story of a stalled U-M grad student who's distracted by the world of pub trivia (and a comely undergraduate) was reportedly made for $2 million dollars, and earned a limited regional distribution deal with Wrekin Hill Entertainment and NECA Films. The film features nothing but local spots, but some highlights include a U-M football game in Michigan Stadium, several areas of U-M's campus, and Ashley's. The movie had a limited theatrical release and is now available on DVD. It's especially notable in that this film is actually set in Ann Arbor as well as being shot here; the only others that's true of are "The Five Year Engagement" and "AWOL" (plus a few scenes in "Jumper").
"Trust"
The lowdown: David Schwimmer's passion project—about a teenage girl (Liana Liberato) whose family struggles to recover when she falls prey to an online predator—was filmed in Plymouth, Dexter (at the high school), and Ann Arbor (largely at U-M's North Campus Research Complex, formerly Pfizer), and starred Clive Owen and Catherine Keener. Schwimmer balked at the MPAA's R rating for the film, but after a screening at the Toronto Film Festival, the movie had a 5 city release. The film never got much further than that, reportedly earning $120,000, with an estimated budget of $9.5 milllion.
"Conviction"

The lowdown:
Hilary Swank, Minnie Driver
, and
Sam Rockwell
starred in this compelling-but-overlooked story about a high school dropout mom who worked her way through college and law school in order to seek justice for her wrongly imprisoned brother. Two-time Oscar winner Swank earned a Golden Globes nomination, but no one really saw the film ($6.7 million gross for a $12.5 million budget movie), which was filmed in Chelsea, Dexter, Ypsilanti and Ann Arbor.
"Stone"
The lowdown: This drama—partly filmed at Ypsilanti's Emmanuel Lutheran Church, as well as Dexter and downtown Ypsilanti—tells the story of a hardened prisoner (Edward Norton) who arranges for his wife (Milla Jovovich) to seduce a retiring cop (Robert DeNiro). With an estimated budget of $22 million, the movie bombed at the box office, earning about $1.8 million domestically.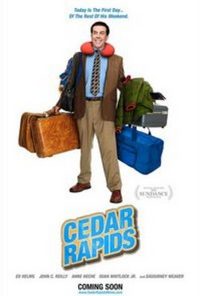 "Cedar Rapids"

The lowdown:
Director
Miguel Arteta
returned to town—this time with
Ed Helms, Anne Heche, John C. Reilly, Isiah Whitlock, Jr., Kurtwood Smith, Sigourney Weaver, Stephen Root
, and
Alia Shawkat
—to shoot this comedy about an unworldly man (Helms) who travels to the "big city" of Cedar Rapids for a conference. Despite a Sundance screening and some nice reviews, and 2 Independent Spirit Award nominations, the movie—which was largely shot at the Ann Arbor Clarion Hotel—grossed just under $1.7 million domestically.
FILMS SHOT IN 2010
"The Double"
The lowdown: Richard Gere and Topher Grace starred in this thriller about a retiring CIA operative who's paired with a young FBI agent to solve the mystery of a senator's murder. Some of the filming happened at U-M's North Campus Research Complex (formerly Pfizer), but withering reviews kept the film from ever getting wide distribution.
"War Flowers"
The lowdown: Christina Ricci and Tom Berenger starred in this Civil War drama that was partly filmed in Saline. Other than a trailer that surfaced online, this project just kind of mysteriously vanished.
"Salvation Boulevard"
The lowdown: Jennifer Connelly, Marisa Tomei, Pierce Brosnan, Ed Harris, Greg Kinnear and Jim Gaffigan starred in this film about a Deadhead-turned-born-again-Christian who finds himself on the run from members of a megachurch who are desperate to protect their pastor. The film screened at Sundance, but it was never distributed widely, grossing only $27,000. (The movie's budget was estimated at $5.5 million.) Local filming happened in Plymouth and Ann Arbor (including Rackham Auditorium).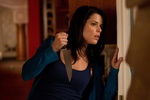 "Scream 4"

The lowdown:
This much-anticipated fourth installment of
Wes Craven
's blockbuster horror comedy series earned the biggest box office take of these locally filmed projects, but it still fell short of expectations, earning $97 million worldwide. The film focuses on Sydney (
Neve Campbell
), who returns to her hometown of Woodsboro for the first time in years to promote her bestselling book, setting off yet another series of adolescent murders.
Courteney Cox
and
David Arquette
spent a good bit of time around town (as their marriage disintegrated, sadly), and a house in Ann Arbor's Burns Park neighborhood got some serious screen time.
FILMS SHOT IN 2011
"Ides of March"

The lowdown:
George Clooney
directed and starred in this political thriller that featured
Ryan Gosling
as a presidential candidate's wunderkind press secretary who gets entangled in the world of dirty backroom politics. (Local child actor
Talia Akiva
got to play Clooney's daughter.) The film earned four Golden Globe nominations, and one Oscar nomination (for its adapted screenplay), and earned nearly $41 million domestically (estimated budget: $12.5 million). The all-star cast also included
Marisa Tomei, Evan Rachel Wood, Philip Seymour Hoffman, Paul Giamatti
, and
Jeffrey Wright
, and local venues used for the film included U-M's Michigan League Ballroom, the Power Center, and the Arthur Miller Theatre at the Walgreen Drama Center.
"The Five Year Engagement"
The lowdown: Jason Segel and Emily Blunt starred with Mindy Kaling, Chris Bratt, Alison Brie (also in "Scream 4"), Rhys Ifans, and Jacki Weaver in this Judd Apatow-produced romantic comedy about a couple's arduous trek down the aisle. In its opening weekend, the film earned a disappointing $11.2 million and a fifth place finish among the pack of movies currently in theaters; its budget is reportedly about $30 million. Local spots used in the film include Zingerman's Deli and Bakehouse; Main Street; downtown Ypsilanti; The Cavern Club; and Old Town Tavern. Time will tell if the movie picks up business by word-of-mouth.
"AWOL"
The lowdown: U-M screenwriting professor Jim Burnstein and his collaborator, Garrett Schiff, wrote the screenplay for this film about a Vietnam soldier (Austin Stowell) who goes AWOL with his best friend (Liam Hemsworth) to win back his ex-girlfriend (Aimee Teegarden). Pioneer High and U-M grad Danny Mooney directed the film, and the story is set in Ann Arbor in 1969. At last report, filmmakers hoped to complete post-production on "AWOL" this year.
Jenn McKee is the entertainment digital journalist for AnnArbor.com. Reach her at jennmckee@annarbor.com or 734-623-2546, and follow her on Twitter @jennmckee.