Posted on
Fri, Jun 14, 2013 : 8:01 a.m.
Acclaimed Holmes Brothers bringing their gospel-blues sound to The Ark
By Kevin Ransom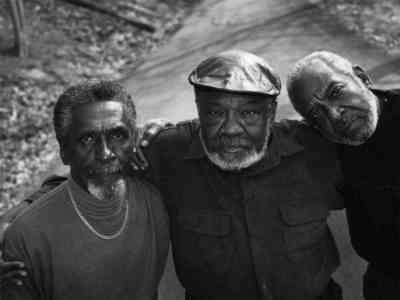 photo by Mary Ellen Mark
The Holmes Brothers' last album, "Feed My Soul," in 2009, had a definite theme. Most of the songs were written after guitarist / lead singer Wendell Holmes was diagnosed with, and was being treated for, bladder cancer.
So, many of those songs were about triumphing over adversity, the power of faith and the importance of family. Seven of those songs, like "Fair Weather Friend," "Living Well," and "Rounding Third" were written by Wendell.
But Wendell has now been clear of the cancer since '09.
So when they began writing new songs for their next album, they found their attention turning to new subjects.
"Back in '08, when I was going through the cancer, our attention was definitely focused on those kinds of topics," says Holmes. "But, I'm past that now, praise God. Some people say I am 'in remission,' but I say I have been healed, by Jesus."
That expression of faith is always a core element for The Holmes Brothers, who started out singing gospel songs in church—but who've also had a passion for soul, blues, country and other styles for most of their lives.
The rural town where Wendell and his brother (and bassist) Sherman grew up, Christchurch, Virginia, was so small that there were few other musicians of note. So, even as they were singing about salvation on Sundays, they were also singing about decidedly more secular subjects in juke joints on Fridays and Saturdays.
"Yes, we loved the Dixie Hummingbirds and the Swan Silvertones, but we also loved the blues guys like Jimmy Reed and B.B. King, and the country guys like George Jones," says Holmes, who joins his bandmates for a show at The Ark on Sunday. Brother / bassist Sherman and drummer Popsy Dixon play key roles in crafting the group's soul-stirring, gospel-steeped vocal harmonies.
PREVIEW
The Holmes Brothers
Who: Critically lauded Southern-roots-music trio that has been making music together since the 1960s.
What: Their music is based in gospel, but they've always expertly added blues, soul, R&B and country music to the mix, and their soul-stirring vocal harmonies are steeped in the gospel tradition.
Where: The Ark, 316 S. Main Street.
When: Sunday, June 16, 7:30 p.m.
How much: $20. Tickets available from The Ark box office (with no service charge); Michigan Union Ticket Office, 530 S. State St. or online from MUTO.
In fact, "this next album is going to be a back-to-basics blues album, with a lot of songs about love—you know, like 'I love you baby, don't run away and go with another guy,'' says Holmes with an infectious cackle. A lot of blues songs are 'crying in your beer songs,' so we've got some of those, too."
But The Holmes Brothers have always cast a wide net when it came to defining the blues: "We'll have some Chicago blues, and some Piedmont blues, and the album will just be a nice mix of good old Southern roots music, with some gospel songs, too. Some people say gospel and the blues are the same music, just with different lyrics," says Holmes by phone from his Baltimore-area home. Wendell's battle with cancer - which he underwent at the same time his daughter was fighting breast cancer - seems to have had some lasting effect, though, in terms of the group's worldview and lifestyles.
For starters, Wendell and Popsy (mostly) quit smoking. "I used to smoke a pack or a pack and a half a day, for 30 or 40 years, but after the cancer, now, I have about two cigarettes a month, and Sherman actually quit smoking before I got the cancer."
So, some of the songs are about "how people get to be a certain age and look back and wish they'd done some things differently when they were young. You know, like: 'If I knew I was going to live this long, I would have taken better care of myself,' or, 'If I had smoked and drank less way back when, I'd feel better today.' One song is titled 'Stayed at the Party Too Long,' about partying too much when you were younger."
So, are some of these songs autobiographical?
"Well, we were never really big smokers and drinkers, but there were times when we probably did drink a little too much," says Holmes. If that sounds inconsistent with some notions of growing up as Southern Christians in the 1950s, Holmes says, with a hearty laugh, "Remember, at the wedding feast, Jesus turned water into wine."
The band had a "pre-recording" session recently, going over the new songs, and will start recording this month. The "Feed My Soul" album was produced by Joan Osborne, who had previously produced their 2001 disc, "Speaking in Tongues," which was their first release for the Alligator label, and was the disc that broke through to the mainstream and broadened their audience.
This upcoming disc, however, will be produced by Glenn Patscha, a member of Ollabelle who also played keyboards in Levon Helm's band during Levon's comeback period that began in the mid-2000s and stayed strong until his death last year. (Helm's daughter Amy is also in Ollabelle.)
While "Speaking in Tongues" was their breakthrough, their 2007 release, "State of Grace" further cemented their status among the blues / soul audience, and expanded their appeal to the Americana crowd, due in part to the presence of guest stars like Helm and Roseanne Cash. "State of Grace" won the Blues Music Award for Soul-Blues Album of the Year.
The group's recording career as The Holmes Brothers began in 1989, with their Rounder Records debut, but their history goes back much further. Wendell and Sherman had previously been in a few groups together before forming The Sevilles in 1963. Drummer Dixon joined the band in '67.
The group released four acclaimed albums on Rounder in the '90s that mostly appealed to gospel-blues heads. In 1992, they also released "Jubilation," on Peter Gabriel's Real World label, becoming the first American band to record for that world-music imprint.
Although their eclecticism is a big part of their appeal, gospel music is at the core of what they do, given their strong Christian faith. And they believe in carrying the gospel message to secular audiences by playing in clubs and theaters, for audiences who might not otherwise hear that message - an approach also favored by the Blind Boys of Alabama.
"Yeah, we usually make sure we start each show with gospel songs, and then also end each show with gospel songs," says Holmes. "We are believers, and we hope some of that will rub off on other people, and I often talk about how hope springs eternal, and that for me, it was Jesus that carried me through my illness, and I am glad that I believe that.
"Some people believe it Buddha, but for me, it's Mary's baby boy and my savior, Jesus."
Kevin Ransom is a free-lance writer who covers music for AnnArbor.com. He can be reached at KevinRansom10@aol.com.