Posted on
Thu, Dec 13, 2012 : 5:58 a.m.
The Klezmatics to help celebrate Hanukkah; West Side homes open for Art Hop this weekend
By Ann Dwyer
HOLIDAY
Enjoy "An Old Fashoined Christmas Extravaganza Show And Sale" at the Washtenaw Farm Council Grounds. Friday, 11 a.m.-7 p.m. Saturday, 10 a.m.-7 p.m. Sunday, 11 a.m.-5 p.m. Shop for gifts, take in a heartwarming Charles Dickens-style play, see funny skits or listen to Christmas Carolers singing through out the event. Be a part of the "Charity Auction" in which all profits will go to help injured soldiers and their families. $10/Adults; $8/Seniors and students. $3 off admission when two or more cans of food are donated. 5055 Ann Arbor-Saline Road, Ann Arbor. 734-429-3145.
MUSIC
Kitty Donohoe will give a performance to benefit Lost Voices at Barnes & Noble on Friday. 7 p.m. Donohoe is a local favorite singer-songwriter "whose folk music is influenced by her Irish roots and the Great Lakes." Lost Voices is a non-profit organization that brings creative expression to incarcerated and at-risk kids. Free admission.
MUSIC
Celebrate the season with A Boychoir Christmas. Friday at the First Presbyterian Church of Ypsilanti (300 N. Washington St. 734-482-1525). 7 p.m. Saturday at the First Presbyterian Church of Ann Arbor (1432 Washtenaw Ave. 734-662-4466). 3 p.m. This popular traditional holiday concert series offers an opportunity to hear the wonderful and unique choral sound of boys' voices featuring the Performing Choir of The Boychoir of Ann Arbor. Tickets may be purchased in advance and at the door. $15/adults, $10/students and seniors, $5/children. Purchase or reserve online at http://aaboychoir.org/reserve.html or by email tickets@aaboychoir.org or by phone by calling 734-663-5377.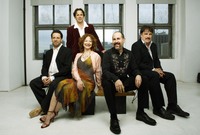 photo by Joshua Kessler
MUSIC
Celebrate Hanukkah with The Klezmatics at The Ark on Friday. 8 p.m. The Klezmatics have revitalized klezmer for the new century with music that is steeped in Eastern European Jewish tradition and spirituality, while incorporating contemporary themes such as human rights and anti-fundamentalism with eclectic musical influences including Arab, African, Latin, and Balkan rhythms, jazz and punk. $30. 316 S. Main St., Ann Arbor. 734-761-1800.
DANCE
The Ann Arbor Ballet Theatre will present their annual production of the "Nutcracker Ballet" at the Power Center. Friday, 8 p.m. Saturday, 2 and 8 p.m. Sunday, 2 p.m. It isn't Christmas until a rat attacks a toy nutcracker in this sugar-fueled fever dream of a ballet. $25/Adults; $20/Students and seniors. $15/Children under 12. Tickets available at the UM Ticket Office or by calling 734-763-TKTS. 121 Fletcher St., Ann Arbor. 734-763-3333.
ART
Artists on Ann Arbor's West Side are opening their homes and studios to the public for the "West Side Neighborhood Art Hop" on Saturday. Noon-5 p.m. Their homes and studios will be open for public viewing and the sale of arts and crafts items. There will be live music at some venues. Com for the art or sneak peek into neighborhood houses. There are some cool houses over there. Venues and a map can be found at Facebook: WestsideNeighborhoodArtHop. More information is available by calling 734-996-0702. Free.