Posted on
Fri, Feb 8, 2013 : 10:03 a.m.
The Michigan Theater to screen 'The Magistrate' by the National Theater in London
By Ann Dwyer
Catch a high-definition screening of Arthur Wing Pinero's The Magistrate by the National Theatre on the big screen at the Michigan Theater.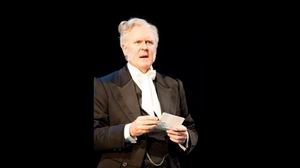 photo by Johan Persson | from the National Theatre
The magistrate's new stepson has already developed vices like smoking, gambling, alcohol, and women—at only 14 years of age. Except that he's not 14 at all. His mother changed his—and her—ages in order to marry the magistrate. But it is all might come tumbling down when her deceptions are set to be revealed. John Lithgow stars as the title character.
This screening is a delayed cinema broadcast of a live performance at the National Theatre in London.
Sunday, February 10, 2013. 7 p.m. $12-22. The Michigan Theater is located at 603 E. Liberty St., Ann Arbor. 734-668-8397.