Posted on
Wed, Feb 1, 2012 : 6:59 a.m.
The New Theatre Project announces changes to its second season
By AnnArbor.com Staff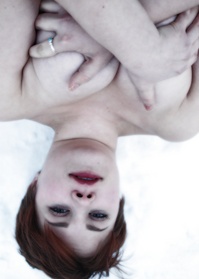 Photo by Elise Randall
Never afraid of the adjective "new,"
The New Theatre Project
has made changes to the latter half of Season 2: Revelation. Shows happen at Mix Studio Theatre at 130 W. Michigan Ave. in Ypsilanti.
TNTP has extended the Spring New Work Series over two months to feature one-night-only staged readings, some of which will be receiving their first public outing. Plus, in addition to the previously announced "The Tempest Project," TNTP announces a partnership with Jim and Paul Manganello for a project also inspired by a renewal of Shakespeare, "The Folio Project."
The full revised season listing is as follows, with descriptions from the company:
"If You Start a Fire [Be Prepared to Burn]" by Kevin Kautzman, directed by Nati Salgado, featuring Peter Giessl and Elise Randall Pay-what-you-can preview: February 12 Regular run performances: February 17-March 4
In this internet sex comedy for the Recession Generation, Lucy and Chris are typical American twenty-somethings struggling to survive the Great Recession with their dignity intact. They hate their jobs like most everybody else, but they need the insurance, and at least they have each other. Right? When Chris loses his job, he convinces Lucy they should launch a boutique sex website and sell the idea of her as an all-American girl next door, somehow both pure and hedonistic at the same time.
Spring New Work Series March 11-April 15
The spring gives birth to staged readings of original work featuring talkbacks with the playwrights. Also included for the first time, The New Theatre Project will feature guest speakers and round table discussions with local playwrights and theatre artists.
The plays selected and special events are as follows:
"Investigate and Protect," by Liz Ellison, directed by Paul Manganello Sunday, March 11 at 8 p.m.
China is single, middle-aged, working in a laundromat, and trying to make the most out of all of the above. But after she survives a stabbing by a bizarre intruder in her home, her troubles multiply. Now she's saddled with a pesky case of PTSD, a psychiatrist who tries to avoid her, and - she soon discovers - a baffling army of strangers with knives who all seem to want to kill her. A comedy.
"Cloudy/Clear," inspired by Tennessee Williams, in an adaptation by Keith Paul Medelis Saturday, March 17 at 8 p.m.
"When someone hurts us deeply, we no longer see them at all clearly. Not until time has put them back in focus." -Tennessee Williams The first reading of a work-in-progress. This contemporary piece explores one of the last plays written by Tennessee Williams, largely autobiographical, in an entirely re-imagined way. A play about love and memory and the impossibility of both to be completely clear.
A Roundtable Conversation: Playwrights and the Collaborative Process, moderated by Davi Napoleon, theatre historian and arts journalist Sunday, March 18 at 8 p.m.
Local playwrights discuss, in an open roundtable, matters concerning successes or failures of collaborative projects. Napoleon will ask questions regarding the varying methods of collaboration amongst different companies, the role of the playwright in all stages of the creative process, and questions of a play's ownership. You are invited to join the conversation at any point in the evening.
"Midway (A Romantic Comedy in 3 Measurements of Distance)," by Ira Gamerman, directed by Jane Bruce Saturday, March 24 at 8 p.m.
After a drunken kiss at a company function, David and Catherine learn the difference between being close enough to touch lips and 727 miles. When David moves from Baltimore to Chicago to pursue his dream of being a comedian, he and Catherine must face the hard reality of what gets sacrificed in attempts to make love conquer all.
"Authentic," by Jacob Coakley, directed by Brian Carbine Sunday, March 25 at 8 p.m.
Margaret, a college student who tapes every moment of her life, fights to translate and stage an alleged Hans Christian Andersen fairy tale "The Princess and the Pirate" with classmate David Span—despite family disputes, lawsuits, and the fact that they're missing the last page of the story. Authentic interweaves their lives with the story of the Andersen princess, Meta, who goes to sea in order to find her twin brother, the last of her family. Standing in her way is a ship of pirates. In the end, both Meta and Margaret must decide who to betray in order to survive, and how to live with themselves once they have.
Open Mic Night Saturday, March 31 at 8 p.m.
Come one, come all! Any unfinished work you just want to workshop in front of few folks? Or maybe just work some ideas? Tonight's the night. Playwrights present work in various stages of development. To sign up please contact keith@thenewtheatreproject.org
"Wolf Cry Wolf," by Kevin Kautzman, directed by Keith Paul Medelis, featuring Jane Bruce, Brian Flores, and Elise Randall Sunday, April 1 at 8 p.m.
When Steph returns to North Dakota from New York City for the first time in years, she finds her estranged childhood friend Jane has arranged a surprise reunion with a young man Steph would rather not see. As they descend into their memories, they discover things about themselves they once knew but chose to forget: the summer Jane taught Steph how to turn into a wolf. "Wolf Cry Wolf" looks at the fine line between memory and imagination and at the lies we tell to survive our shadows.
"4 in 24" Sunday, April 15 at 8 p.m.
The exciting culmination of the Spring New Work Series will showcase and demand a fast-paced, highly energized creative force. 4 playwrights, 4 plays, 24 hours. A revamp of the successful 24 in 24 earlier this season, this time featuring fully developed one-act plays and a brand new theme announced just 24 hours before performance time. Be there when the tired and slightly mad artists present their work just one day after its conception.
"Renewing Shakespeare"
In the latter half of the season, The New Theatre Project explores Shakespeare in a whole new way. A kind of response to Roland Emmerich's "Anonymous," TNTP attempts to interpret Shakespeare's words for a new audience and honor him without the usual God-like reverence. Please join us for our third, massively successful Project Play and our first and exciting partnership with the Manganello Brothers.
"The Tempest Project," in a collaborative adaptation by Jason Sebacher, directed by Keith Paul Medelis, featuring Luna Alexander, Jane Bruce, Dan Tracy, and Andrew Whipple
Pay-what-you-can previews: May 4-6 Performances: May 11-27
"What holds you captive?"
The much-anticipated third production in the Project Play series, "The Tempest Project" focuses the attention away from Prospero in one of Shakespeare's most well-known plays. Using the process developed by TNTP through the popular "The Spring Awakening Project" and "The Everyman Project," we take a look at the isolation and enslavement of some of the play's smaller characters to explore its contemporary relevance in a new, overtly personal way. The cast uses inspiration from their own lives to build on Shakespeare's text. And, for the first time ever, the play will spend a year in development as we travel throughout Michigan to ask our central question to you. Your stories could become our play.
"The Folio Project," written and performed by Jim Manganello and Paul Manganello Performances: June 7-17
Two forgotten actors. A mountain of annotated papers. In 1621, they all collide in a printer's shop behind a pub - two years later, one of the greatest books of all time is born. This show tells the unlikely and little-known story of the construction of Shakespeare's Folio. Fusing words with movement, the Manganello brothers attempt to bring the Folio into 2012.
This devised work strives to take Shakespeare out of the grave, off the pedestal, and put him back on stage - where he belongs. Two performers play many roles to recreate the madcap story behind the Folio's first printing, showing that these verses were not handed down by God - just by Will. Just as the printer cut up and pasted together the plays of Shakespeare to make a breathing corpus, the project performs an acrobatic attack on his body of work in order to make its heart beat once again.