Posted on
Sun, Nov 4, 2012 : 11:15 a.m.
The New Theatre Project announces extension of 'Woyzeck'
By AnnArbor.com Staff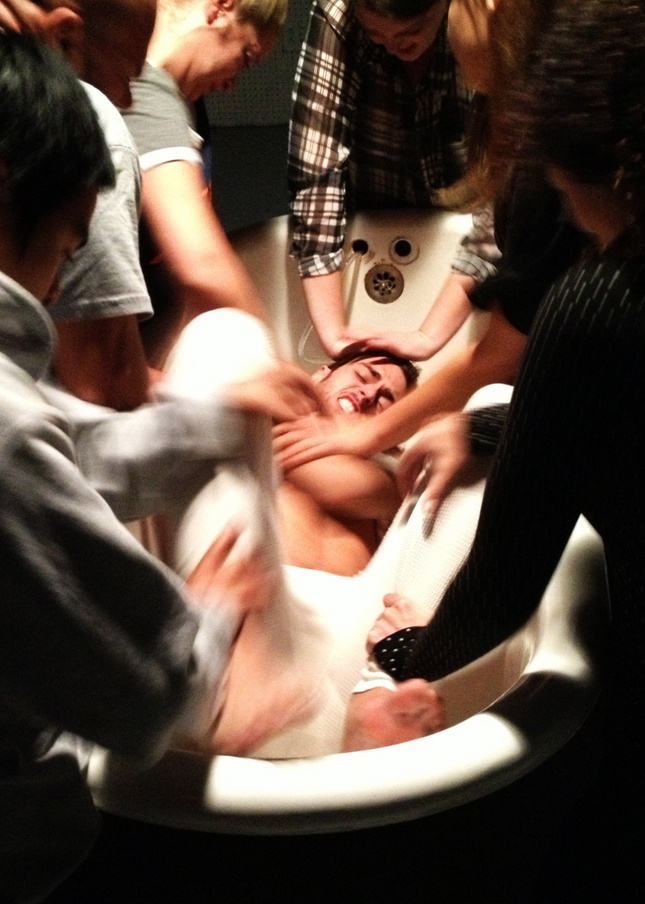 Photo by Keith Paul Medelis
The New Theatre Project
has extended the run of its adaptation of "Woyzeck," with four additional performances on Friday, November 9 and Saturday, November 10, with shows on both nights at 8 p.m. and 9:30 p.m.
As The New Theatre Project's inaugural show of the Reinvention season, "Woyzeck" has provided audiences with a unique theatrical experience unlike anything seen before on the Mix stage. In fact, most of the action takes place below the stage, in the depths of the basement -Â a mid-nineteenth century foundation filled with remnants from the early days of the opera house at the corner of Michigan and Washington.
Audience members travel through this immersive production now running through November 10. The play, remaining incomplete after the playwright Georg Buchner's early death in 1837, has no ending and only fragmented scenes. TNTP has restored the play with it's own version of Buchner's creation.
"Everything is still, as if all the world were dead." Nevertheless, something is moving below, where Woyzeck hears voices that torment and pursue him through the strange, dark night. A sinister master of ceremonies is your guide to an underworld seething with hidden menaces, jealousy, desire, and violence. Follow the voices below, one moment at a time, enveloped by the tale of Woyzeck, his mistress Marie, and their dangerous love triangle as you move through The New Theatre Project's adaptation of Woyzeck - an interactive haunted house created in collaboration with Brendalinda Performance Collaborative.
The adaptation is written by TNTP Ensemble Member Audra Lord ("Fugue"). The cast features Steve Xander Carson, Colleen Cartwright, Marisa Dluge, Mark Drum, Karilu Forshee, Linda Rabin Hammell, and Emily Roll (TNTP ensemble member) and Jonathan West under the direction of Brendalinda creative director Brian Carbine and featuring designs by TNTP artistic director Keith Paul Medelis. Original score is composed by Kevin McKay.
Further details are available online at www.thenewtheatreproject.org.
Due to the interactive nature of the performance, capacity is limited to ten for all four shows, so advanced tickets are highly recommended to guarantee seating.
All performances take place at the Mix Studio, 130 W. Michigan Ave. in Ypsilanti. Ticket prices are $15, $10 for students and industry. Tickets are available for purchase online via the Brown Paper Tickets link on TNTP's website. TNTP no longer uses its old box office phone number, but the Mix can be reached at 734-961-8704.