Posted on
Mon, Nov 7, 2011 : 10:53 a.m.
The New Theatre Project announces new festival, 24 in 24
By AnnArbor.com Staff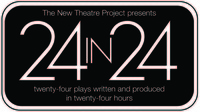 The New Theatre Project presents its own spin on a twenty-four hour play festival, 24 in 24, featuring twenty-four short plays written and performed in just a single day. The evening will also feature special musical guests, charged with creating a song in the same twenty-four hour period. Participating actors, directors, and playwrights will gather on Friday, Nov. 11 at 8 p.m. The inspiration for the plays will be announced at 8 p.m., and the artists will work all night to create several short scripts. Rehearsals take place all day to culminate in a thrilling, adrenaline-fueled performance by some tired and satisfied artists.
The performance will take place on Saturday, Nov. 12 at 8 p.m. at the Mix Studio Theater in Ypsilanti, 130 W. Michigan Ave. Tickets for 24 in 24 will be $15 with a special offer of 2 tickets for $24. Ticket prices include pre and post show refreshments.
Want to participate in this festival as an actor, director, playwright, or even option all three? Email ben@thenewtheatreproject.org to get involved. Further information is available online at www.thenewtheatreproject.org.