Posted on
Tue, Sep 27, 2011 : 3:50 p.m.
The New Theatre Project stages first original musical, 'The American Crowbar Case'
By Jennifer Eberbach
The New Theatre Project in Ypsilanti presents its first original musical, "The American Crowbar Case," an indie-folk musical based on a concept album by local band Match by Match.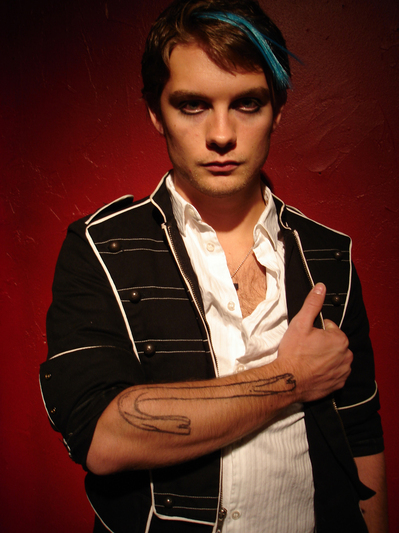 The album and musical explore the story of Phineas Gage, a railroad construction foreman who suffered a life-altering brain injury in 1848, when a large metal rod impaled his frontal lobe. The case is famous in the history of science and psychology because it established a link between the frontal lobe of the brain and personality. Astonishingly, Gage survived, but it is said that his personality changed dramatically after the accident.
Match by Match front man Gray Bouchard started writing songs inspired by Gage even before he started the band with Melissa Coppola in 2010. After Match by Match formed, the idea grew into an entire concept album, American Crowbar, which they released this July.
Although inspired by a real historical figure, Bouchard says the themes in the album are "more universal than specific to Gage's life ... I was never telling the story of this particular guy in the album. Rather it was inspired by the way a radical life event changes you in ways that you can't control. Sometimes the person you were before isn't there anymore and there's nothing you can do about it."
When the New Theatre Project Artistic Director Keith Paul Medelis got his hands on a copy of the album (he was doing design work for the band at the time), he had a vision to adapt it to musical theater. Jason Sebacher wrote a script inspired by the album.
"The most fascinating part about creating this story is that there is only really one news article about the accident and a few facts that we think we know about this person. Although the case of his injury is well documented and studied in psychology, we know almost nothing about him as a person. That's what our musical does. It focuses on the person," Medelis says.
Music from the concept album is performed throughout the production, although "some of the lyrics were changed in the course of the rehearsal process because they were too general. For the purposes of the musical, we needed to make some lyrics more specific to his life," Bouchard explains.
Bouchard calls the musical "a fictional account of his story, staged within Phineas' (played by Peter Giessl) own fractured mind. Since he suffered cataclysmic brain damage, everything is a little disjointed and abstract at times. It doesn't take place in order because the accident, in addition to changing his personality, effects the way he perceives time. He hops in and out of time, and we see that happening from his perspective," he explains.
Time jumps happen throughout the play, which actually starts in present day with two academics discussing his case, a historian (Jamie Weeder) and a professor of psychology (Dan Johnson).
Little is known about Phineas beyond his significance in the history of psychology, so the musical fills in the blanks with possible scenarios and fictional people in his personal life. Constance (Julia Garlotte) is Phineas' fiance in the musical. "They have an innocent relationship before the accident," Bouchard says. Missy (Coppola) "exists in the world after the accident when he is a very different person," he explains.
"I exist in the play as a weird omniscient character," Bouchard explains. "I don't have any lines, but a couple of times, I pop up and sing about some of the more negative, destructive thoughts he has. I think of myself as a manifestation of his defective brain," he says of his own role in the musical.
Direction and set design is care of Medelis. Coppola is directing the music, with choreography by Ben Stange. And Janine Woods contributed lighting and video projection design.
Pay-what-you-can previews will be held Sept. 30 and Oct. 1 at 8 p.m. Then regular weekend performances will resume Oct. 7 through 23 with 8 p.m. shows on Fridays, Saturdays, and Sundays, and 2 p.m. matinees on Sundays. The New Theatre Project is located at 130 W. Michigan Ave. in Ypsilanti at the Mix Studio Theater. Tickets are $15 and $10 for students/seniors/and industry. Tickets can be reserved by calling or texting The New Theatre Project box office at 734-645-9776 or emailing tickets@thenewtheatreproject.org. TNTP now accepts credit cards.