Posted on
Tue, Dec 13, 2011 : 9:09 a.m.
The only place in Ann Arbor to get your Christmas tree
By Richard Retyi
Richard Retyi | Contributor
"A lot of people say the holiday season hasn't started until they drink the cheap booze in the trailer," says Duke Wagetha, CEO at Flatsnoots Christmas Trees Headquarters.
Tree camp, as Duke refers to it, is located at 3500 Washtenaw Avenue across from the Arborland Mall. It's hard to miss — a giant parking lot full of Christmas trees and a multicolored 1951 Vagabond trailer covered in wreaths.
Flatsnoots has it all — from majestic 16-footers to three-foot table-top trees, wreaths, center pieces, mistletoe and, of course, cheap booze. Once you pick out your tree, Duke invites you inside the trailer to wrap up the transaction with a festive tipple. Cinnamon schnapps, Hot Damn or something called a Noggin Robber. One couple who'd been coming to Flatsnoots for years waited 10 minutes for Duke to finish helping other customers and join them in a toast. Duke doesn't imbibe with each sale — if he did he'd be passed out among the Scotch Pines by 10:30 a.m.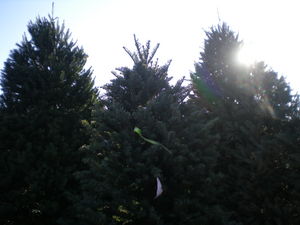 Business is brisk at Flatsnoots on this, the busiest day of the year so far. I'm not the first journalist who's wandered into Duke's lot looking for a story. There's a full page Ann Arbor News article taped to the wall inside the trailer. Duke tells the story of Motor Trend magazine showing up one year to use a tree in a photo shoot.
"They wouldn't let us in the frame," says Duke, rubbing his graying goatee. "They brought their own models."
He might not be a model, but Duke definitely cuts a figure. He wears layers — an unbuttoned Cabo Wabo-looking shirt over black overalls and a green hoodie, accented by a red Christmas-themed bandana around his neck. Duke ties it all together with a straw hat and glasses perched on the bridge of his smushed nose — the flat snoot in Flatsnoots — an old high school football injury. Duke is funny, has a blue-collar handshake and probably makes a lot of his younger customers wish he was their dad.
Bill Robertson and his wife Katie have been getting trees from Duke for 10 years. Today Bill and his daughter Tessa are picking out a beauty, which one of Duke's workers expertly ties to the top of their vehicle.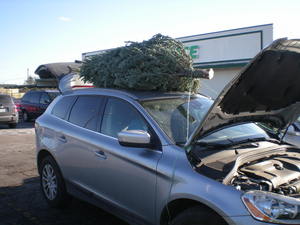 Richard Retyi | Contributor
"We like these guys," says Bill, while his daughter stays in the vehicle where it's sensibly warm. "They're nice, friendly and do everything for you."
Most customers park their cars and walk through the lot looking for the perfect tree. Others drive up close to the trees and inspect them from the toasty interior, listening to A Prairie Home Companion and pointing at things. Duke serves them all.
"We're from up north," says Duke. "We're jack pine savages."
Duke got into the Christmas tree business between construction jobs up north in Mesick, Mich. He "roadsided" trees in his pickup for 10 cents apiece, hauling spruces, firs and pines out of the bush, making $100 when $100 was decent money. Eventually Duke got wise and started selling trees by himself, starting his operation in 1976 ("I think"). And here we are.
Thirty years of selling trees, first in Westland and then in Ann Arbor. Due to construction and logistics, Duke's tree camp has bounced around a few parking lots in Ann Arbor, but people always seem to find him. There's a mailing list you can sign up for where Duke sends you a holiday card with details on where he'll be that year. "Peace and Prosperity to All," is the signoff.
The buzz of electric chainsaws is near-constant as Duke's men trim trees to suit each customer. While trees are tied down, happy buyers file into the trailer and queue up for Nicole, who sits at a tiny desk neatly recording each purchase in a notebook.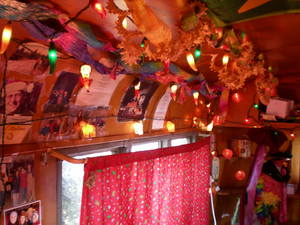 Richard Retyi | Contributor
The trailer has a couch and a small kitchen where a big pot of chili is bubbling away. I told my girlfriend Rachel about the chili when I got home, and she lit up. Her family has been buying trees from Flatsnoots for years, and she always remembered chili on the stove. That little detail is incredibly comforting to me for some reason.
The trailer is full of pictures taped to the walls next to holiday cards sent from lifelong customers. Chili pepper lights are strung along the roof next to glowing plastic cows. The Budweiser frogs burned out a season or two ago.
Young couples come in buying their first tree together. Two brothers from the Chi Phi fraternity bounce on their heels as one of Duke's guys ties a big tree to the top of their vehicle. The tree is for their big Crush Winter Formal party later that night.
Duke is busy. He removes his glove when shaking someone's hand, his heavily creased palms stained green. "You know how everything is new and improved?" he says to one customer. "We're not."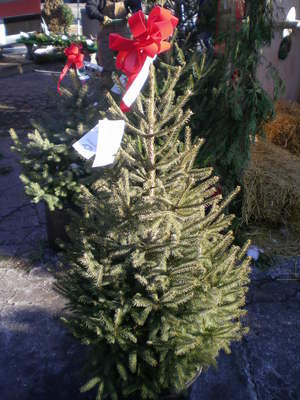 Duke is bus helping people find their Christmas trees so I go into the trailer unaccompanied and slip past a queue of shoppers. There's a pre-poured Dixie cup of cinnamon booze sitting on Duke's serving tray. It's calling my name. I haven't had schnapps since my parents left me home alone on New Year's Eve in ninth grade. Glancing around, I snatch it up and throw it down. Ladies and gentlemen, the holiday season can officially begin!

Richard Retyi writes the bi-weekly-ish column Lie to Your Cats About Santa and despite the name, this is his first article on anything Christmas related. How about that? For his day job he works as the social media manager at Fluency Media in Ann Arbor. You can follow him on Twitter at @RichRetyi or check out his website at RichRetyi.com.