Posted on
Fri, May 18, 2012 : 5:58 a.m.
Not dead yet: Heart of the video game arcade still beats at Pinball Pete's
By Richard Retyi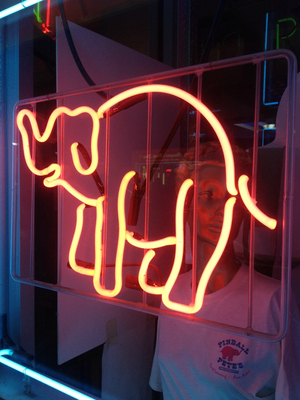 Tekken 5 warriors, pinball wizards, pool hall hustlers, skeeball rollers and a sweaty guy with his own water bottle and fluffy white towel playing Dance Dance Revolution 5thMix.
On a warm Friday evening in May, I made the trip to Pinball Pete's expecting to write the obituary of the video game arcade:
" Born in 1970s midways, survived by Call of Duty: Black Ops 2 and Skyrim, passed peacefully at home, from complications due to affordable home high speed internet, HD TV technology and the Domino's Pizza tracker."
Instead, I watched cute couples shoot infrared pistols at each other, four high school friends race at Daytona and a woman eat a Jimmy John's sandwich with her infant in a stroller beside her while her husband camps in front of a vintage Pac Man cabinet. These characters, as well as a lot of others having fun. The video game arcade isn't dead - it's just undergone a millennial makeover.
I grew up in a small town split down the middle. The old downtown and its shuttered storefronts was located near the steel mill and the canal, while the new downtown was anchored by the town's shopping center, The Seaway Mall. The Seaway Mall attracted the town's first Taco Bell and the town's first Pizza Hut and when Walmart expanded to the region, the Seaway Mall was the obvious choice.
For middle-schoolers and high-schoolers, there wasn't much else to do in town but hang out at the mall. It had your standard retailers along with a two-screen Cineplex Odeon theater, an intimidating pool hall and a video game arcade. The arcade, not the food court, was the central hub of youth activity. Kids from all the schools in town - the good and the not-so-good - gathered in front of the flashing cabinets built by Midway, Konami, Namco and SEGA.
Every Friday night, a parental figure dropped my friends and me off in front of the mall and we'd immediately head to the arcade where we'd loiter for an hour or so before the movie. Most of the rest of our town had the same idea. The Seaway Mall arcade was regularly awash in hormonal, Friday night, pocket-clinking youth.
Pinball Pete's would have been a dream come true in my formative years. A subterranean whir of lights, sounds, animated violence and skeeball. On this night, two of the four green-lit pool tables are occupied by boisterous high school kids, while pockets of patrons cluster around particular games. A couple, her in a pink top, him in pink shorts, play skeeball. A group smacks a plastic puck - clack-clack-clack-clack - across a glow-in-the-dark air hockey table. A dutiful girlfriend watches her boyfriend unlock the Troll Bonus on a fantasy-themed pinball machine. A father and son shoot basketballs through hoops, prize tickets piled at their feet.
Gone are the days of the arcade attendant with his or her pocketed apron weighed down with rolls of quarters. At Pinball Pete's, change machines dispense quarters into little plastic cups like starter casino slots.
Even at midnight, with a few South University drunks shambling down the stairs to play a few rounds of Time Crisis, the mood is light.
The Seaway Mall arcade with its co-mingling of youth from all over our small town, had a much different feel. There was the real threat of humiliation, petty robbery and violence in the air. I didn't live in a litigious town and those weren't litigious times.
Fights never occurred in the arcade itself - the combatants were heady enough to walk 200 feet outside to brawl in the parking lot - but fights often started there. Humiliations, line jumping, quarter stealing or knocking someone's cigarette off the machine - all grounds for war. The smoking - that's something made the arcade unique. The plastic edges of the cabinets browned and sometimes slightly melted from cigarettes balanced on the edge during tense games. Everything smelled like tobacco and the air was thick with smoke.


There are a lot more shooting games today than when I was a kid. We had
Terminator 2
and a terrible
Aerosmith
game
Revolution X
where you could shoot exploding CDs at corrupt corporate military forces. Pinball Pete's has 26 games (by my rough count) that have physical guns, including the vintage Terminator 2 cabinet and the impressive Time Crisis 4
.
Two friends stand in front of the Time Crisis screens, pistols in hand, shooting enemies on screen while ducking behind steel beams and wooden boxes. After they're both killed, they discuss strategy before plunking more quarters each into the machine and returning to their bulletstorm. There's lots of this. Small pockets of cooperative play. Moments of intense action followed by a brief recap and then another round of quarters inserted into the machine.

These clusters don't interact with each other or pay much attention to one another. At the Seaway Mall, the arcade was the only place in town where everyone gathered and the only place us middle-schoolers saw and avoided the older high school kids.
Arcade etiquette dictated that you place a quarter on the little lip below the screen to call "next" - a throwback to the days of
Minnesota Fats
and
Ralph "The Showman" Greenleaf
. This was fine for one player games but many of the games of my youth were player vs. player like
Street Fighter
,
Pit Fighter
and
Mortal Kombat
. Fake fighting kids you don't know is one thing. Fake fighting a high-schooler from the bad school in town and winning was something altogether. Winners stay. You might get your face caved in but at least you'd get to play
Virtua Fighter 2
.

Pinball Pete's is good, clean fun. Nary a cigarette or the older brother of someone you beat up while sledding to be seen. The vending machine sells
Doritos
,
Cheetos
,
Skittles
and
Starburst
exclusively. Kids drink
Monster
and throwback
Mountain Dew
.
One girl inserts coins into a giant game called
L.A. Machineguns
and flies through the streets of L.A. shooting bad guys with jetpacks. The machine gun kicks in her hands and her mouth curves into a giant open smile as things blow up on the screen. She lets out a delighted squeal as the camera swoops down to street level and she blows up a rocket in mid air. The four high school boys play another round of Daytona, the winner leaping out of his vehicle with his arms raised high. The couple with the infrared guns hugs after their battle. The lady with the Jimmy John's sandwich pushes the last bit of bread into her mouth and licks her fingers.
It's not the video game arcade I grew up in, but it's far from dead.
Richard Retyi writes to semi-occasional column Lie to Your Cats About Santa and had one of the greatest Street Fighter games of his life while writing this feature. Check out his website RichRetyi.com or follow him on Twitter at @RichRetyi.