Posted on
Sun, Aug 23, 2009 : 5:08 a.m.
Martin Bandyke column: The Ragbirds take flight on new CD
By Martin Bandyke
Watching
The Ragbirds
perform live recently at Liberty Plaza as part of the Sonic Lunch concert series, it was no surprise to see the Ann Arbor-based quintet draw such a large and diverse audience. From parents to college students to young kids, the warm, life-affirming embrace of The Ragbirds' music easily crosses all generations.
Led by vocalist, violinist and tunesmith Erin Zindle, The Ragbirds have just self-released their third studio recording, "Finally Almost Ready," with Celtic, Gypsy and African influences sweetly mixed into its folk-based sound. Giving the band some extra punch is guitarist and newest Ragbird T. J. Zindle, Erin's brother, who officially joined up in January of this year and gives the band a little rock and roll sizzle. Holding down the rhythm section is drummer Randall Moore, Erin's husband of almost three years, along with percussionist Tim Dzielan and bassist Dan Hildebrandt.
The day after playing in downtown Ann Arbor, The Ragbirds were off to Kalamazoo for a CD release party, which is where we caught up to the soft-spoken, 31-year old Erin Zindle by phone to talk about her own musical background and the latest CD. And no worries, The Ragbirds will have a release party here at the Blind Pig on Friday, Sept. 25th.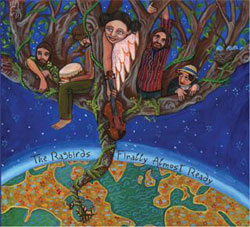 Q: Your violin work is one of the most captivating elements of The Ragbirds' sound. How long have you been playing it? A: I've been playing for 22 years; I studied with a private teacher, Frances Kaye, who played with the Buffalo Philharmonic and was a huge influence on me. After studying with her in Buffalo, which is where I'm from, I went to a school in Farmington but only for a year and a half. My teacher here didn't show up for classes sometimes and I didn't learn much from her.
Q: Did you also start singing at a young age? A: I always sang, but I was planning on auditioning a lead vocalist when The Ragbirds got started. I put up fliers but no one responded, so I started singing myself. Now I can't imagine anyone singing my own songs. But it took years before I became comfortable on stage. I was really shy about being the lead person. Talking to the audience between songs made me very nervous as well, and it took a long time to get over that. It was kind of a tortuous experience, but I kept telling myself, "I know I can do this."
Q: "Finally Almost Ready" nicely captures the sound of The Ragbirds and has a beautiful flow to it. How did Tim Carbone, a member of the Americana band Railroad Earth, come to produce your new album? A: We've been fans of Railroad Earth for years and always admired his fiddle playing. When we met last summer at the Hookahvillle Fest in Ohio we ended up chatting and hit if off. We have compatible personalities and he's so much fun and easy to get along with. Tim sat in with us when we played at Hookahville and later we talked about the possibility of working together. We were looking for ears beyond our own, and he was really excited about working with us so we made it happen. It was a great decision because he contributed a lot of ideas to the project and brought beautiful energy to the recording. He also helped to let us know when to stop; he knew when a song was complete.
Q: "Book Of Matches" and "Stuck Inside Of Who You Are" are two of my favorite tracks on the new CD, both featuring outstanding playing by you and T.J. You also finish with a great percussive workout entitled "Onyame Kokroko." What can you tell me about that one? A: It's the first time we've recorded a traditional piece in the studio. My philosophy has been to only record original music, but it's been the last song in our set since the beginning and our fans have asked us to record it for years. Including the song gives the dimension of our live show to the CD.
Q: The Ragbirds have played a number of festivals this summer. What has that experience been like? A: It's completely exhilarating to play at a large festival where people are smiling and dancing in the sunshine. They're listening left and right to all kinds of bands and jump right in to dance. You don't need to warm them up and break the ice. Everything is friendly and sweet and high energy. It's exciting to play for a big crowd and we enjoyed being at Rothbury, 10,000 Lakes (in Minnesota) and Summer Camp in Chillicothe, Ohio. It was particularly an honor to at Rothbury, as this was our first year there.
Q: Your musical influences come from — literally — around the world. Where did you interest in world music originate? A: It started back in high school, when I was a songwriter and writing poems. I listened to crossover artists like Rusted Root, Peter Gabriel and Paul Simon. I latched on to those and loved how they incorporated ethnic sounds into pop music. It made me feel different and took me someplace new. I've been listening to world music since I was a teenager, starting first with Celtic music, since I'm Irish. I also love Gypsy music, which has so much fire and excitement, and I started African drumming in high school. Music from all over the world finds its way naturally into our music. I try to think beyond my natural American instincts, but don't try to force world influences in there just because I might want to play a tango.
Martin Bandyke is the 6-10am morning drive host on Ann Arbor's 107one. Follow him on Twitter and at his web site.