Posted on
Wed, Jun 19, 2013 : 10:30 a.m.
Sylvia Studio of Dance to celebrate 80 years at dance recital
By Ann Dwyer
The Sylvia Studio of Dance will celebrate 80 years with "Time Dances On" at the Ellen Ewing Performing Arts Center of Saline High School.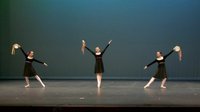 The performance will feature dancers from three years to advanced levels. There will be costumes and live piano accompaniment. The Ann Arbor Civic Ballet will give a guest performance.
Sylvia Studio of Dance provides professional dance instruction and progressive training programs in ballet and jazz. In 2008, they were awarded the 2008 Best of Ann Arbor Award for Dance instruction.
Sunday, June 23, 2013 4 p.m. Child (9 & under) $5, Student/Senior (65 & up) $12, Adult $15. 1300 Campus Parkway, Saline.