Posted on
Sat, Mar 31, 2012 : 3:30 p.m.
The things you'll see, the people you'll meet
By Ryan Levin
All this week, Ryan is covering the movies and moments of the 50th Ann Arbor Film Festival in the Michigan Theater, sharing his experiences of the festival. Share your thoughts and stories in the comments and enjoy a great week of experimental film!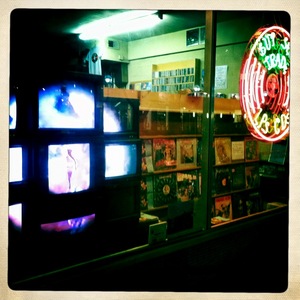 Photo by Ryan Levin
Upstairs wrapped around the upper balcony of the
Michigan Theater
lobby, tables for the freshly revitalized Ann Arbor Film Festival silent auction sat among the art installations and lounging festival-goers, lanyards dangling around their necks with paper cups of
Roos Roast
coffee (served downstairs) in hand.
If there was ever any question of how much a part of the greater Ann Arbor community the festival is when it plays at the Michigan Theater every March, glance over the page-long list of donors, supporters and businesses offering their wares to the benefit of the non-profit film festival.
Around the city, film and video installations illuminate the streets as part of the festival's 50 SCREENS series. In the window of Encore Records, an array of television screens showcase a woman in a white toga emerging eternally from a halo of pink and blue clouds.
There's a wandering exhibit in the shape of a man in bright sapphire lights on a dolly like a neon Hannibal Lector with a screen where his face should be. It stops at street corners on the sidewalks around the Michigan Theater where passersby can be seen gazing inside.
Back inside the theater, there's a bike powered zoetrope and a tower of screens controlled by an iPad that's a video interpretation of the parlor game exquisite corpse. On the zoetrope, you pedal and stare through the slats onto the spinning paper loop and frames of an animated trip down a country road flitter past and merge and blend and (depending on your speed) become a single, animated frame.
As you gaze into the exhibits or mull over the current highest bid of an auction item, you might feel a gust of breeze at your back with the quick tapping of shoes and maybe the slurping of a cup of coffee. Chances are, that would be the omnipresent rushing blurs of Executive Director Donald Harrison or Program Director David Dinnell. If you're at the festival for any length you'll run across them constantly, as they take the stage to introduce ever screening and program.
These were some of the things you'd see at the 50th Ann Arbor Film Festival.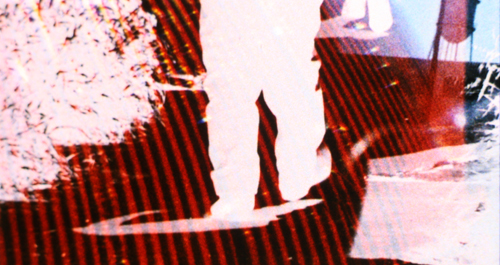 Being on stage on the third day of the film festival at the first program of a three-part retrospective series of his work made
Bruce Baillie
think of his favorite episode of
"Seinfield."
Baillie began making films in the 60s part of an avant garde film scene in California, founding an important experimental film distribution and exhibition cooperative,
Canyon Cinema
.
Baillie (whose bundle of L's and I's in his last name requires special scrutiny to make sure it's been spelled right) recounted his time in Ann Arbor in the winter during the first years of the film festival, staying with founder George Manupelli at his house, shoveling snow off the sidewalks and cars outside to avoid, as he put it, thinking about or making more films.
Baillie's early work highlighted how quickly he became a force in experimental cinema, going from tone-poem documentaries like "Here I Am" and "Mr. Hayashi" to dancing visual masterpieces of multiple exposures and high-contrast abstractions in "Castro St."
"Here I Am" is a black-and-white chronicle of an afternoon at the East Bay Activity Center in Oakland, Calif., a school for emotionally disturbed children. It's both unsettling and moving, a portrait of children in a safe environment who still wear outwardly the deep scars of emotional trauma.
"Castro St." is an incredible collage of altered footage of an industrial park. Through heavy contrast and film negatives and the overlaying of footage, Baillie creates the sensation of the sharp lines and spaces of industry that have taken over that part of Castro Street. It's an mind-blowing technical achievement. Made in the early 60s, the curator for the event encouraged the audience to consider the process that would have gone into developing, superimposing and correctly arranging all those strips of film.
That Seinfield epsiode, by the way, was "The Limo," the one where George and Jerry accidentally pose as neo-Nazis to get a limo ride home from the airport and have to find a way to get out of the car on its way to a rally. Baillie could barely get through it not laughing.
Outside in the lobby between screenings, people rush out for cups of coffee, for lunch or to use the lavatory, or to make an appointment for some other part of their lives. A whirlwind of introductions and voices trying to get out their impressions on a feature film the previous night, set you up against artists, scholars and cinephiles from around the country.
One man, all smiles under tired but excited eyes, had just flown in from North Carolina where he was working, to come to the festival before heading home to Detroit and then back out to California where he had been filming a surrealist film in 3D with Jane Lynch. While talking about films he had seen from the previous night, he pulled out his phone to show pictures of a old convertible in front of a green screen and the done up hair of director Lynch and the multiple cameras and crew gathered around the set. He spoke excitedly of the culture of surrealist filmmakers he'd found in California and the cultural potential of Detroit.
These were some of the people you'd meet.