Posted on
Mon, May 27, 2013 : 10:15 p.m.
Michelle Chamuel makes coach Usher proud on 'The Voice' with Bruno Mars' 'Grenade'
By Jenn McKee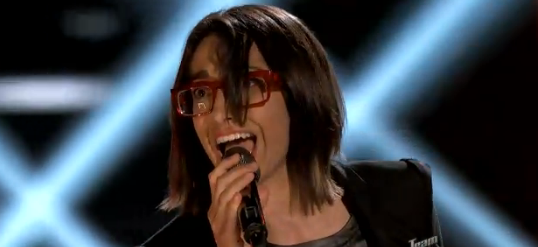 Former Ann Arborite
Michelle Chamuel
- who came to Ann Arbor as a University of Michigan student, and then became front woman for popular local band
My Dear Disco/Ella Riot
- knocked out the judges on
"The Voice"
once again on Monday, May 27, when she sang
Bruno Mars
' "Grenade."
Earlier in the episode, Chamuel's coach, Usher, described her as "an incredible student," and pulled out a pair of black-framed glasses (Chamuel's trademark) and put them on, saying, "I decided to go ahead and join the army of Michelle Chamuel supporters."
Regarding "Grenade," Chamuel said, during a segment focused on her one-on-one rehearsals with Usher, "The strategy behind the song is to pick a record that we can bring to life in a new way, and I can show a new type of vulnerability."
In the same segment, Usher said, "There's no one like Michelle in this competition. She's the new standard for what all of us are optimistic about. Something that is different." Chamuel is the last remaining member of Team Usher.
Usher's plan for "Grenade" was "to take everything away, and we make (Chamuel) the loudest instrument on it."
Check out how Chamuel executes Usher's plan below.
Shakira called the performance "spectacular" and said that while Chamuel always had great stage presence, she's now also "exuding a lot of confidence."
Adam Levine was blown away by how the number was designed, with additional musicians and back-up singers entering the stage as the song progressed. "Usually that stuff seems forced," Levine said; but he thought that the number's design not only worked for Chamuel, but that the performance was "one of the best of the night."
Blake Shelton, meanwhile, said, "I can't believe such a big voice comes out of such a little human being. … That's your best so far."
And Usher, who hooted and cheered as Chamuel finished the song, said, "So many people have these humps that they can't get over in life, and you represent that. You represent true inner beauty, and the fact that you can tear down any barrier. That performance represents everything we love about life, and what you're becoming. … I'm so happy you did that for the world."
Fans can vote for Chamuel through "The Voice"'s website until Tuesday, May 28 at 10 a.m. Tuesday night's episode of "The Voice" will reveal which 2 of the remaining 8 contestants are eliminated from the competition, by way of earning the fewest votes.
Jenn McKee is an entertainment reporter for AnnArbor.com. Reach her at jennmckee@annarbor.com or 734-623-2546, and follow her on Twitter @jennmckee.