Posted on
Fri, Mar 29, 2013 : 11:17 a.m.
The warriors of Warmachine/Hordes invade Get Your Game On
By Richard Retyi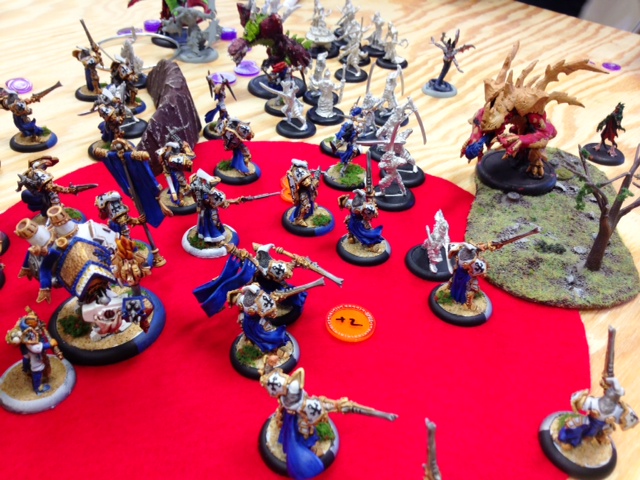 It's a little after noon on a cold, gray Saturday in Ann Arbor.
The Lich Lord Terminus is absorbing the souls of dead followers of the Protectorate of Menoth while the Harbinger of Menoth, tethered to this world by chains and a pair of robed acolytes, skirts the periphery of the battlefield urging her troops into battle. This includes a terrifying war engine called the Vessel of Judgement that stands a few inches tall in real life, resembles an arcane mobile church organ and is pulled by a beefed up gentleman with a flayed back. Apparently, it's also got the remains of some ancient dead priest inside. Many warriors are lost on the freshly cut plywood battlefield this day, but not a single punch is thrown, not even during lunch at Noodles and Company.
The game is Warmachine/Hordes—a combination of two tabletop fantasy systems set in the same world full of coal-fired steampunk Warjacks armed with maces, axes and cannons, dragons that spew corrosive garbage out of their mouths and the poor little normal people called "units" who soak up the majority of the bullets, blades and purifying holy fire. On this day, five combatants vie for the title of champion in a tournament hosted by Get Your Game On. They don't all display the best nutritional habits and they might not be natty dressers, but damn can they play them some Warmachine/Hordes.
I am not mocking you, Warriors of Warmachine
If anything comes off mocking or negative, trust me, I'm no harsher on these gentlemen than I've been on many other subjects I've embedded with in the past. Not fake combat crazies bashing each other with foam swords in the park. Not shopping cart racing misfits. Not people really into prep football. It takes a good deal of trust to let a bearded reporter with a satchel full of pens and notebooks wade into your midst for four hours (yes, I stayed for four hours) and watch your every move, jot secret nothings and ask you dumb questions. Like any group, there are some men more skilled and some less skilled, some more charismatic and some less. The one guy who doesn't mind if I use his last name and everyone else.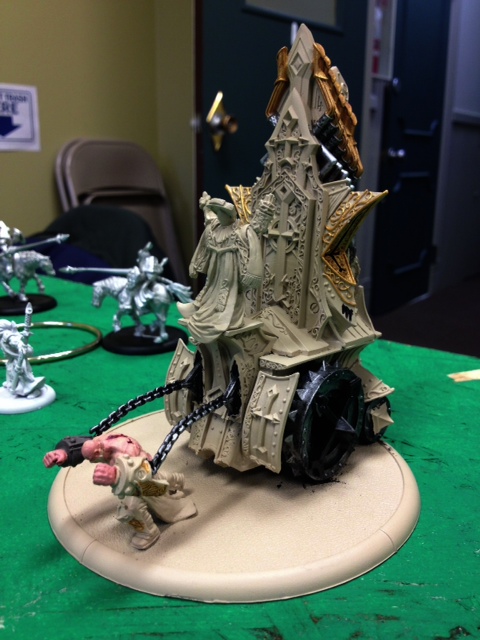 I'll say this up front - if you're interested in Warmachine or Hordes or have enjoyed tabletop strategy games before, this is the stuff for you. Complicated and complex, chock full of rules and dry-erase markers and cards and damage points and did I mention the giant church organ full of dead priest bits being pulled by the deranged acolyte? It's nerdy but it's fun.
Kevin Roach runs Warmachine tournaments like this for Get Your Game On about once a month in a space on the second floor next to the storefront business. It's an odd setting for mortal combat—a room that would double as a really depressing small office if you had to earn a paycheck there—and the smell of fresh plywood hangs in the air all afternoon (plywood is used as the base of the game board, which is littered with terrain like little hills, forts and brick walls. Most of the plywood is bare and splintery right now, but eventually it will be painted green.) Warmachine tournaments are held all over the area. In fact, a competing tournament draws a number of potential players this Saturday afternoon. Get Your Game On also hosts more casual Warhammer and Warhammer 40,000 players on regular Saturdays, though these are two different game entirely. Warmachine is where it's at. Trust me, Warhammerers. You should switch tonight.
Dragons and evil bad guys vs. religious zealots in Round One
Jay, playing with dragons and evil bad guys, draws Aaron and his group of religious zealots in round one, while Andrew and Nick square off on the other side of the room in a Terminus vs. God-knows-what and a bunch of dragon things showdown. There's no swearing and I'm really surprised no one throws a die or crushes anything. I've been in tenser games of Trouble. These contests do get a little testy, particularly when a particular player narrates every single positive thing he's doing and stream of consciousnesses his lucky, lucky ways. But still, no anger. It's downright civil in the chaos.
Everyone but Aaron marks their troops' damage on character cards with dry erase markers and there's so much smudging and wiping that by the end of the afternoon their fingertips are stained black. Aaron is part of the new wave, marking damage on his iPad like a bawse. For the record, Aaron is my second favorite player. Andrew is my first. Sorry, other guys.
Each game has a built-in scenario, so it's not just wade into the breach and grind on each other with sharp objects. Scenario one involves strategic flags and control points, which some of the players care about. There are two ways to win—achieve the objective of the scenario or kill the opponent's Warcaster. A Warcaster is a fancy term for the team's General, but this character is usually the ultimate badass, like the aforementioned Terminus or Harbinger of Menoth. Some teams are built for achieving strategic victory and aspire to be Lee Harvey Oswalds.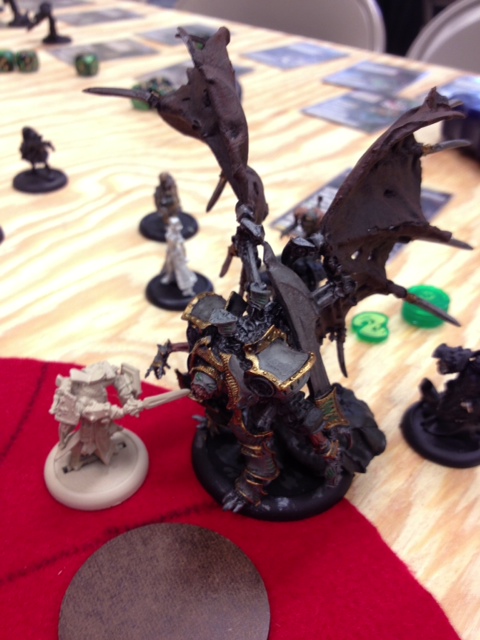 Andrew is Lee Harvey, but with an undead army led by a part metal part flesh dragon atrocity. Andrew defeats Nick in a sloppy match that hangs in the balance a number of times, while a tactical error and keen play by Jay earns him the victory through control points. After a spirited first round, we adjourn for lunch at Noodles and Company where Kevin orders off the menu and everyone is jealous.
A champion is crowned and I go home
Round two pits Andrew against Aaron and Jay against Gabe, who drew a first-round bye. I have to admit, I focus more on the Andrew/Aaron showdown that the Jay/Gabe slobberknocker because Aaron pulls out the giant war engine church organ thing and I want to see what it can do to Andrew's undead minions. The answer is nothing. Nothing at all. Andrew smites that $84.99 piece of plastic but in the end can't control enough of the board and loses on points. Gabe beats Jay in the other game which features a huge mass of dragon bone in the center of the board and looks incredibly confusing.
I'm not quite sure how or why, but Gabe is crowned the winner and everyone is out of steam after four hours of play so the packing begins. Little painted (and some bare) figures are packed into neatly padded cases, along with dice, tokens, cards and rule books. One of the guys tells me that the outlay just to get started playing the game is about $300, but they all love it.
Unlike other tabletop games, the Warmachine/Hordes universe is ever changing, with back story on characters and factions and developing storylines and that change over time. This creates new versions of well-known characters in the universe, spawns updated rules and allows the game to morph into something new with each iteration. It's not just a stagnant game that changes only with each battle—it changes month to month and year to year.
I'll admit wandering down to Get Your Game On and pricing out some of the Warmachine books and miniatures with the fleeting idea of learning how this game ticks, returning in my sweatpants and winning first prize and best dressed. With 12 distinct factions to choose from, most players admit to selecting the clan they think looks the coolest, buying those figures and jumping in with two feet. For my money, I'd go with Skorne because they have these giant elephant looking things with fists and cannons, along with some big toads with scary teeth and a loin cloth. But I keep my money. I pass up the $94.99 armored turtle manned by Praetorians wielding giant spears and walk out of the store empty handed, likely instead to spend that amount on chicken wings within the week.