Happening Today:

The Water Hill Music Fest is the place to be today

Posted on Sun, May 6, 2012 : 5:57 a.m.
BIKE
There will be a Fifth Anniversary Spectacular Bike Ypsi Spring Ride and Festival at the Ypsilanti Senior and Community Center. Free bike tune-ups and registration begin at 9 a.m. Register for rides by 9:45 a.m. Join the community parade at 1 p.m. There will be a post-ride rally and barbecue. All activities are free, but they will have T-shirts and commemorative items available to purchase. The YSCC is at 1015 N. Congress St., Ypsilanti. 734-483-5014.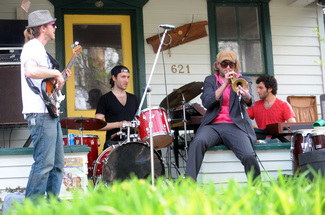 Melanie Maxwell | AnnArbor.com
ETC.
Join the annual Fairy Door Walk at the
TeaHaus
. Register between 10 a.m. and 1 p.m. Take a 5K or 10K stroll to view the downtown Ann Arbor fairy doors. All ages and abilities are welcome. A life-size fairy door fridge magnet will be available for sale at this event. Free. The TeaHaus is at
204 N. 4th Ave., Ann Arbor
. 734-622-0460.
MARKET
Celebrate the Grand Opening 'May Day' Celebration at the Ann Arbor Artisan's Market. 11 a.m.-4 p.m. There will be a children's event from noon-2 p.m. Kids can decorate a May Pole, and do the May Day dance. There will be a mini May Pole craft for the kiddos to decorate and take home. No admission charge. The market is at 315 Detroit St., Ann Arbor. 734-913-9622.
MUSIC
The Water Hill Music Fest is today. 2-6 p.m. The rain date is May 13. This is a truly one-of-a-kind music fest. Residents of a single Ann Arbor neighborhood play music on their front porches while listeners circulate throughout the area. Currently, more than 60 sites will have music. Programs will be available in the neighborhood the day of the event, or check waterhill.org/where. Free, but T-shirts will be on sale at Big City Small World bakery. In the area bounded by Miller Avenue, Brooks Street, Sunset Road and the Ann Arbor railroad tracks.