Posted on
Fri, Jan 25, 2013 : 11:49 a.m.
The Wurst delivery driver in Michigan
By Richard Retyi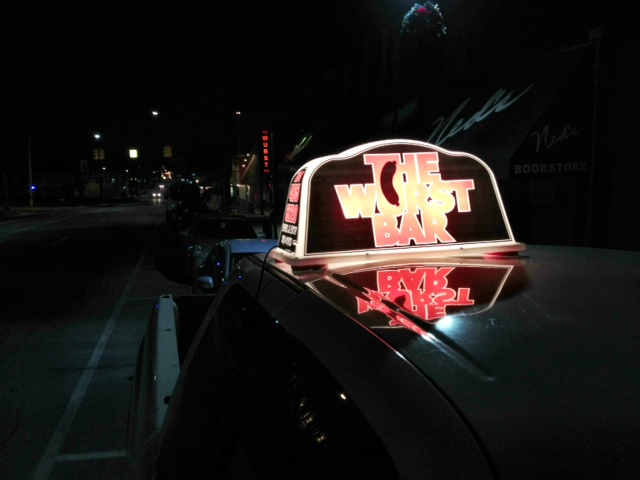 Rich Retyi | AnnArbor.com Contributor
The story starts with me eating six pounds of food and ends in a car chase through the west side of Ann Arbor with one of the vehicles on fire. A typical night in the life of a
delivery driver
.
I've had a lot of jobs in my life—janitor, barback, cashier, waiter, skateboard park director, sports camp counselor, science camp counselor, Barnes & Noble associate—but there are a handful of jobs I've always wanted to try. Taxi driver. Bicycle cop. And delivery driver.
I order a decent amount of food. Mostly Chinese food (love you, Lucky Kitchen) but also pizza, burritos, sandwiches and burgers. Popular films of a certain genre portray the life of a deliveryman (specifically pizza) as quite the wild ride. The looks on the faces of many of the delivery drivers who arrive at my apartment say otherwise. I had to find out for myself and for you, my loyal-ish readers (why don't you call anymore?).
I fell into my delivery driver gig by chance. The Wurst Bar in Ypsilanti decided to start up a delivery service, providing delicious brats, tots and even beer to the denizens of Ypsilanti and some outlying areas. Through a series of emails with owner Jesse Kranyak, I secured a spot alongside their regular delivery driver on a Thursday night.
The delivery service was only in its second week of existence, so Jesse cautioned me that there probably wouldn't be a lot of action. I'm a fan of quality over quantity and frankly didn't think too many local businesspeople would trust me in this role, so I jumped at the chance. I'm not calling Jesse a sucker, but...
Preparing to be the Wurst delivery man
Jesse is a sucker. He bought me a giant bratwurst (actually a bacon-wrapped brat covered in a sweet pepper and onion omelet covered in salsa covered in cheese), poutine tots and five glasses of diet beverage, then provided me with my uniform, a black Wurst Bar hoodie. Jesse first suggested a medium (ha!) then handed me a large, which, I'm going to be honest, was a little snug. I guess it helps to look like a sausage to deliver sausage, amirite?
Jesse led me into the kitchen and I was hit with a wave of what can only be characterized as back-of-the-restaurant smell. It's a ubiquitous scent that, if you've ever worked in a restaurant or bar, immediately pings pockets of memories deep in the brain from any time spent in the service industry. For me, images flooded back of my time spent at Captain Club's back in my hometown, nights spent slinging chicken wings to cops constantly making requests for me to turn the satellite TV to the naughty channels. Those were more innocent times. Jesse pointed to the map of Ypsilanti and the rough boundary in which they delivered.
"Some businesses don't deliver here," he said, pointing to a section of grids. "We do."
He handed me a counterfeit pen, used to test fake currency, then a tiny amount of money — $20.
"Don't carry more than $20, just in case," he said. "Leave your wallet in the car."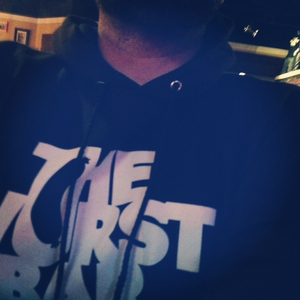 Rich Retyi | AnnArbor.com Contributor
I started to get a little nervous. I signed up for a night as a delivery driver, not an armored car driver. But I was stuffed with food, terribly sleepy and on deadline. Jesse introduced me to the Wurst Bar's regular delivery driver,
Evan Mayernik
. Wearing a matching black hoodie (brothers!), Evan was a tall drink of water — nice, jovial and easy to get along with. With the clock running and no deliveries yet, we did what any start-up delivery service apparently does. We hit the streets to flier.
I wasn't prepared to be outside for long stretches of time, and though the hoodie provided some barrier to the elements, it could only do so much to combat the 20-degree temperatures. We drove to the Eastern Michigan dorms to tape fliers to the outside of the complex, but before we could get our operation in motion, Evan's phone lit up. A delivery! We jumped back into his pickup, Wurst Bar light-up sign blazing in the night, and parked behind the building to stage the first trip of the night.
First delivery of the night
One order of pimento cheese, one Southerner with tots and two Anniversary Special brats — the same brat that was working its way through my upper digestive tract at that very moment. We hit the road to the Marriott Eagle Crest. The customer was supposed to be in the bar area and when we arrived and I strolled through the lobby, it turned out that I was actually delivering to the bar staff. Incredibly nice and good tippers. The transaction took all of 30 seconds. I was no longer a delivery virgin.
I'm sure established delivery services have less down time than Evan and I had, but on this particular night there was a lot of standing around in between fliering and delivering. You're not the cool bartender. You're not a server. You're not even the doorman. You don't get to be anywhere near the Foster the People remixes and the cute girls and their expensive boots.
You're just the driver. You do it all and you do nothing. You have the most dangerous job in the place (driving, apartment stabbings), you need to worry about getting lost, parking, gas, cold food—it sucks. You take out the trash, bus tables, maybe wash dishes and clean up puke somewhere in there, then drive around the city putting fliers on windshields in 20-degree weather.
As I was standing around jotting observations in my notebook, a server walked up to me and said, "Hey dude, if you're not taking orders, you can go around and grab some empties." She shot me a "if you have time to lean, you have time to clean" look.
I'm just a journalist. They never asked Peter Jennings to shoot at enemies in the hills of Afghanistan; why should I pick up sticky pint glasses? But I do. Because I'm a team player. I bus two glasses and take them to the back.
Two minutes later the server tracks me down and apologizes profusely. She didn't realize I was writing about my experience as a crappy delivery driver—she just thought I was a crappy delivery driver. She's extremely nice and overly apologetic, and they forbid me from doing any real work. But I'm heartened. I look like a real delivery guy. I feel like a real delivery guy. Eat your heart out, [insert famous and handsome embedded reporter who did stuff somewhere and wrote something meaningful after his experience].
Second delivery of the night
On the second delivery call, it turns out we won't need the truck. The customer lives a block away, so Evan and I decide to hoof it. Walking through a back alley and standing on a darkened porch, I realize that I'm carrying more than the $20 Jesse had given me. My wallet in my back pocket contains $483 of Christmas money from Mom ($80 Canadian). I generally don't carry those sums of WAM, but I hadn't had a chance to visit a bank.
Suddenly I get nervous. Good thing Evan is there to hold my hand (he didn't, though). The second delivery goes of without a hitch, but the tip is less substantial than the one from our Marriott brethren. Back to Wurst.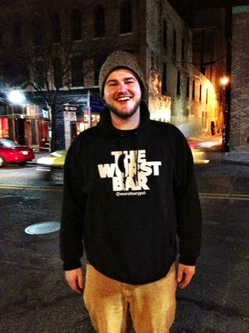 Rich Retyi | AnnArbor.com Contributor
We're pushing 11 p.m. and there's not much to do since I'm not allowed to bus tables and break hearts. I chat with a pair of fellow Canadians who are responsible for most of the metal work at the Wurst Bar. They lament the state of manhood and male-female interactions, citing a few hipsters in attendance as examples of the fall of man. I cross-reference this with a table of sorority girls with boyfriends who have a very hard time remembering the last time they went on a traditional date. Delivery driver as romantic sociologist.
Third delivery and subsequent car chase
Then the call comes in. It's big. A delivery all the way to Ann Arbor, which Jesse accepts because it's slow and I think he's sick of me talking to his customers about courtship rituals in a social-media age. It's the fine crew at Alley Bar, who place a large order of brats and tots, which I determine will be my final delivery of the night.
We watch the food being prepared, bag it up and jump in our respective vehicles. Evan needs to make the drive to bring back the money and I live in Ann Arbor, so it makes more sense for me to drive separately. He takes Washtenaw in his pickup truck while I speed to I-94 because I believe in fuel economy.
I'm keenly aware of how quickly bratwurst goes cold. I blast the heat in my car and point the vents directly at the food sitting in my passenger seat. I merge onto I-94 and, kids, do as I say not as I do, average 87 mph until I hit my exit. I exit, drive a reasonable speed on Huron heading for downtown and almost don't hit the brakes in time to avoid a car swerving into my lane, cutting me off, then swerving three lanes over into oncoming traffic, smoke billowing out of the front of the car.
Huron is four lanes wide and at our current location, the maniac car and I were three blocks from Main Street. At midnight, there's still plenty of traffic on the streets. I whipped out my phone and dialed 911, connecting with the operator just as the car in question stopped completely in the far right lane across from the YMCA. I pulled into a parking lot and while describing the vehicle and the situation, the the car made a lazy three-point turn across all four lanes and headed back towards Seventh.
The delivery driver's oath (I assume) contains a clause about chasing maniac cars while on duty, so that's just what I did, narrating my pursuit to the 911 operator and watching the perp weave in and out of the correct two lanes and into the incorrect oncoming lanes. It turned right on Seventh, narrowly missing a man taking out his trash, and came close to clipping an oncoming car with its lights flashing and horn blaring. The 911 operator warned me to keep my distance, but justice had to be done.
The front driver's side of the vehicle was bashed in and the smoke billowed from a completely shredded tire, sparks flying off the rim. The car took another few turns into a neighborhood, then pulled over on the wrong side of the road and stopped. I parked nearby and reported this development to the operator, who suddenly seemed much less interested in my adventure. She took my name and phone number and hung up.
I turned my car off and waited for the cavalry. But no cavalry came. Three minutes. Five. Eight. No patrol cars. I smelled the bratwurst and remembered I was a delivery driver. The first point in the delivery driver's code—deliver. I took a lazy drive past the car, surveying the damage and unable to peek into the semi-tinted windows, then sped to my destination and completed my delivery, the food still fresh and warm and the customers happy.
They tipped very, very well (thanks guys!), and Evan packed up and returned to Ypsilanti. I remained behind, celebrating the end of my night with a few drinks at the Alley Bar where I regaled everyone with my tale of derring-do and detailed what it's like to be a delivery driver. I suspect some of them listened. The rest can just read this.
Special thanks to Jesse for the opportunity to deliver for Wurst Bar; Evan for being a great delivery mentor; and the entire staff of the Wurst Bar for accepting me in their midst, treating me like a coworker, and reminding me how great the camaraderie of the service industry is. I might be applying for a real job soon just to hang out with you guys more. If you're an Ann Arbor delivery driver, I'd love you to share some stories of your time on the road. Or if you're a criminal professional, do the police actually have to witness a ridiculous automobile crime to respond, or was I just too impatient in waiting for a peace office to arrive?
Richard Retyi returns to AnnArbor.com with his new column Hidden Ann Arbor. Rich will write about the hidden side of Ann Arbor and the things locals take for granted. In his day job, Rich is a social media director for a digital marketing agency in Ann Arbor. Read more of his stuff at RichRetyi.com or follow him on Twitter.