play review
Theatergoers may fall in love with 'Almost, Maine' at U-M
Posted on Fri, Oct 5, 2012 : 12:12 a.m.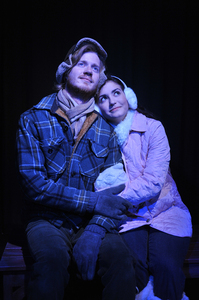 Photo by Peter Smith Photography

Though we're just now approaching Halloween, it feels more like a snowy Valentine's Day inside the Arthur Miller Theatre, where the University of Michigan department of theatre and drama are now presenting John Cariani's "Almost, Maine."

Why? Because the show - the theatrical equivalent of a big basket full of Golden Retriever puppies - features several fanciful vignettes focused on the theme of love.

Simultaneously, at 9 p.m. on a snowy Friday night, each scene is supposedly happening in a small town in northern Maine: a woman camps out in a stranger's yard to see the Northern Lights; former lovers run into each other in a restaurant at an awkward time; a man who can't feel pain meets a woman in an apartment complex's laundry room; a woman demands that her boyfriend of many years return the love she gave; two men swap dating war stories; a struggling married couple try to reconnect by going ice skating; a woman travels back to the town to find an old boyfriend; and a man tries to change the nature of his relationship with his tomboy friend.

Cynics, be warned: this is the kind of sublimely cute show that elicits audience clucks and "aww"s galore, as well as "ooh"s when a twist is revealed. And some of the play's moments may induce a wince or eye roll, particularly during the first few scenes. (In the interest of full disclosure, I'll confess that a person suddenly kissing someone he/she just met always grates on me, since the moments inevitably feel more contrived than real.)

But really, who can, in the end, resist a basket of puppies? Even the most hard-hearted critic - ahem - will likely be charmed by director Jerry Schwiebert's cozy, buoyant and whimsical production.

And while the show's 19 actors only appear in one tale each, many manage to leave a deep impression during their brief stint on stage. Emily Shimsky does outstanding comic work as a masculine woman who's a neophyte in matters of love. Neal Kelley and Quinn Scillian make a couple's estrangement painfully palpable without pushing too hard. And Jacqueline Rose Toboni breaks your heart as a nervously chattering woman who's decided what she wants a little too late.

Lighting designer Jennifer Jacobs provides a lovely take on the Northern Lights between scenes, and skillfully sets the tone for each scene. Scenic designer Eli Schlatter provides just enough set to establish different indoor and outdoor settings (with Jacobs' help, of course) while allowing for quick scene changes. And Christianne Myers' costumes are pitch perfect, revealing character while visually underscoring the winter-night-in-Maine setting.

With a run time of just over 90 minutes, including the 15-minute intermission, the show feels like it might be best served to audiences without a break; and the stories about people who already know each other, as opposed to those about people meeting for the first time, are generally the strongest.

But I'm just playing hard-to-get, frankly. Schwiebert's production is a winning, sweet and light-as-air theater Valentine. Just be sure to check your cynicism at the door.