Posted on
Sun, Oct 7, 2012 : 5:50 a.m.
Theatre de la Ville, presented by UMS, unleashes Ionesco's 'The Rhinoceros'
By Jenn McKee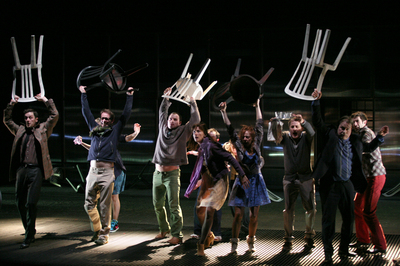 photo by Jean-Louis Fernandez
Though the upcoming election has us walking around with donkeys and elephants on the brain, the Paris-based theater company Theatre de la Ville—coming to Ann Arbor courtesy of the
University Musical Society
—wants us to consider
Eugene Ionesco
's "The Rhinoceros."
Considered an absurdist classic, the play begins with Berenger, a shy, kind-hearted drunkard, meeting his friend, Jean, in a coffee house. During their conversation, two rhinos barrel through the town square, and the stunned populace decide they must be stopped.
But at the publishing office, where Berenger works, he learns that more and more people are turning into rhinos, and when he visit ailing Jean, he witnesses his friend's transformation first-hand. As everyone around Berenger turns into a rhinoceros, this lone man standing must decide what to do.
Though many view "The Rhinoceros" as a critique of French collaboration with the Nazis during World War II, director Emmanuel Demarcy-Mota believes that strictly viewing the play as a historical parable is reductive.
"That is historical simplification, and is not a good approach for art in general," Demarcy-Mota said, through a translator. "For example, Shakespeare's 'Hamlet' takes place in Denmark, but when we look at the play today, we have no interest in the war happening in Denmark at the time Shakespeare wrote the play. The important thing is the questions that this play makes us pose today. … ('The Rhinocerous') makes us look ahead of our time.
"In our work with the actors in this play, we were very much focused on the physicality of the play, to bring it into the present time, and in order to escape the pigeonholing of the play's historical dimension. So what inspires me in my work, as it applies to this play, is the tradition of burlesque, in the style of Buster Keaton, and Kafka - the anguish in his work, 'Metamorphosis,' is also in this play. Because as a matter of fact, for Ionesco, the play was an autobiographical piece … and that's the key to this work."
PREVIEW
Ionesco's "Rhinoceros"
Who: Theatre da la Ville.
What: Eugene Ionesco's absurdist parable begins in a small town square, where Jean meets his apathetic friend Berenger for a drink. A rhinoceros runs through the square, and soon, townspeople begin to become rhinos, too. Berenger thus transforms from an aimless individual into a man with something to believe in and fight against: the tyranny of the rhinos. (Performed in French, with English supertitles.)
Where: Power Center, 121 Fletcher in Ann Arbor.
When: Thursday, October 11 at 7:30 p.m., and Friday-Saturday, October 12-13, at 8 p.m.
How much: $18-$48. 734-764-2538 or http://ums.org/tickets.
To that end, Demarcy-Mota has added a prologue to the show—text drawn from Ionesco's lone novel, "Le Solitaire." (The show is performed in French, with English supertitles.)
"In reading this novel, I felt that I had understood … his conception of solitude as important and necessary for a person's life, because in the end, we are alone in facing our destinies. All the while, society tries to make us think we're not alone, and creates various distractions for us to make us forget our solitude. … But the play ends with man in complete solitude and who says, 'I will not capitulate.'"
Of course, when tackling a play like "The Rhinoceros," directors have a great deal of latitude regarding how certain stage effects are achieved—such as Jean's gradual, on-stage transformation into a rhino in act two.
"The transformation scene is one where choice is very important," said Demarcy-Mota. "Together with the actor, I decided that there would be no aids or props or masks used for the transformation, and that he had to work on internal transformation, from within, and develop a violent side in the process, and that he pushes himself as far as he can go. This isn't something that's possible with all actors, but Hugues Quester has extensive experience in theater."
Demarcy-Mota originally directed a production of "The Rhinoceros" in France in 2004, and received great critical and popular acclaim while touring the show around Europe through 2006. Remounted in 2011, "The Rhinoceros" is nearing the end of the American leg of its current tour (Los Angeles and Berkeley being the only other stops).
Part of the play's appeal for Demarcy-Moty is the way it challenges theater artists to make the impossible possible.
"I love theater images, and I pay a lot of attention to how I construct my images," said Demarcy-Mota. " … For this particular staging, I wanted the set to be something active visually. I didn't want fixed and rigid set. And so this issue of the visual representation of the rhinos is an important one. I did a first version of this play in 2005, and in that staging, the image of a rhinoceros did not appear on stage. I wanted it to stay inside the audience's head and their imagination. This time, I wanted to make the rhino appear at end of play, because I wanted to introduce the element of the fantastic, of a fairy tale."
Here are some glimpses of Demarcy-Mota's production of "Rhinoceros."
Jenn McKee is the entertainment digital journalist for AnnArbor.com. Reach her at jennmckee@annarbor.com or 734-623-2546, and follow her on Twitter @jennmckee.