Posted on
Mon, May 2, 2011 : 6 a.m.
There Be Dragons: A movie about the power of forgiveness to premiere in Ann Arbor area the weekend of May 6
By Moira Cullen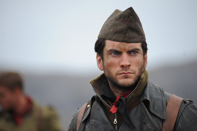 Photo by Michelle Lichtenstein
Every once in a while, a movie comes along which stirs up in its audiences the conviction that they were meant to live extraordinary lives...lives of love, forgiveness, and surpassing beauty.
This week's premier of Roland Joffe's There Be Dragons promises to be just such a movie. It will definitely entertain, but it may also make one rethink the way that they look at faith and the people who have dedicated their lives to it.
This movie is not just for people of faith. Roland Joffe, writer and director of the film, is a self-proclaimed agnostic. He believes that the struggle with the "dragons" of our life — fear, hatred, and despair — is a struggle common to all peoples of all times, and that these themes will resonate with the audience.
Joffe says of the film, "It is an intimate story of love and forgiveness set during one of the most bitter wars of the 20th century. When love goes, it leaves a vacuum that fills with fear, hatred and despair. I wanted to make a story which centers on bringing love to the world, and shows what the absence of love does to the world. The inexhaustible possibility of forgiveness is what offers room for hope."
Photo by Michelle Lichtestein
This epic tale revisits the time of the Spanish Civil War, fought in the late 1930s. During this time, thousands of priests, nuns, and lay people of the Catholic Church were persecuted and murdered.
One young Spanish priest, Fr. Josemaria Escriva (Charlie Cox of Stardust and Casanova), resolves to live a life of love and forgiveness, while another man of his acquaintance, Manolo (Wes Bentley of American Beauty and Ghost Rider), chooses to live a life of fear, isolation and revenge.
The movie follows these two lives and the ways in which they respond to the hardships and injustices of the world around them.
It is a drama based on the life of Fr. Josemaria Escriva, but it seeks to go beyond mere historical fact to the lessons that his life has for our own. This movie brings to mind our own choices in life, those for good or for evil.
It offers the hope that when a person follows the dark path of fear and hatred, all is not lost — forgiveness can offer a way back to the path of light and love.
Fr. Josemaria Escriva, founder of Opus Dei, may have been considered a revolutionary by some of his time for his belief that all people were called to live a life of holiness — to be saints. He witnessed people avoiding holiness, not for what it truly was but rather for what people mistakenly thought that it was.
For Josemaria Escriva, holiness was not simply about the time spent in church at prayer. Though prayer was essential, it was equally important to see one's work as a way to grow in greater love of God and neighbor. He believed that by offering even the most insignificant tasks and labors of the day as a gift of love to the One who sees all, one could become a saint.
John Paul II referred to Josemaria Escriva as the "Saint of the Ordinary" for his belief that ordinary tasks done with great love could be transformative for oneself and society at large.
For most people, this holiness is not one that the world will necessarily see or recognize, but it remains a life of quiet magnificence which can change the world around it.
But is such a life truly possible? Josemaria Escriva proved that not only is it possible, it is imperative.
The movie is in limited release right now, but tickets have been purchased in advance for four showings beginning on Friday, May 6 and running through Sunday, May 8 at the Rave Cinema on Carpenter Road in Pittsfield Township.
It is highly recommended that you purchase tickets in advance of the show. Contact the Huron Mills Association for the purchase of tickets or for more information about the film.
Moira Cullen works with husband John Cullen in their family gardening business, Celtic Gardens. She is a homeschooling mother of four energetic children and enjoys writing in her spare minutes. To learn more visit www.celticgardenimports.com.