Posted on
Sun, Nov 4, 2012 : 10:45 a.m.
This week, the Jewish Book Festival is a draw for everyone; The Grange Kitchen & Bar celebrates local ingredients
By Ann Dwyer
FILM
The Michigan Theater continues its Motor City Movies: Discovering Detroit series, an eclectic series of classic and contemporary films set and filmed in Detroit. Mondays, 7 p.m. This week, see "True Romance," Quentin Tarantino's romantic thriller about a newlywed couple on the run from gangsters whose cocaine they have stolen. Stars Christian Slater, Patricia Arquette, Val Kilmer. Next week, see "Narc." $10/general. $8/children under 12, students with ID, seniors age 55 & older, U.S. veterans. 603 East Liberty St., Ann Arbor.
BOOKS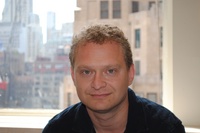 The Annual Jewish Book Festival comes to the Jewish Community Center. There will be numerous author talks scheduled over the course of two weeks, including Zoe Fishman ("Saving Ruth"); Sphinx Organization founder Aaron Dworkin ("Uncommon Rhythm"); and former "Daily Show" head writer and producer David Javerbaum, among others. A children's program and a cooking demonstration will also be part of this year's lineup. Find a complete schedule at
www.jccannarbor.org
. 2935 Birch Hollow Dr., Ann Arbor.
FOOD
Like to keep it local? Then join Grange Kitchen & Bar for their annual "52 Mile Dinner" on Wednesday. 6:30 p.m. The event will showcase dishes created from ingredients sourced from within 52 miles of Grange's Ann Arbor home. Tickets are $55 for cuisine and $35 for an optional beverage pairing, both prices exclude tax and gratuity. 118 W. Liberty St., Ann Arbor. 734-995-2107.
BEER
Get to "Know Your Beer!" with Tammy's Tastings and Patti Smith at the The Last Word (formerly Live/Goodnight Gracie's) on Wednesday. 6:30 p.m. Tammy Coxen and beer judge, homebrewer, and beer blogger Patti Smith discuss and lead tastings of ales, lagers, porters, stouts, and American and English IPAs, as well as mead and cider. $25 in advance at tammystastings.com/shop. 301 W. Huron, Ann Arbor. 734-276-3215.
THEATER
Catch the October broadcast of the Metropolitan Opera's "L'Elisir d'Amore" on Wednesday (6:30-9:30 p.m.) and Thursday (1-4 p.m.) at Quality 16 and Rave Motion Pictures. 6:30-9:30 p.m. Donizetti's popular comic opera, a lighthearted boy-meets-girl romp best known for memorable arias like "Quanto e bella" and "Una furtive lagrima." Stars Anna Netrebko and Matthew Polenzani. $23/general; $20/seniors; $13.50/kids age 12 & under and students. Q16: 3686 Jackson. Rave: 4100 Carpenter Road, Ypsilanti.