Posted on
Sat, Jul 21, 2012 : 5 a.m.
This Week's Web Picks: Found art; the solitary life; the rest is music; 9/11: televising and believing
By Paul Wiener
This is the next in a series of posts highlighting useful and interesting websites.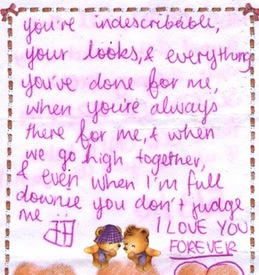 Remember "found art?" The Dadaists and Surrealists found objects like Duchamp's toilet and "declared" them works of art.
Well, Found Magazine also depends on found objects, but they're not art. They're mostly discarded letters, notes, drawings and doodles on cards and napkins, and photos, that someone passing by found funny or touching, beautiful or vaguely alarming. They're always personal and rarely meant for more than several pairs of eyes. They contain forgotten and expended intimacies, tidbits of anger, passion, advice, warning, details only the obsessive could love, memories only parents and fools could treasure.
All the ones here are unidentifiable. They are what private trash looks like before it is produced, networked, socialized or televised — harmless, common, funny and buoyant. It's ubiquitous and says more about us than clothing, hair, speech or skin. This site contains thousands of serendipitous objects of human importunity going back 11 years.
It has published seven print magazines. It's on Facebook and produces events. Best of all, it allows you to send in your own found objects, provided you really find them and don't create them, like the staged, cruel garbage "found" on America's Funnyless Home Videos. The lesson here is a soft one: that shopping list you ball up and toss into your cart may soon be on this website!
The Hermitage, in St. Petersburg, Russia, is one of the world's great art museums. The Hermitary, in the cloud, contains no art but is a portal for information about the world's greatest, and its greatest unknown, solitaries. Eremites, anchorites, recluses, call them what you will, these are strong, defiant, committed people who find meaning in life by withdrawing from society, whether in caves, cabins, deserts, hotels, basements, on mountain tops, underground, in rooms, on the road, or in abandoned vehicles.
The great ones, like Peter the Hermit or Zarathustra, have legends and long histories attached to them; historically speaking, they're public figures. Emily Dickenson was one.The lesser known sometimes have blogs and even post videos.
Hermitary contains hundreds of links to short historical essays, films, images of dwellings, and hermits in art and photographs. Links to short works on the hermit life from well-known writers like Dickens, Kipling, Wilde, Walter Scott, Melville, Twain, Jean Giono and Donald Hall are provided.
Hermits populated children's literature too. Information about hermits in Japan, Tibet, China, medieval Europe, in religion, psychology, music, Sufiism, Taoism and of course literature, abound. Indeed, coverage is so broad and sympathetic you might well wonder if we're not surrounded by hermits. I have a feeling certain university towns have been colonized by them.
Alex Ross is America's pre-eminent serious music critic and, along with Joseph Horowitz, music historian as well. He's also music critic for The New Yorker. His blog, the name of which is also the name of his Pulitzer Prize finalist book, is hands down the place to go for rich doses of his good-natured, detailed commentary on all things related to serious music of the last 10 centuries — recordings, concerts, film, biography, websites, computer-driven, alternative, manuscript.
His site often includes short audio or video clips that illustrate his passions and discoveries, as well as photographs, letters from writers and composers, and random enthusiasms picked up on his travels. A link to his New Yorker columns offers more than 450 entries. (This year Ross celebrated Ann Arbor's monumental staging of Philip Glass' Einstein on the Beach in January.)
One of his most useful and innovative features is the Audio Guide to his two books, The Rest Is Noise and Listen to This. Excerpts of the music he writes about can be heard — from Bjork to Schubert to Marion Anderson to Mozart. This makes them current as well as historical. Detailed, illustrated summaries of his books also can be found, a gift considering the density and breadth of the full-length works.
Though Ross seems to know everyone in the music world, and all music, he has lots of time for fun and learning, and will happily point readers to all the new music they've never heard of as if we all had nothing better to do than listen while shaving or cooking. He can be very convincing.
Understanding 9/11: a Television News Archive
Until a new horror joins its ranks, the attacks on the World Trade Center on September 11, 2001 will be, like the sinking of the Titanic and the Civil War, a source of endless research, fascination and controversy. Those drawn to various conspiracy theories, homegrown or foreign, or to the fantastical demonstrations of videographic and journalistic manipulation, will have their hands full explaining away the hundreds of news broadcasts, from many countries, cities and networks, preserved for viewing on this site.
Detailed hour by hour and day by day, here are the ways the attacks were reported — or not — around the nation and the world. Foreign reports are untranslated. Here is Tokyo at 9:20 am. Here is Beijing at 9:32 am. And Austin, Texas.
Video for the six days following the attacks is given, adding tremendous context to the coverage. Or not. Here is Gaza on September 14.
This media collection, of course, is not definitive: no collection could be. The broadcasts included are necessarily selective, and tied to other studies and projects. Videos, essays and additional media surrounding the many conferences, like Learning from Memory, spawned by the tragedy are included.
For many, the only way to deal with event was to study it and learn, if possible, about how we transform painful events into mythology and strength, often in ways beyond our control. Links to nearly 700 archived obscure or personal websites relating to the day are provided, like this one.
Inevitably, that day made media history almost as much as it bespoke human tragedy. Its web presence is much greater than the paragraph I can offer: look at the September 11 Screenshot Archive, the Newseum's Front Page archive, the National Security Archive's Sourcebooks, to name a few. Though some may think it's grotesque to dwell on our past vulnerability and pain, the price we pay for being human is displayed by the ways we choose to remember our mistakes.
Paul Wiener of Ann Arbor was a librarian for 32 years at Stony Brook University, in Long Island, N.Y., where he managed the English Literature, Art and Film Collections and taught internet research. He may be reached at pwiener@gmail.com.