Posted on
Sat, Aug 4, 2012 : 7 a.m.
This Week's Web Picks: one more forgotten genius; the weblog that won't go away; Google: compared to what?; Vitamin B-3
By Paul Wiener
This is the next in a series of posts highlighting useful and interesting websites.
Athanasius Kircher at Stanford
You remember Athanasius Kircher, don't you? You don't? In the 17th century he "was widely regarded as the physical embodiment of all the learning of his age," according to this Stanford University site.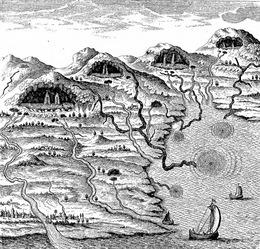 Was there a lot to know back then? So much, apparently, that most of it was forgotten. What turns information into artifact? Can the beauty of scholarhship prolong its life?
Kircher wrote letters, treatises, books by the boatload, and illustrated them too, with drawings so beautifully detailed they seem to be about impossible subjects, and sometimes were. Kircher wrote volumes of correspondence to the major minds of the day, like Juan Caramuel Lobkowicz, most of them forgotten as well. Music, religion, hieroglyphics, mythology, physics, language — nothing, it seems, was alien to him. All this he preserved more than 100 years after Leonardo had already known and drawn everything, but it seemed to add nothing, and still mystifies the best of scholars.
This site focuses attention on the collections, most of them untranslated, of Kircher's letters. It's not easy to find much about his actual life; maybe he invented that as well. More about him can be found here, and here. I'm only saying: doesn't the guy deserve a shout out? Can we really be sure that everything the world believed he knew, 350 years ago, has expired like a driver's license?
The thing you need to know about this very readable site with the intriguing postmodern name is that you'll probably never spend more than five minutes with it. It's one of those too much information sites, and besides, it mostly contains re-posts — which are mostly self-submitted. The fun is in seeing what people think is interesting. And they're so often right.
Want to read a little essay about The Mythical Rise of Asian-Americans? How about The Castaway's Guide to Making a Home? Everything here is randomly posted, fascinating (if you're fascinated), quirky. Metafilter has been around gathering and soliciting blog entries since Matt Haughey started it in 1999. It's fun, it's useful, it's informative, but who needs it?
Who needs its mostly techie or adventuresome job postings? Who can resists its hundreds of hopeful, self-made music posts or the comments they sometimes generate?
One of this site's best features is "Ask Metafilter," where you can literally post a question about almost anything and hope an answer or two comes along. It usually does. Questions can be very particular, or dreamy, or self-centered, and they can be lengthy too.
If you have no questions, you can bask in the finely-tuned ignorance of those unashamed to show it off. Metafilter's appearance hasn't changed since it began: its plain, slate blue, white and-greenish-yellow text-heavy, image-free, ad-free pages remain a soothing anchor, as if reason's colorless flag had been dyed for a holiday.
This, and possibly its sister site Google Correlate, may be the single most interesting — and useful — free research tool Google will ever produce. It allows you to compare the relative number of Google searches of specific words, specified by date (after 2004), location and category.
As with all search tools, choosing the right keywords is the trick. Say, for example, you wanted to compare how many searches were conducted this year for "drought" in Kansas and in California between, say, March and July? That's an easy one, but imagine more complicated comparisons: searches for "soccer" in Spain, the US, and the UK; or searches for "cancer" in Japan and Canada between 2004 and 2008; or for "aspirin, Nexium, and Viagra" worldwide since 2004? "Sandusky" in Ohio vs. Pennsylvania? "Nike" in Hunan vs. Guangdong provinces?
Marketers, journalists, students, medical researchers, sociologists, scientists might have all kinds of reasons for using such information. Moreover, many comparative searches provide global information far beyond what is asked for, and offer clues for expanding or refining your search. To be sure, Insights' best uses require more brains than my journalistic sleight-of-hand can supply.
On June 9 of this year, a reporter in the NY Times published an absorbing article about racism in this country by comparing his Google Insights findings with those of actual voting records. There's a great deal to learn about Google Insights: it really deserves a longer, separate article. For now, simple awe at the power Google is handing to intelligent users, even if Google itself is the ultimate beneficiary, should be enough to send you into paroxysms of exploration.
International Archives for the Jazz Organ
First you have to love music. Then you have to love jazz. Then instrumental jazz, then jazz after 1956, then keyboard jazz, and then... you're ready for Hammond B-3 organ jazz and the IAJO. If this shoe doesn't fit, wear slippers.
This incredible instrument, invented in 1934 but popularized in the 1950's, as played through Leslie speakers, has been the sound of keyboard funk and slither ever since. A prime example of what one man's dedication can do on the web to spread his crazy love, this German site is the offspring of Jurgen Wolf, jazz lover, record collector and amateur organist.
Though he offers only 70 or so lengthy, downloadable sample recordings (wanna listen to Rodion Goborov's Walkin'?), Wolf provides almost every conceivable thing you'd want to know about every B-3 jazz recording that's been made.
There is of course the recordings archive, a unique document over 300 pages long (that mysteriously omits the date and recording label of each album), which itemizes every item in Wolf's personal collection. There is the B-3 scene around the world, specified by country, with samples. There's the New Releases lists, the Forum, the page of links (labels, festivals, magazines, clubs,etc), the page about church organ music and their organists, some with video.
Mostly what impresses are the MP3 samples, gathered on a single page, that illustrate the wonderful, sexy sound of Hammond B-3 organ jazz as played by the searing, smoky-fingered artists who dance between the vibes. Tony Monaco. Ulf Siebeck. Brian Auger.
Here be heaven in a niche.
Paul Wiener of Ann Arbor was a librarian for 32 years at Stony Brook University, in Long Island, N.Y., where he managed the English Literature, Art and Film Collections and taught internet research. He may be reached at pwiener@gmail.com.