Posted on
Sat, Aug 11, 2012 : 5 a.m.
This Week's Web Picks: bug-eyed; the music squeezer; keeping food edible; it's all About what?
By Paul Wiener
This is one of a series of posts highlighting useful or interesting websites.
Bug Guide
Is a centipede less frightening if you know it's a Scolopocryptops sexspinosus? Are you kidding? Yes or no, some of us live where bugs are often unwelcome guests.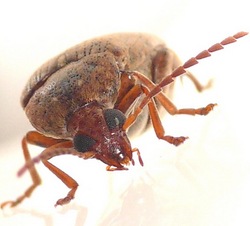 Unfamiliar, nameless guests too. Family members, we know, can be unwelcome guests, but we can deal with them because, well, they've got us by the — name. If we treated bugs like family, could we deal with them a little better?
This site, hosted by the Iowa State Entomology Dept., is the work of serious amateurs. Hundreds of insects and spiders of various phyla, families, orders, and species are pictured, taxonomied, described, discussed, linked and queried. Excellent bibliographies accompany most articles, some including full text books!
Look up bugs by their shape, class, order, common name (those endless summer dragonflies!). It's a shame you can't search by ugliness or fear factor (millipedes!)... But you can: a search for "ugly" brings up dozens (but so does a search for beautiful). A link lets you submit a photo for bug identification; or try to ID one that's been submitted.
Another page opens up hundreds of forums on topics both sensible and arcane ("Mantids, hornworms, and Nicotine"). There is even an annual Bug Gathering held for members in a different state every July (this year's coincided with National Moth Week). Not that you should care. For those of you who simply find bugs unpleasant or evil, I promise to do snakes another time.
The Squeezebox isn't a website but a commercial tool that opens up the web like few others. I'm including it because few people I know have heard of it. It's brought me so much pleasure, and it might do the same for you.
The Squeezebox is for anyone who believes radio is still the greatest medium, bar none, on the planet. For music lovers, it is now actually possible to get nearly everything your heart desires, for free. Connected wirelessly, and hooked up to speakers (preferably using a good amp), Squeezebox, a Logitech product, lets you dial into thousands of streaming radio stations around the world, presenting flawless fidelity, connectivity, and variety, usually uninterrupted by ads.
You can hear music of every genre from virtually any country or city — Denmark, the Canary Islands, Taiwan, Gdansk. It will find these stations for you or you can search for them. It'll connect you to Pandora, all kinds of sports, news or talk radio, police radio, your local stations (if they stream). It can display Facebook posts, BBC and NY Times feeds, weather, world and business news. And it can find music stored on your computer and play it.
The Squeezebox makes it unnecessary ever to buy or use a conventional radio again, to subscribe to any music service, to need antennae, or to log in to a cloud service. It costs about as much as a cheap tablet, but anyone who craves music and access to its variety shouldn't waste another minute without it.
I've had one for a few years and still don't know all it can do, but I can promise this much: you won't believe things could get this good until you've seen it in action. And yes, there's an app for it.
You've probably asked yourself many times, how long can I keep those fresh chicory greens I just bought before they go bad? The answer can be found on Still Tasty. In fact, the shelf life of many hundreds of food products in all categories — meats, fruits, canned, frozen and packaged goods, nuts, fish, herbs — can be found here.
An opened bottle of barbecue sauce? Easy. Unopened capers packed in brine? Two-three years (good packing for that survival kit!). Unopened diet soda drinks? Not as long as you'd think. Fresh, raw salmon? You sushi lovers better know your stuff! Gorgonzola cheese, however it's sold — or does Parmgiano-Reggiano last longer?
Food items are not named by brand. There's a page that answers questions you might never have thought of, or been too embarrassed to ask: is it safe to eat cold pizza in the morning? (Not. so how did my kids survive?). Or you can submit your own. Another page just talks about storage and current topical issues (How to Store Avocados).
Can't take your laptop to the farmer's market? Get Still Tasty's app. This user-friendly, simple webpage, aside from being useful, is a pleasure to browse and can be guaranteed to supply a few conversation stoppers when talking to all those friends who think they know more about food than you.
Although this looks like one of those big bad megasites like Yahoo and AOL that promises you everything there is to find, sites we thought were superseded years ago by blogs, apps, feeds and specialty sites, About.com, begun in 1996, is still here to provide clear, subtopical general knowledge when all else is just too damned specialized. It covers over 900 topics.
Want an overview on sleep? Dr. Brandon Peters will give it to you. What are the basic things to know about pet birds? Let Alyson Kalhagen tell you. (But wait a darn minute! Why is Austin a topic, and Ann Arbor not?)
A typical topic includes hundreds of articles detailing its coverage. Take a subject everyone knows too little about: financial services. Inside the page are links to essays about the debt ceiling, taking the CPA exam, insider trading, the Dodd Frank Act, Goldman Sachs, the Eurozone credit declines... Isn't that reassuring?
About.com's distinguishing characteristic is that individual experts, of varying experience, and after undergoing an purportedly gruelling vetting process, write the guides and topical articles that lead you through the subject. The downside to this is that they determine how much coverage to give, what subtopics and articles to cover and what to call them.
"Horror and suspense Movies", for example, is a category; "film noir" isn't. That's okay, though: About.com is always looking for writers for new guides and topics, though usually for topics they'd like covered: do you have expertise in Hawaiian food, hydroponics, baby shoes, medical marijuana dispensaries? Other topics are available, and they'll pay for your work.
There's an impressive About.com en Español that even directs coverage to specific locations like Chicago and Miami. About.com can be a daunting site to browse, but when you find links to it from Google searches, from now on you'll know why you should expect quality information.
Paul Wiener of Ann Arbor was a librarian for 32 years at Stony Brook University, in Long Island, N.Y., where he managed the English Literature, Art and Film Collections and taught internet research. He may be reached at pwiener@gmail.com.