Paul Wiener | A Head in the Cloud
Column:

This Week's Web Picks: comic relief; show me the money; and then there were lights; in media res

Posted on Sat, Sep 29, 2012 : 5 a.m.
What,another comics archive? Who reads comics, anyway? They're so— print-based. It's hard enough to find printed newspapers, let alone ones that publish comics. Yet as recently as 1991 Art Spiegelman won a Pulitzer for Maus.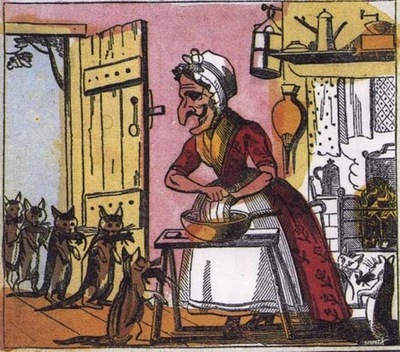 Oh, but those old comics were beautiful in their day, wonderfully nasty or treacly, and often....goofy. Is anything goofy anymore? Drawing mattered then. For centuries the best way of skewering one's betters was with comics. Here are hundreds of galleries of German, Dutch, French and a few American single-frame comics and strips, many from Sunday supplements and who knows what magazines, from 1730 to 1930. They are not annotated or translated. No doubt Andy's believes they speak for themselves, though his blog fills plugs a lot of that historical hole.
There's grand-daddy Hogarth's work from The Harlot's Progress, of course. And Robert Branston's Old Mother Hubbard and Her Dog (1819). And Wilhelm Busch's The Little Honey Thieves (1859). Canada's great Winsor McKay (of Gertie the Dinosaur fame) is represented. Huge illustrations from The World's "Comic Weekly" are included. And then there's Puck.
Andy Bleck's selective archival listings are only part of this expansive site, which from its broader home page points to abstract comics, "other" comics like Mumpitz, Andy's own drawings, and a great page of links to other comics websites. And not to worry, he includes dozens of links to online comic artists - you know, all those guys, like Tom Gauld, who still use virtual print to showcase their talented fingers.
With the thoroughly inscrutable new film The Master getting so much critical attention these days, it might be more comforting to go back to treating movies like a numbers game. For all the hype, The Master's first weekend gross was $4,391,092. Compare that to Toy Story 3, which pulled in $110,307,189. Do you want to know what the all-time biggest weekend seller was? No, it wasn't The Dark Knight. You'll find it here. Documentaries grossed $2.06B between 1995-2012.
What do you think the top-grossing genre was during that period? Here's one you'll never guess: the alltime top grossing (in movie, not personal, earnings) actor: almost four times as much as Steve Carrell or Sean Connery! This site is all about the money. The quality or nature of the films don't matter here, only their earnings, only the competition for success (as long as viewers paid to watch and sales can be documented). In 2010, almost 1.2 million people bought Tooth Fairy on DVD, almost 400,000 more than boughtGlee: the First Season.
Do you think SFX has taken over movie production? Between '95 and '12, live action-produced movies grossed more than 5 times as much money (representing 20 times as many titles). There's no end of fun you can have looking for significant, often surprising, movie numbers, as long as they involve sales and aren't more than a few years old. (Comparable sales for older, or classic, titles, are rarely given, but there are othersites that do.) Note: lots of career-breaking industry information provided by Nash Information Services requires subscriber money. These are only the numbers they put out for free - as if knowing Hope Springs' sales were down 53% from the week before Sept. 21 was that interesting. But one very intriguing link IS free. You can compare grosses by keyword. How much do you think films about "babysitting" outperformed films about "bowling? What are the "country mouse,city mouse" movies? What film about "cricket" did 262 times better worldwide than at home? Now we're talking expertise!
Kilokat's Antique Lightbulb Site
Yes, you read that right. There really is a web site devoted to showcasing old light bulbs - hundreds of them - yet another site about something we never dreamed was worthy of more attention than we give today's baseball standings. But as all collectors know, there's magic in numbers. In the age of LED we should expect light bulbs to announce their own demise, and Tim Tromp's beautifully framed, informative site does not disappoint.
Here are not only the tungsten lights, but the helium, argon, xenon, mercury, carbon and fluorescent lights of yore; some of them have names: Amglo. XE0009.The dazzling WC0039, from 1930. Take a look at Abraham Buschman's Japanese 40-watt incandescent beauty. Or an old set of Christmas lights. Did you known tantalum filaments were used in street railroad lights over 100 years ago? Tromp's site also has pictures of old plugs and fittings, as well as switches, sockets and fuses, and even the boxes bulbs came in. And if you think this site is unique, think again: it has company! Kilokat also includes articles and books on light bulbs, and links to catalogs about them, like this one from 1938. Had enough? If bulbs and tubes don't do it for you, maybe you should check out Phil's Old Radios. Too plebian? Hey, there are folks who collect vintage computer chip boards!
From Cave Paintings to the Internet
A few years ago, Tom Standage published a book detailing the history of the telegraph, calling it The Victorian Internet. The description seemed so apt that I wondered if anyone would ever be able to describe today's internet as intelligently. Certainly Andrew Blum tried, in his recent book Tubes, but his attempts to simplify things only seemed to tie him in knots. Unlike the lightbulb site, this one doesn't specialize in esoterica. It's a straightforward, superbly organized, illustrated historical narrative - almost a book - about exactly what it says: mediated communication. This history is presented variously: as a timeline, with over 1600 short essays corresponding to time slots (1750-1800 has 114 of them); as a world map with milestone markers; and as the text to one of Norman's books, From Gutenberg to the Internet. The essays are the highlight: many of them feature developments not obviously associated with media studies as we know it: the opening of the British Museum, typefounding, the chess-playing Turk, etc. The importance of physical objects, events and inventions to the development of abstracted information is strongly emphasized. The site's author, Jerry Norman, is a rare books dealer and collector specializing in the history of science. In fact, another website of his covers this broad subject from a bibliographer's perspective, with a little business thrown in. His clear writing is evidence of the pleasure communication can bring when it succeeds at teaching without lecturing.