Posted on
Sat, Nov 24, 2012 : 5 a.m.
This Week's Web Picks: where crime stops; a hoax shall set you free; music zones and zoning
By Paul Wiener
This is the next in a series of posts on interesting and useful websites.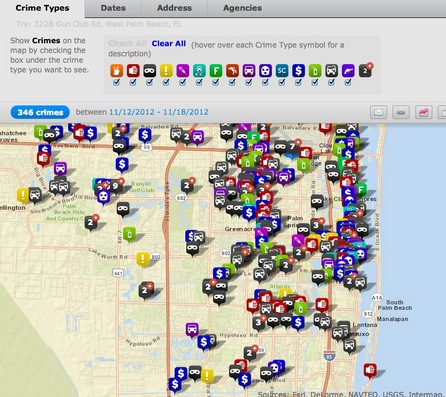 While AnnArbor.com reports daily on nearly every notable crime that's committed in Washtenaw County, it's one thing to hear about a crime. It's quite another to see it mapped and to see it labeled, with lots of company.
Though CrimeMapping has been mentioned and used in our newspaper before (see Feb. 17, 2012) I'm giving it a special shout-out because it's such a seductive and useful site. What if you'd like to see what thefts or assaults the Lansing police have reported lately. Or the Fort Worth, Texas police. You can.
Colorful icons represent all kinds of crimes — sex, fraud, car theft, vandalism, DUI, arson, etc. You can zoom in on these adapted Google maps: while names and exact addresses aren't give, locations are specific enough ("the 1800 block of Bolton") to give you an idea of where the action is. You can view all crimes within a specified period or type, or street. You can see them analyzed in a Trend Report..
You can sometimes even find police department web sites. Designed for police and other civlc authorities to use, most of Crimemapping's functions are available to all. The catch is, only a fairly small percentage of the nation's police departments subscribe to it. Enough do to make it interesting, but it's never comprehensive. (Many other places use other tools, however.) New York City doesn't use it, for instance, or St. Louis, or Munising.
Ann Arbor does, though, and Detroit too — but you knew that. Even places in Canada do. Omega, which makes this software, also makes products that map school locations and fires, useful, as you might imagine, for all kinds of civic planning, budgeting, and safety purposes. But to use those, first you must subscribe.
Many crime statistics sites exist, but few present them as clearly and currently as Crimemapping, or allow the viewer to customize her search. Still, their coverage is only a drop in the national bucket. Are we better off for knowing — or for not knowing — the rest of the story?
Is there a truth anywhere that's as spicy as a hoax? I don't mean hoax encounters of the the Snopes kind — which are usually frightening. I mean hoaxes of the Great Spaghetti Harvest kind. Crazy, impossible, 30-foot leg pulling, documented, elaborate, swear-to-god-and-hope-to-die gotcha hoaxes.
They've been around for centuries, as long as homo gullibilis has walked the planet. Here are hoaxes from the 18th century, and the final 10 years of the 20th. What was "Operation Blackbird?" Who was Pope Joan? Who was George Washington's 161-year-old former nurse? The stories are here, as well as photos, posters, newspaper and book sources.
There's even a video archive: did you know an angel fell to the floor of an Indonesian shopping mall on 9/11? The Museum links to many categories of hoaxes: travel, pranks, religion, military, radio, imposters. Its archives date back to 2002. Creature tall tales abound, like the fur-bearing trout. Or look at their top ten all-time college pranks, like the bonsai kittens. A hoax photo archive goes back over 170 years, long before movies existed. If you're too smart for this site, give this Gullibility Test to your best friend.
And though few people think websites are immune to hoaxes, who remembers the Spud Server or MalePregnancy.com? This California site welcomes submissions, but if you think you can put one over on them, well, make sure you take a good look at their About page first and memorize the address. Hint: it's near the MadScience Museum.
"Hearts of space...." Is there any better way to describe the calming instruments that steady the beating that earthly life can give you? They're found on this well-known site that features the slow, Zen-like, often electronic compositions from all over the world, many by well-known composers of this genre like Brian Eno, Bill Douglas and Deuter. Trance, chill, ambient, worldfusion, chant, African, space, downtempo, new age, call it what you will, here are sounds from all over the world — Tibet, the Arctic, Armenia, Mongolia, Iraq, California, Ireland, Japan — that enable you to zone out, whether relaxing at home, driving, working in cubicle 77, climbing K2, making love or waiting for your dental appointment.
There's a catch. To fully utilize this site, you have to subscribe. I know, I said I wouldn't feature commercial sites, but HOS is available one hour a week for free, broadcast or streaming, on many NPR stations (in Michigan on WGVU-F-FM in Grand Rapids, Sundays at 10 p.m.). A variety of low-cost subscriptions let you listen for hours at will, and to choose the music you want to hear — the genre, country, composer, style, album, label, etc. And you can give gift subscriptions.
Stephen Hill started HOS in 1983, expanding on radio work he'd done on the West Coast since 1973. It has always been a successful program, with music meticulously vetted, chosen and broadcast using the highest audio standards. All the albums and compositions are annotated, and though they may resemble one another en masse, each hour+ program is completely different, embodying different moods, reveries, desires...
Though Ann Arborites are blessed to live in a lively music scene crowded with classical, folk, rock, choral, and international performances, rarely is ambient or "space music" seen here live or found on the airwaves. Some might wonder if it belongs in the Midwest at all, but I'm not one of them. Like John Diliberto's similar Echoes, Hearts of Space offers a world of reassuring, inspiring, globally warming sound, stepping stones to many of the flat steep spaces untrod by the soulful explorers among us.
Paul Wiener of Ann Arbor was a librarian for 32 years at Stony Brook University, in Long Island, N.Y., where he managed the English Literature, Art and Film Collections and taught internet research. He may be reached at pwiener@gmail.com.