Paul Wiener | A Head in the Cloud
Column:

This Week's Web Picks: arachnophilia; the all-seeing camera; voices of autism; PBS

Posted on Sat, May 26, 2012 : 5 a.m.
Editor's note: This is the next installment of a weekly column by Paul Wiener designed to point readers to cool or useful websites.
Spider Web Construction Gallery
Not everyone is afraid of spiders. Then again, not everyone loves them the way Samuel Zschokke does — with such spectacular, scholarly devotion that it compelled him to share his discoveries in jaw-dropping style.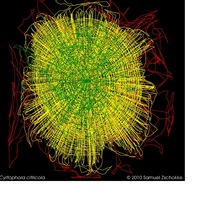 A scientist at the University of Basel, Zschokke offers dozens of videos and animations of many species of spiders spinning their webs. The detail and painstaking photography are incredible. Here is Araneus diadematus doing its work. And an animated version of the same.
Each web is highly distinctive of a species. The stages of web development are color-coded for each animation, each of which is linkable only from the website (not from mine). Each one's beauty, though, stands by itself.
A link to the definitive Arachnology Home Page will lead you to everything else there is to learn, or unlearn, about spiders, including the robot spider, spiders in movies, mythology, and chewing gum and the Tarantula Store. If you're wondering how Zschokke managed to make his movies, there's a link to an article explaining it. Seeing how and what these earthly creatures weave reminds us that the web we know as "world wide" is merely a metaphor: tiny real creatures can weave world wide wonders behind discarded monitors.
It takes a cooperative effort like this, built around photography, to remind you of just how powerful a tool for caregiving or civilization a website can be — like a hospital or a university. Founded in 1995 by the Mexican photographer Pedro Meyer, Zone Zero is devoted to artists who offer a story or an autobiography, interpret history, celebrate places and objects and experiment with cameras.
Through its podcasts, forums, essays and especially its galleries, private lives, joys and visions unfold in ways that turn a deaf ear to language.
Meyer's own Migrants is a moving photo essay on a phenomenon known all too well to millions. In The Arrow of Time a family's faces are shown aging sequentially over a 35-year period. The changes are mesmerizing, and remind us of Michael Apted's phenomenal film documentary series 7 Up, now in its 50th year.
Baobab is a tribute to the famous "tree of life." Digital Bouquet offers amazing scans of flowers. Still Life is a sober meditation on the death of animals.
Anyone can submit an exhibit, but the standards are high. Comments and voting are welcome; the site is twinned in Spanish. Almost anything goes, but contributors want to enlighten (and show off) more than shock, so bring your digital hiking boots and don't be afraid to jump into the light.
Autism, or autism spectrum disorder, has seen a tremendous rise in cases diagnosed and treated in the last 20 years. Much research, reportage, and legislation have materialized, and, as a result, some of our understanding of it has improved.
Since the disorder makes face-to-face social interactions very difficult for the afflicted, we rarely get to hear from them. But many are bright, creative and funny people with a lot to say. For them, the internet, which makes indirect social networking a prime communications tool, has been a godsend.
Aside from providing informational links, Autism Hub offers many of the blogs autistic people and their parents have created. Some are recent, others less so. Not only do they talk about the condition and how society and the medical establishment deal with it. They talk about: sports, dating, politics, computers, movies, music, animals, siblings and most everything else we all talk about. And many of them welcome feedback!
Take a look at Drive Mom Crazy or One Dad's Opinion.
So much of what we see on TV and in the movies is unbelievable — emotionally, dramatically, spiritually, factually — that it's no surprise that many of us become documentary devotees. We want the real story behind The Anthrax Files or the true Fabric of the Cosmos.
No, the news doesn't count. Reality TV is a 24/7 embarrassment. Prison TV, food TV, auction TV, home decorating TV, obesity TV, prayer TV, survival TV — they just don't cut it for everyone. These people want Truth, a story woven by evidence, a sober narrator animated only by what seems accurate, documented and undeniable. This is a shout-out.
PBS is fading and embattled, its quality and presence more and more in thrall to pop competition and corporate sleaze. But it still offers a landing point, not a jumping off point, for those interested in broad cultural, political, social and scientific issues.
While many viewers tune in regularly to the History or Discovery Channel, their programs can seem produced by cheerleaders, overcaffeinated. They lack the gravitas, the experimental or existential aspect of what PBS provides like homeopathic medicine for despair. Much of PBS's well-respected array of documentary programming is here: NOVA, American Masters, Frontline, Nature, Antiques Roadshow, POV and dozens of other shows can be dialed up and watched in full online — hundreds of hours of free, blatant intelligence.
Of course, documentaries specialize in playing against our need for truth. Now that we all upload our own truths every day, how much longer will truths larger than ourselves matter, or be recognizable?