Posted on
Sat, Oct 27, 2012 : 5 a.m.
This Week's Web Picks: elected Presidents: the proof; news that needs no anchor; the web congratulates itself
By Paul Wiener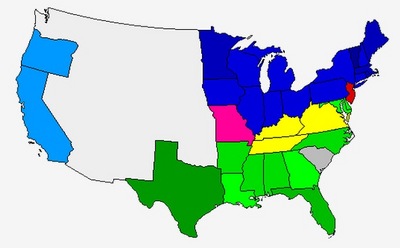 This is the next in an ongoing series of posts about useful and interesting websites.
Dave Leip's Atlas of U.S. Presidential Elections
Remember how many electoral votes William Jennings Bryan got? It was 155. How about George McGovern? That's right: 11 percent of Bryan's. It's time once again to pay attention to the original crowd source — the electorate.
Unlike polls, it produces not only winners but people in charge of us. The electorate is America's favorite form of expertise. It gives us our favorite scapegoats, leaving a long littered trail called history — maps, statistics, charts, poll pundits, party-goers and party-poopers.
Win or lose, the key to enjoying elections is seeing how past ones measure up — to anything. We enjoy being convinced that we should have seen everything coming.
Dave Leip's Atlas presents, to my mind, the most dazzling display of election results. Alabama's popular vote for Andrew Jackson was 16,736 (almost 80 percent of voters there; only 20 percent of Maine's supported him). Voter turnout data are available for the past 50 years (in 1960 Mississippi, 25 percent of the voting age population voted; in Michigan, 72 percent).
In 2000, what state gave Ralph Nader the most votes? California, of course. Which three gave him zero votes? Leip's Atlas offers much more than history. Current polls, primaries, endorsements, predictions and tools, like this electoral calculator, are available, but let's ignore them for now.
Leip doesn't have everything, though. If you want detailed popular vote breakdowns of 90 years of Congressional races by state, just go to this federal site. Rutgers' Center for American Women and Politics provides studies and analyses of all kinds of gender-related voting patterns. Stanford's and U of M's ANES Center offers sociological, issue-based polling studies of voters in past elections, like voter attitudes towards the Bible's accuracy. The U.S. Census Bureau graphs and analyzes all manner of demographic voting and registration data, like this report from 1976.
Almost as good as Leip's Atlas is 270toWin, an expansive site that offers maps, national and state voting histories (here's Georgia's), trends, state-by-state polling data, election simulations, and Congressional race predictions — even poll closing times. What state has the shortest early voting period?
Ravenous for poll data so fresh it's hard to believe it will ever decompose? Check out RealClearPolitics.
Finally, when you feel that only respectability will cushion the plunge into the black hole of hope, there is the New York Times' Fivethirtyeight. Here the present day bleeds in front of us: the up-to-date forecasts, Nate Silver's thinking, the poll watches, the scenario analyses, the state projections, and all the other Higgs particles of information needed to prepare yourself for the next get-together at which any discussion of politics will be, of course, verboten.
Maybe you are too caught up in your own life, if not politics or football, to have payed much attention to what's been happening in Australia: wet nurses have been offering breast milk to new mothers via social media. Global Voices is here to fill in our inattention.
What's the buzz from Eritrea, from Norway, from Slovakia? Global Voices gathers blog entries from correspondents around the globe and organizes them by country, contributor and topic. Stories are not necessarily current; they may be a few months old, and archives of older stories are kept as well. But the home page always features current items, sometimes with photos and in dual-language text, and all entries are signed and sourced.
Their keywords for topical searches (music, governance, refugees, etc) are somewhat limited, but blog entries can be searched using your own words anyway. Stories like the plight of Syrian refugee girls can be extremely timely, with just the sort of local detail and insight (linked to their Arabic source) our own benighted news media are likely to ignore. Stories related to featured ones are shown on sidebars.
A separate page lists all the contributors — some with three, some with hundreds of posts. Most of them include personal information and web sites. The high ideals and enthusiasm of this young, professional organization are reflected in the bios of its board of directors, and in the general clarity and user-friendliness of the site.
Like many socially mediated information sites, Global Voices makes itself available in many languages. If the news in English has simply become too boring, try it in Swahili.
First there were the Nobels, then the Pulitzers, the Oscars, the Tonys and the Emmys. Prizes, awards, honors: there's no end to the ways people praise and reward themselves. Add to these The Webbys, juried awards for the "best" websites of the year in nearly 70 of categories.
Established in 1996 by the International Academy of Digital Arts and Sciences, the site is a portal to many of the new, high quality, creatively designed websites that arise each year. Remember, rarely are websites reviewed in our quotidian media like books or movies are.
Each category has two winners: the judge's choice and the people's "voice." (Oh, those contrarian people!) Winners can be as questionable as they are for any awards: Pinterest, for instance, which has added new levels of egomania to networked consumerism, won this year's "social media" category.
On the other hand, they can be inspiring and beautiful, like the Wyss Institute for Biologically Inspired Engineering, and the magnificent Visit Norway. The judges — over a thousand of them — are headed up by a team of well-established web presences like Arianna Huffington and Lawrence Lessig. Their criteria are as you might expect: content, visual design, navigability, interactivity.
Not only the winners, but all nominees are listed, as are the annual archives, so there are thousands of new sites to explore, some of which may already be well-known, like Amazon's, a winner in 2003. Though you can expect some categories to be especially rewarding - personal, movies and film, netart, tourism - the purely commercial or informational sites that invest in creative visual display will often attract more page views. Whether they deserve them or not is anyone's call.
Paul Wiener of Ann Arbor was a librarian for 32 years at Stony Brook University, in Long Island, N.Y., where he managed the English Literature, Art and Film Collections and taught internet research. He may be reached at pwiener@gmail.com.