Posted on
Thu, Jul 1, 2010 : 5:50 a.m.
Classic pizzas and friendly atmosphere make Thompson's Pizzeria a Chelsea favorite
By Julie Halpert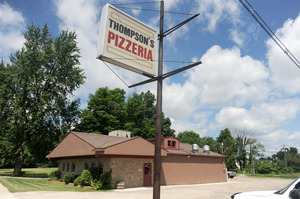 Angela J. Cesere | AnnArbor.com
When Lynda Collins purchased Thompson's Pizzeria from Donald Thompson in 2002, he wanted to be sure she would keep his family's restaurant just as it was since it opened in 1970. "He wanted to maintain the local flavor and he knew I would do the right thing," says Collins. She bought the family's special pizza recipe and goes to the same lengths to make it, using homemade dough and grinding fresh cheese for the topping.
Collins explains that though she expanded the menu, adding several additional items including sandwiches and salads, she didn't tinker with the pizza that keeps generations of regulars returning. She recalls one customer, in her fifties, who visited recently, reminiscing about heading to Thompson's after football games in high school.
Thompson's, indeed, has a nostalgic feel. Located in the heart of Chelsea, it looks like it hasn't changed much since it opened. There's just one big room, with a bar in the center, with paneled walls and linoleum-topped tables and booths. This is clearly a popular gathering place. On the night we dined there, it was full of families with young children.
RESTAURANT REVIEW
Thompson's Pizzeria
20700 Old U.S. 12, Chelsea
734-475-7605
Thompson's Pizzeria in AnnArbor.com restaurant guide
Hours: Monday through Saturday, 11 a.m.-10 p.m.; Fridays, 11 a.m.-11 p.m.; Sunday, 2 p.m.-9 p.m.
Plastic: Visa, Mastercard.
Liquor: Yes.
Prices: Inexpensive to moderate. A small cheese pizza is $8.50. Sandwiches are in the $6.50 range and a quarter-pound hamburger is only $3.95.
Value: Good.
Noise Level: Loud.
Wheelchair access: Yes, though restrooms aren't set up well for wheelchairs.
Though the specialty here is pizza, there are several different types of appetizers, as well as subs and sandwiches. The fried zucchini and cheese sticks that we tried both looked like they were frozen and I later learned from Collins that this is the case. I longed to have ordered the hand-dipped onion rings that I spotted at our adjacent table. Collins told me that both the onion rings and the deep-fried mushrooms are both homemade, so I'd recommend them instead. I did, however, enjoy the pizza sauce that was ideal for dipping the cheese sticks.
Croutons in the salad we ordered didn't have that homemade taste and clearly came from a box, though the greens and vegetables in the salad were fresh and the blue cheese dressing was fine.
But the pizza, of course, is what seems to attract the crowds, and I can understand why. The crust has the look, texture and taste of a pie. It's light but slightly crispy, while the tomato sauce is dense, smooth and has a nice mix of spices.
Angela J. Cesere | AnnArbor.com
The usual choices of toppings are offered, including pepperoni, sausage, hamburger, pineapple and jalapeno peppers. There are also specialty pizzas, like spinach-artichoke and chicken pesto.
We ordered one of our pizzas with just peppers, but when it arrived with onions as well, our server apologized and said she was going to quickly get us our pepper-only pizza. The one she brought was on the house. That was the type of congenial, warm service that we received throughout our visit here. Though the restaurant was packed, we received everything in a very respectable amount of time.
Those around us were clearly happy with their food. If you're up for a journey to Chelsea, or just happen to be in that neighborhood and are craving pizza served in a friendly atmosphere, this place is worth a stop.
Julie Halpert reviews restaurants for AnnArbor.com.