calendar of events
best Bets :

Thunder Over Michigan returns and the Milan Summer Fest fills the town with fun

Posted on Thu, Aug 2, 2012 : 12:15 p.m.
MUSIC
The AnnArbor.com Summer Concert Series on Friday will feature Dave Boutette. Noon-1 p.m. Bring your lunch and enjoy the sounds of summer. Blending many schools of American roots and popular music including folk, blues, swing, and old time country, Dave Boutette's songs testify to the power of true love, rebirth, snow plows, and migrating fish. Free. On the patio on the corner of South Fifth Avenue and East Liberty Street in downtown Ann Arbor.
FESTIVAL
There will be a Riverfolk "Cajun Party in the Park" at Carr Park on Friday. 7 p.m. Gates open at 6:30 p.m. There will be Cajun food and a Texas barbecue dinner ($12) catered by The Black Sheep Tavern. Also take in Cajun music and dancing with a lesson demonstration and bluegrass performance by Bob Black & His Bluegrass Boys. There will be a cash bar with wines and micro brews and a silent auction. $10. Get tickets online at riverfolk2012.eventbrite.com/. Carr Park is off Main Street in Manchester.
MUSIC
The 2012 "Crossroads Music Festival" in downtown Ypsilanti continues Friday. In the Library Plaza, 6 p.m.: Dennis Davis of Miles Ahead performs both new and old school R&B, funk, Motown, jazz, rock, and other dance standards. (229 W. Michigan Ave. 734-482-4110. Event held inside in case of rain.) At the main Crossroads Festival site, 7 p.m.: Keep your "funk on" and dance as award-winning October Babies and Salmagundi perform their very special blends of "World" music Also see On N. Washington, between Pearl and Michigan Ave. Get more information at www.ypsicrossroads.org/.
FESTIVAL
The "Milan Summer Fest" will be held in conjunction with the Annual BackStreet Cruizers Car Fest on Saturday. There will be a 5K and a kids 1K starting at the Milan Senior Center, 45 Neckel Ct. Register for it at 6 a.m. Pre-register online at www.milansummerfest5k.com or register the day of. Throughout town, there will be a ton of activities. Get more information from their Facebook page under Milan Summer Fest 2012.
AIRPLANES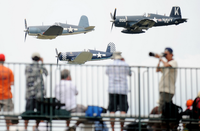 The "Thunder Over Michigan Air Show" returns to the Yankee Air Museum Collections & Exhibits Building at Willow Run Airport on Saturday and Sunday 9 a.m.-5 p.m. The theme for this year's show is Mustang Mania and 20 P-51 Mustangs are scheduled to appear. Special events will include a demonstration by a Sea Harrier F/A2, an appearance by the only flying B-29 Superfortress "FIFI" and World War II battle reenactments. Plane rides on vintage World War II aircraft can be purchased. $20 in advance, $30 on the day of the event. Kids 15 and under get in free. For more information or to buy tickets, contact
http://www.yankeeairmuseum.org/
. The YAM is at 47884 D St., Belleville. 734-483-4030.
MUSIC
The Riverfolk Festival Finale Concert will be held at the Ark on Saturday. 7:30 p.m. Headliners for the show include Christine Balfa & Friends, Bob Black & His Bluegrass Boys and The Raisin Pickers. Tonight's show also features winners from the Riverfolk Festival weekend songwriting contest. $15. Tickets for this show are available at riverfolkfestival.org. The Ark is at 316 S. Main St., Ann Arbor. 734-761-1800.
MUSIC
Enjoy an "An Evening with Susan Chastain" at the Kerrytown Concert House on Saturday at 7 and 9 p.m. She is joined by her superb jazz colleagues Paul Keller and Phil DeGreg. To celebrate her birthday, Susan will perform selections from the Great American Songbook. $30 assigned rows 1-2; $20 assigned rows 3-5; $15 general admission; $10 students. The KCH is at 415 N. Fourth Ave., Ann Arbor. 734-769-2999.