Posted on
Sat, Nov 20, 2010 : 9:24 a.m.
Cursive, The Good Life's Tim Kasher playing Blind Pig Sunday in support of first solo LP
By Kaleb Roedel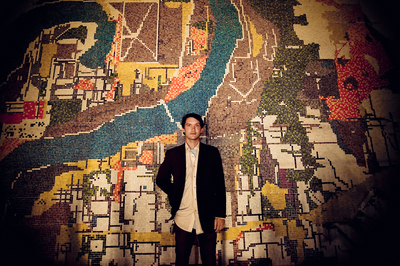 photo by Jess Ewald
Leading a life on the road, Tim Kasher — the lead singer of Cursive and The Good Life who's currently on tour supporting his solo debut, "The Game of Monogamy" (Saddle Creek) — has visited his share of theaters throughout the United States.
Still, he's especially fond of Michigan Theater — and not just because he was once a name tag-wearing, dust pan-wielding employee of Ann Arbor's historic venue.
"I love that theater. It's one of the coolest, best theaters I've come across," said Kasher, 36, an Omaha, Nebraska, native who ended up in Ann Arbor for a stint as a traveling youth.
Kasher will revisit Ann Arbor on Sunday when he and his backing band play at the Blind Pig. With Cursive, formed in 1995, and The Good Life (2000), Kasher played Lansing, Detroit and a host of other spots, but never Ann Arbor.
"I always look forward to Michigan. I think it's always been pretty good for us," he said. "We thought we'd give Ann Arbor a try."
Ones familiar with Kasher's full-band work knows what to expect the Omaha native to bring the Blind Pig — lyrics-wise, at least. Musings of anguish, tightly-wound-angst, and occasional cloud-parted optimism are recurring notes Kasher hits.
"The Game of Monogamy," which Kasher describes as "a fictional account based off experiences I've had or seen others have," is no exception.
Standouts like upbeat pop "Cold Love" is a harsh document of a relationship whittled to a passive-aggressive tug-of-war. Further along is "The Prodigal Husband," where Kasher's twinkling guitar-picks spearhead a tale of adultery, with stinging lyrics like: "It's not our bedroom, you cried. You gave that up when you choose those other beds to lie in."
Listen to Tim Kasher "Cold Love" (MP3).
And in his first solo effort, Kasher doesn't shy from elaborate orchestration, weaving violins, horns and harps throughout the 11-track LP, which he spent roughly a year and a half packaging.
"I feel like taking a year and a half to write 40 minutes of music is a little odd," Kasher quipped. But, "You have to get through a lot of bad ideas and ideas that just don't quite fit.
"I'm hoping this will be the first of a whole catalog of (solo) albums."
When Kasher brings that first material to Ann Arbor, he's also hoping to squeeze in some time for one of his favorite cinematic spots.
"If I have an opportunity to go to the theater I 100 percent will," he said of the Michigan.
Kaleb Roedel is a writer for AnnArbor.com. He can be reached at (734)623-2562 or e-mailed at kalebroedel@annarbor.com.