Posted on
Tue, Sep 4, 2012 : 4:59 a.m.
Toronto International Film Festival offers highlights of upcoming movies
By Martin Bandyke
I've been attending the Toronto International Film Festival every September for almost three decades, and this year I'm once again thrilled to be sitting in the dark with a bunch of other movie maniacs who have gathered in Toronto to see what's new and exciting in the world of cinema.
TIFF (the acronym by which the festival is best known these days) is screening a staggering number of films this year, 372 in all, so there is plenty to see no matter what your tastes may be. Since many of TIFF's high-profile screenings are movies that definitely will be coming to Ann Arbor real soon, I tend to avoid most of those in favor of ones which will take much longer time to come to town, if they ever make it at all.
Here is a small sampling of what I'll be taking in at TIFF this year, and it's certainly not too late for you to join me in Toronto, as the fest runs Sept. 6-16. Just go to www.tiff.net to get started, and don't forget your passport and Visine.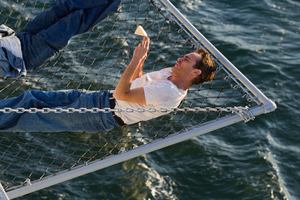 The Master
: OK, it opens in Detroit next week and Ann Arbor shortly thereafter, but there's such a huge buzz about the latest from director Paul Thomas Anderson (
Boogie Nights, There Will Be Blood
), I can't even wait a week to see it. Joaquin Phonenix, who so memorably stepped into the role of Johnny Cash in the biopic
Walk the Line
, plays a disturbed soldier who falls under the spell of a larger-than-life creator of a new religion, portrayed by Oscar winner Philip Seymour Hoffman. Controversial Scientology founder L. Ron Hubbard is reportedly the inspiration for Hoffman's character. Oscar noms galore are already being predicted for "The Master," and it looks glorious, shot on film in the rarely-used 70mm format. The following titles will take much longer to come to Michigan than this one.
Amour: Winning of the Palme d'Or, the top prize at this year's Cannes Film Festival, Michael Haneke's devastatingly emotional look at a longtime married couple facing mortality stars the fabled actors Jean-Louis Trintignant (Z, The Conformist) and Emmanuelle Riva (Hiroshima Mon Amour, Three Colors: Blue). Tough subject, brilliant film is what everybody raved at Cannes. Look for Amour to break your heart, a rare expression of tenderness from a director whose earlier work has often been cold or downright cruel.
Something in the Air: I'm an unabashed fan of the brave and inventive director Olivier Assayas, whose latest is a loosely autobiographical peek at the lives of Parisian students in the wake of the May 1968 protests in France.
A Liar's Autobiography—The Untrue Story of Monty Python's Graham Chapman: And now for something completely different indeed! The title pretty much tells it all: an affectionate, screamingly funny look at the late comedian's life and career, a gifted man who died all too young in 1989 at the age of 48.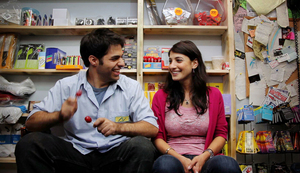 Detroit Unleaded
: I'm going local to check out Rola Nashef's first feature, which is set in a tiny, family-run gas station in Detroit. The comedy-drama explores the life of the young Lebanese-American owner of the business, who wishes for a career with bigger horizons. A native of Lebanon who grew up in Michigan, Nashef has expanded her award-winning short film with the same name into something bigger and even better.
Museum Hours: I've read some good reviews already about this unusual film, set in a Viennese art museum and revolving around a relationship which develops between one of its guards (non-professional actor Bobby Sommer) and visitors (Canadian cult singer Mary Margaret O'Hara).
Mea Maxima Culpa: Silence in the House of God: The world premiere of one of the most important works in TIFF's documentary line-up, director Alex Gibney (Enron: The Smartest Guys in the Room) explores the Roman Catholic Church's sex scandals, focusing on a group of deaf men who started the first public outcry against sex abuse in the U.S.
Also on the must-see list for me this year: Abbas Kiarostami's Like Someone in Love, Julien Temple's London - The Modern Babylon, Terrence Malick's To the Wonder and Matthew Cooke's provocative documentary How to Make Money Sellling Drugs. See you at the movies.
Martin Bandyke is the 6-10 a.m. morning host at WQKL-FM, Ann Arbor's 107one. Follow him on Facebook, Twitter and at martinbandyke.com