Posted on
Thu, Jan 12, 2012 : 4:59 p.m.
'Tinker Tailor Soldier Spy' - if you can follow it - is a dense, moody thriller for the serious spy fan
By Ryan Levin
Swedish director Tomas Alfredson's recent adaptation of John le Carre's "Tinker Tailor Soldier Spy" begins in medies res—smack dead in the middle of the story. For the uninitiated into the ultra-dense plots of le Carre, this is akin to being unblindfolded in the middle of the highway and asked to point out quickly which car the plot is driving.
You may ask, who gave the storyline a driver's license? How could a story drive? What kind of car does a movie narrative drive anyway and who would stick me on the median of the highway and ask a silly question? All manner of who, what, when, why questions have to be asked and answered in the matter of a half an hour before the story runs you over—or alternatively moves so far away that it's barely recognizable as a speck on the horizon.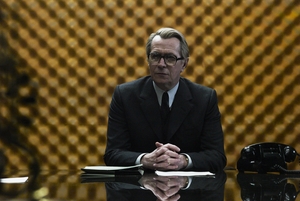 It certainly doesn't help that the movie barrages you with characters with little to no reasonable introduction until they've already taken to plodding around the screen doing presumably rather important things, bickering ominously and peering deeply into classified documents. To Alfredson's credit, he did cast wildly physically distinctive actors in key roles (
Colin Firth, Toby Jones, Mark Strong
and
Benedict Cumberbatch
to name a few), but their characters by and large all fit the rough characterization 'middle-aged Cold War British intelligence agent in a suit' with little distinguishing action or dialogue to set them apart until the film is well under way.
"Tinker Tailor Soldier Spy" is a deep espionage spy movie, made up of intrigue and betrayal at the highest levels of British Intelligence. Much of the screentime is devoted to pouring over encoded telegrams, following paper trails and listening to field agent testimonies on scratchy audio tape. While the film does get punctuated with moments of grisly scenes of the aftermath to violence, it's a movie of intrigue among the managerial class of secret agencies.
I may have been fully prepared around the 20-minute mark to callously rename the movie "Tinker Tailor Soldier Zzzzzzzzzz," but Alfredson's espionage thriller is far from boring. It is a tense and engrossing movie, but it's not one that tries to meet its audience halfway. The Hollywood glamour usually slathered greasily over spy movie plotlines is toned way, way down.
One scene in the movie summarizes things rather nicely. It's a moment when a British Intelligence Agent is tersely arguing with a Parliamentary official on the level of a matter of national security for money to pay the rent. On a house. Granted, it's a building of undisclosed location he can meet with an informant in, but aside from the neat epitome of unsensational details being critical to the unfolding of the plot there's a bit of dialogue in there that more frankly states what is at stake. This is the Cold War. Since the very beginning, it's been the the intelligence agencies that are the front lines and the spies that are the soldiers.
Gary Oldman stars as George Smiley, a forcibly retired British Intelligence agent partly responsible for a disastrous Hungarian mission to make contact with a defecting general at the behest of Smiley's superior, Control (John Hurt). Control suspects there may be a mole at the highest levels of the British agency (nicknamed 'the Circus') and Smiley is quietly approached by a Civil Service agent to investigate the possible Soviet double-agent in his new role as a Circus-outsider.
The ubiquitous Tom Hardy takes a refreshingly more vulnerable than usual turn as Ricki Tarr, a field agent who's single moment of self-agency sends the competing intelligence bureaus into a whirlwind. His portrayal of a lower-level intelligence operative on the run for his life is a refreshing breather from Oldman's remote and nearly emotionless Smiley.
Oldman plays his character that way clearly on purpose. In a few key scenes, some of Smiley's inner turmoil (the irony of the name was not lost on me) peeks through and the deeper layers of the potentially rich character are gently hinted at. It's the same way with Colin Firth who is turns out to be mostly office furniture except for a few great scenes.
Ultimately, for a newcomer to le Carre and his hefty cloak-and-dagger stories, Alfredson's "Tinker Tailor Soldier Spy" is densely plotted to a fault. On a single watch-through, there are too many scenes with information that never clearly seems to tie in the story. In the chronological jumble of exposition, some sequences feel too tangential and out of place. At just over two hours long, it will definitely test the patience of some viewers, but for the persistent, the spy-fans and the repeat-attenders the strong but muted cast and absolutely striking Cold War period production should make "Tinker Tailor Soldier Spy" a movie worth decoding.
"Tinker Tailor Soldier Spy" is now playing at the Michigan Theater, Rave Motion Pictures and the Goodrich Quality 16 Theater in Ann Arbor
Ryan Levin is a film and comedy blogger and a graduate of the University of Michigan's Screen Arts and Cultures undergraduate film program.