Posted on
Wed, Apr 10, 2013 : 3:49 a.m.
Tippi Hedren talks about kissing Sean Connery and more at the Michigan Theater
By Jenn McKee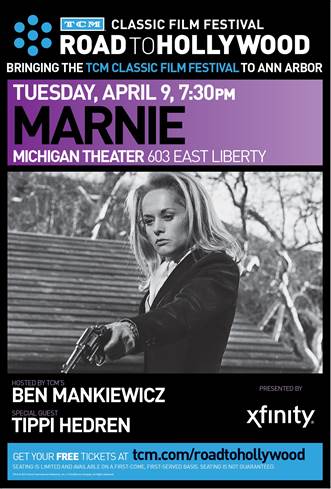 Over 1000 people flocked - dare I say, like the secondary stars of "The Birds"? - to the
Michigan Theater
Tuesday evening to see both a Hitchcock movie ("Marnie") and a Hitchcock movie star (
Tippi Hedren
).
For Ann Arbor is the 8th stop on Turner Classic Movies' nationwide, 10 city Road to Hollywood series tour, and TCM host Ben Mankiewicz moderated a nearly one hour on-stage conversation with Hedren to kick off the evening.
Seated in armchairs, the two discussed Hedren's start in show business; how she met Hitchcock; her work in his films, and his subsequent obsession with her; and her passion for animal advocacy (specifically, in regard to tigers and lions).
But Hedren began by talking about how, at age 15, she was living in Minneapolis when she stepped off a streetcar and received a business card from a woman who wanted Hedren to be part of a local department store's teen fashion shows.
This moment launched Hedren's modeling career, but after a time, her father's health problems caused the family to move to California. She continued her work in Los Angeles, but soon struck out for New York and got modeling work within a week.
It was the 1950s, and Hedren got lots of work in television commercials. But a phone call took her in a new direction.
"I received a call - it was 1961, Friday, the 13th of October," said Hedren. "It was an executive at Universal Studios, asking if I was the actress in the commercial for a Pet Milk product called Sego. … I said 'Yes I am,' and he said, 'There's a producer/director that's interested in you.' I said, 'Who would that be?' and he said, 'Why don't come over and we'll talk about it.'"
Hedren met with the executive, who artfully evaded her questions, and she spent the weekend wondering who she might be working for. The following Tuesday, the exec sent her to a big talent agency, where she was informed that Alfred Hitchcock wanted her to sign a contract.
"I was so stunned," said Hedren. "He was at Paramount at that time, so we went to his office. He had door open, and he was standing there, looking very pleased with himself."
At this initial meeting, the two discussed travel, food and wine, and Hitchcock introduced her to key players on his creative team. The director told Hedren he wanted her to do a screen test, performing scenes from "Notorious," "Rebecca" and "To Catch a Thief."
"He became my drama coach, as well as his wife, Alma," said Hedren. "And what an incredible time that was. To have that powerful man in our industry be my drama coach."
After trying to "break" Hedren during the three-day screen test, by way of dirty jokes and limericks and insults ("I had spent 10 years modeling in New York, so this wasn't my first rodeo," said Hedren), Hitchcock invited her to lunch at an industry-favorite Beverly Hills restaurant, along with Universal Studios head Lew Wasserman.
"Mr. Hitchcock placed a very beautifully wrapped package in front of me, which I opened, and I was stunned," said Hedren. "This pin, … it's a pin - of gold and seed pearl - of three birds in flight. It's really beautiful. I looked at him and he said, 'We want you to play Melanie Daniels in 'The Birds.' … I got big tears in my eyes, and I looked over at Alma, his wife, and she had tears in her eyes. … And then the real work began."
In fact, although Hitchcock had hoped to lure Grace Kelly back to film by way of "Marnie," the man-hating, thieving nature of the female lead role caused the Princess of Monaco to say no, leaving Hitchcock to consider other options - like Hedren, whom he approached about "Marnie" while shooting the sand dunes scene in "The Birds."
"Marnie" came with a raise - from $500 a week for "The Birds" to $600 a week ("You know what? It's all gone," quipped Hedren) - and an easy-on-the-eyes leading man; but Hitchcock had initially struggled to cast the lead male role.
Hedren recalled that "after a month of so, he came into the office and said, 'I've found your Mark Rutland, and I said, 'Oh, great, who is it?' He said, 'Sean Connery,' and I went, 'Sean Connery, the Sean Connery … who is right now on the cover of Newsweek magazine as the sexiest man in the world? The Sean Connery who could melt the iciest of blonds? How am I supposed to deal with this character?' And he said, 'It's called acting, dear.'"
But during the filming of "Marnie," Hitchcock became so controlling, monitoring Hedren all the time, that she decided she needed to get out of her contract with him, though it was only the second year of a 7 year contract.
"I said, 'As soon as I'm finished with the picture, 'I have to get out,'" said Hedren. "And he said, 'Well, you can't. You have your daughter to support; your parents are getting older.' And I said, 'Nobody who loves me would want me to be in a situation like this. I want to get out.' And he said, 'Well, I'll ruin your career.' I said, 'Do what you have to do.' And he kept paying me my 600 dollars a week for the next almost 2 years, and by that time - coming out of those 2 films, I was hot as an actress. And all kinds of producers and directors wanted me for their films, but to get to me, they had to go through him, and it was so easy for him. All he said was, 'She isn't available.' And it was over."
Hedren claimed her upbringing helped her transcend the bitterness she otherwise might have carried around for years. "I chose to look at Alfred Hitchcock as two different people," Hedren said. "There was the man who was the brilliant director, idolized by people all over the world for his genius in motion pictures, … then there was, let's call it 'the dark side.'"
Near the end of the talk, Mankiewicz asked Hedren about the famous on-screen kiss she shared with Connery in "Marnie," and Hedren said, "It was unfortunately so technical that I really don't know what it's like to kiss Sean Connery. And I have to tell you something else. So many people have asked me, 'Did you have a fling with Sean Connery? … I learned very, very quickly that when you have an affair with anybody, it shows in your eyes, and I wasn't about to let anything like that ruin my performance by having an affair with Sean Connery. Although I must say I regret it now."
Ypsilanti's Robert Owens and Tom Burden were among those in the crowd.
"It was interesting to hear (Hedren's) insights about her problems with Hitchcock, and how he ruined her career," said Owens. "I hadn't known how bad it was."
And because Connery's character in "Marnie" traps Hedren in various ways, Burden said, "I almost couldn't help making an analogy between the story in the movie and what was happening with Hitchcock offscreen."
Jenn McKee is an entertainment reporter for AnnArbor.com. Reach her at jennmckee@annarbor.com or 734-623-2546, and follow her on Twitter @jennmckee.