Posted on
Fri, Feb 8, 2013 : 10:16 a.m.
Tipping in Ann Arbor - Is 20 percent too much?
By Richard Retyi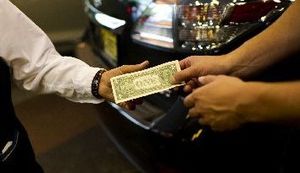 file photo
My dad was the worst tipper I've ever known. On his first visit to Ann Arbor, he treated me and my mom to a nice meal on the patio of the old
Parthenon
. At the end of the meal, which must have been upwards of $30, he put down his cash and we strolled down the street, only to hear a cry behind us. Running down the sidewalk toward us was our waitress.
"You forgot this," she said, handing my dad back a dollar bill or two and some coins. The old bastard had tipped somewhere around 3 percent—not because he's cheap or mean, but because he just didn't know any better. I took over the tipping duties from that day forward.
I have a lot of friends in the service industry. Bartenders, servers, baristas—do teachers count? I never talk to them about tipping, but following some grumbling around Restaurant Week and the recent Applebee's flap, I decided to ask some of them about their own experiences with tipping in Ann Arbor and their thoughts on gratuities.
Two things before we start. First is a quick look at how much many of your servers and bartenders get paid per hour. The typical hourly wage for a service industry worker in this town is between $2.50 and $4. That's before taxes. Tips round out the difference, but those are taxable just like the hourly wage.
The second thing is that Ann Arbor's servers are not nearly as down on their clientele as I thought they might be. Yes, I got some horror stories, but the vast majority of anecdotes and information was positive. They make some really good points, you'll see.
Tipping in bars
Husband and wife bartenders Jessica and Giancarlo Aversa have been slinging drinks in Ann Arbor for the last 10 years. Jessica has tended bar since 2002, working on South University and currently at Alley Bar, while Giancarlo has been behind the bar at Babs' and The Last Word. Perhaps because of their great personalities or drink-making skills, both have nothing but good things to say about Ann Arbor's tipping ways.
"I started at the Brown Jug," says Jessica, "and I'm sure it would surprise quite a few people how well the majority of our clientele tipped—20-30 percent on average.
"When Oregon football fans were here, another bartender and I waited on a group the whole weekend. They were over-tipping everyone ridiculously—buying a beer for $5, paying with a $50 bill and telling me to keep the change. The Friday before the game, one gentleman in particular wanted to buy us out of Jagermeister (which isn't possible, I assure you). He bought 100 shots to pass out, which cost him roughly $500, then tipped $200 and gave me another $500 to let him stand on the bar while he passed them out. We split that $500 among our door staff and kitchen staff.
"The next day, after the Wolverines' unfortunate defeat, the same Oregon fans spent most of the rest of their evening at our bar. The same man from the night before ran up a rather large bar tab with me and tipped $1,000. That hasn't happened to me since, but I don't expect it to. If Oregon ever plays Michigan again though, no matter where I am, I will come out of retirement to wait on them."
Giancarlo may not have been the recipient of quite the same largesse, but he's happy with the consistency of tipping.
"I think Ann Arbor tips well," Giancarlo says. "It seems that over the past few years it's been 20-30 percent and it really hasn't mattered what bar I was behind. At Babs', we received good tips because we were fast, and made people smile and generally created a fun environment. It's still early in The Last Word's life to get a good grasp, but we make good tips and people appreciate the care and knowledge that go into our drinks. I think it's a fun atmosphere and we try to get cocktails out as fast as we can."
Jessica's experiences at Alley Bar are similar.
"We're blessed to have the most wonderfully eclectic clientele that also tips us in the upper 20 percent on average," says Jessica. "Long gone are the days of 15 percent."
"We work hard for our tips," says Giancarlo. "I've never expected anything just for being there. Honestly, I try not to worry about how much someone tips me or what percent I make. I do take notice, and if it is consistently bad, I might be a little slower refilling your water or taking your next order. But I'll serve everyone as long as they are respectful and pay for what they order. We feel good about receiving a nice tip. It lets us know people appreciate what we do."
"Many people in the service industry have a sense of entitlement when it comes to their tips," says Jessica.
"They forget that they have to earn them, and even if the customer is rude to you, you can't let them see you sweat. You have to still smile and do your job to the best of your ability. They are out to treat themselves, not worry about your bad day. It's our job to brighten their day and take care of them while they're patronizing our business. We stay in business because of them, whether they tip well or not. And in the end, if you do your job well, the good outweighs the bad.
"Some people may share badge of honor stories about people tipping poorly and how they chased them down. That's not something to be proud of. Those people are in the wrong industry. I love my job. It provides me with the opportunity to meet fascinating people, with a creative outlet, and lastly, money to pay my bills."
Tipping in restaurants
Two servers working in the food industry shared their thoughts on tipping in their respective establishments. Both work at medium-end eateries downtown that appeal to a wide socioeconomic base.
"Each serving/bartending experience is unique," says server number one, who we'll call Megan.
"I get pretty good tips across the board. It's not uncommon to get $6-$8 on a $30 tab, which is generally the check for a table of two at dinner. Tables of six also tend to be good, hovering around 20 percent (usually $15-$20 on a $90 or $100 bill). Tables of four are often the worst offenders; a lot of time they're families, and I see a lot of $8 tips on $50-$60 checks. Anything with eight or more people, we automatically add 18 percent, so those are always desirable tables, although I personally would rather take those two- and six-tops all night."
"Most of the people I work with have been at my restaurant for one year or less or more than four years," says server number two, who we'll call Amy.
"The ones that stay have the ability to make a connection with a table in the short amount of time we spend with them. If you can make conversation with complete strangers and even make friends with them, then the service industry can be great. I don't think servers should go into any situation expecting to be making 20 percent of their sales. I think most people still hold 15 percent as their standard, so I expect to put in the extra effort that make them stop and think about the excellent service they got, even if it's only slinging food."
"As far as tipping stories go, I've really seen everything," Megan says.
"Before we started the automatic gratuity policy on larger parties (which is pretty standard at almost every restaurant I've ever been to), it wasn't uncommon to have an entire table of prom-goers or an office dinner outing completely stiff me on a $200+ bill. When people expect that gratuity added for them, often they don't look carefully enough at the receipt. On the other end of the spectrum, I had several regulars leave me very generous tips around the holidays, including an absolutely wonderful $50 from an awesome guy who comes in for lunch a couple of times a week. (he always tips very well as it is, but this was unexpected and so, so appreciated).
"In general, I come into every shift knowing that it's a crapshoot at almost every table," Megan continues.
"I do my absolute best to get a read on my guests and create the environment or experience that they want. Sometimes people want to eat and be left alone and won't make much of an effort to connect with me. They might even come off as kind of a jerk, but tip 15 percent to 20 percent. Other times, I might spend extra time with a table, go above and beyond to tend to their needs, and get the dreaded "verbal tip," which usually includes praise regarding their experience, but an inappropriately low monetary tip."
"I think that people who think tipping isn't mandatory are very ignorant to the lives that most servers lead," says Amy.
"A lot of people are going through school, or worse, they made it through school, racked up debt, and now can't find a job with that nice bachelor's degree. A restaurant couldn't function without being able to pay their serving staff $2.65 per hour. Without that factored in, prices for going out to eat would skyrocket. By choosing to go out to eat and have a person wait on you, you enter into a social contract where you're expected to tip the wait staff so everyone can enjoy socializing over food and drink at public establishments.
"People need to think about the servers that are, in essence, working for them. We get paid next to nothing, work up to 14-hour shifts with no breaks, and where I work, there are no smoke breaks. We never know what time we're going to be done with work. We don't have weekends or vacations for that matter. And every now and then, you get the customer that comes in with the attitude that you don't deserve their hard-earned money. I work very hard for the money I make, and believe me, I'm no royalty.
"I guess what bums me out the most is this scenario," says Megan. "A couple or a family comes in. No one smiles. Everyone's noses are buried in their phones for the whole meal. Someone hands me a coupon at some point. Someone else doesn't like their food, but won't admit it. I'm not having fun. They're not having fun. I get a crappy tip on their discounted check. It's the worst. I just wish people would treat going out to eat as something to look forward to and enjoy. Know that you're going to spend some money. Consider what you're tipping in the scope of what you're spending. Often, a few more dollars on that tip line makes a huge difference to the server, and most people won't miss an extra $5. If you're spending $50 on dinner, spend $60 and tip 20 percent and celebrate that you had a night out and reward your server for their service."
"A good tipper can make your whole week," says Amy.
"I had a 12-top party a few weeks ago on a Saturday afternoon. They were celebrating three birthdays with one extended family and were out to have a good time. I did everything I could to make their experience great. At the end of the meal, I handed out three separate checks with an automatic 18 percent gratuity added on, which I circle and draw attention to for every large party I have. My guests all acknowledged the automatic gratuity, and tipped me on top. I ended up getting around 35 percent on that table. It made me feel so great to be appreciated, and it's experiences like those that remind me why I am pursuing a serious career in the hospitality industry."
Richard Retyi returns to AnnArbor.com with his new column Hidden Ann Arbor. Rich will write about the hidden side of Ann Arbor and the things locals take for granted. In his day job, Rich is a social media director for a digital marketing agency in Ann Arbor. Read more of his stuff at RichRetyi.com or follow him on Twitter.