Posted on
Sat, Sep 15, 2012 : 5:17 a.m.
Todd Snider bringing his funny, poignant songs to The Ark for two-night stand
By Kevin Ransom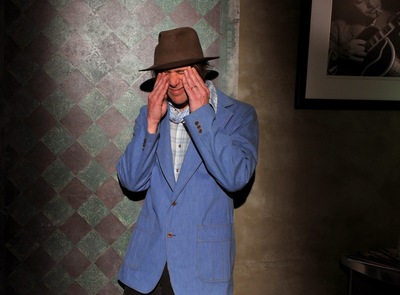 Listening to a Todd Snider album can—and usually does—conjure a broad spectrum of thoughts and emotions. On the one hand, the characters in his songs are often vulnerable people who live on the margins of society—the poor, the addicted, the hard-luck cases, etc. But Snider writes about them with poignancy and sensitivity.
At the same time, Snider wields a sharp wit, so he also writes songs that are acerbically amusing, and which make some pointed social and political commentaries—like his 2006 tune "You Got Away With It," which mocked George W. Bush, and was told from the point of view of one of Bush's old frat buddies.
Then there was his deadpan-funny socio-political broadside, "Conservative Christian, Right Wing Republican, Straight White American Male," from '04.
Snider's latest disc of original songs, "Agnostic Hymns and Stoner Fables," released in March, is no exception. The album leads off with "In the Beginning," in which Snider wryly sings that "We still need religion to keep the poor from the killing the rich."
The song details Early Man, and the resentment that the have-nots feel toward one member of the tribe who has "more" of everything—clearly a reference to income inequality in America. As the mob is ready to descend on this privileged one and "redistribute" his treasure, he convinces them that he's wealthy because he's humble, and because God has favored him—and if they want God to similarly bless them, they should start by cleaning his cave.
PREVIEW
Todd Snider
Who: Great, critically-lauded singer-songwriter and a terrific storyteller. With Amy LaVere.
What: Some songs are poignant studies of hard-luck cases living on the fringe, but others are witty, sharply-funny, sometimes acerbic social critiques. His latest album, sonically, is more raucous than his previous discs, but this is a solo-acoustic show.
Where: The Ark, 316 South Main Street.
When: Sunday at 7:30 and Monday at 8 p.m.
How much: $30. Tickets available from The Ark box office (with no service charge); Michigan Union Ticket Office, 530 South State Street; Herb David Guitar Studio, 302 East Liberty Street; or online from MUTO.
It's also a biting parable about how, in Snider's view, religion sometimes dupes the poor into believing they need "to embrace religion as a sedative," says Snider, who comes to The Ark for a two-night stand, on Sunday and Monday, for a pair of solo-acoustic shows. "It's not my intention to offend people who are religious. I'm fine with people who want to pray, and who believe in God," says Snider by phone from Folly Beach, South Carolina, where he was on vacation before heading out on tour.
"But I consider myself an evangelical agnostic. I don't know why we're here on earth, and I don't want anyone telling me why we're here," says the politically liberal Snider, who, as a youth, rebelled against his conservative-Christian parents.
"And I know that religion can galvanize people, and sometimes, when people are struggling, the church helps them, and that's great. But then, sometimes, as we know, religion goes in another direction, like telling gay people they shouldn't be allowed to get married—and obviously, I'm not cool with that kind of thinking at all."
Another social-commentary song, the topical "New York Banker," was inspired by a conversation Snider had with Rahm Emmanuel, President Obama's former chief of staff and now mayor of Chicago. "I know him a little bit, we have a mutual friend, and he came to a show in Chicago, and we had a few beers and were talking," recalls Snider. "I told him I wanted to write a song about the military-industrial complex, and he suggested I write a song about the Wall Street banks instead.
"So, I did a little research, and came to understand, a lot more than I had previously understood, about what terrible things the big Wall Street banks did to middle-class Americans…"
Snider writes the song from the perspective of a middle-class person—in this case, a high school teacher: "All these years, teachin' at the high school / How was I to know by retirement day / I'd learn a lesson so cruel? / I came to the day I had waited on / Just to find out all the money in our pension was gone / We invested in somethin' called the Abacus Bond / Sold to us by a New York banker."
And then, in the caustic chorus, Snider refers to the bankers when he repeatedly sings, "Good things happen to bad people, bad people…."
Meanwhile, in the "The Very Last Time," the singer tosses some caustic barbs at a romantic partner while the couple is having "the break-up conversation." And Snider imbues Jimmy Buffet's "West Nashville Grand Ballroom Gown" with an even more acerbic tone than Buffet's original.
Snider's affinity for writing about people on the margins, or those who are struggling, is partly cathartic, because he left home as a teen due to his difficult relationship with his parents, and slept on many sofas as he lived the spartan, rootless life of an aspiring young folk singer.
"So, even though I'm doing OK now, from selling records and playing shows, those are type of people I've known," says Snider. "Most of my friends have been people who were struggling. I've always been a pothead and a musician, and I usually haven't started my 'work day' until about 9 at night, playing in clubs and bars, so over the years I've mostly met other potheads and musicians….and strippers and pot dealers and guys who make their money gambling or shooting pool. That's just the world I've always lived in."
Sonically, "Agnostic Hymns" is more raucous and ramshackle than the rootsy, country-folk-rock sound he's mostly plied on previous albums. "On this one, I was trying to find someplace new to go, and I got this idea where I wanted to be sort of sloppy, with me playing more electric guitar, and some creepy old violin sounds, and bluesy, New Orleans type grooves," says Snider.
They definitely attained that goal. Drummer Paul Griffith bangs out some lurching, wobbly, syncopated rhythms, and the acclaimed violinist (and singer-songwriter) Amanda Shires counterpoints Snider's vocals with violin lines that are dark, creaky and Gypsy-sounding—recalling what Scarlett Rivera did on Bob Dylan's "Desire" album, but in more willfully messy fashion.
A month after he released "Agnostic Hymns," Snider released "Time As We Know It: The Songs of Jerry Jeff Walker." Snider has always cited Walker as one of his greatest influences and inspirations, and not just musically.
"He's a very free spirited person, and he didn't overthink things, and for him, being a songwriter and country-folk singer wasn't a career decision, it was more of a lifestyle choice," says Snider admiringly. "For him, it wasn't about the money, it was about the freedom to live how he wanted, and the freedom to be creative in the way that he wanted."
Kevin Ransom, a free-lance writer who covers music for AnnArbor.com, has interviewed Todd Snider several times for the Ann Arbor News and AnnArbor.com, dating back to 2002. He can be reached at KevinRansom10@aol.com.